Pics of warbirds
12-15-2013, 10:26 AM
---
Thanks!
More from this years (2013) AIH.
Corsair Nut's huge T-38 in flight. It took him a year, but he had this bad boy dialed in this year and flew it at least 4 times a day every day Thursday, Friday and Saturday!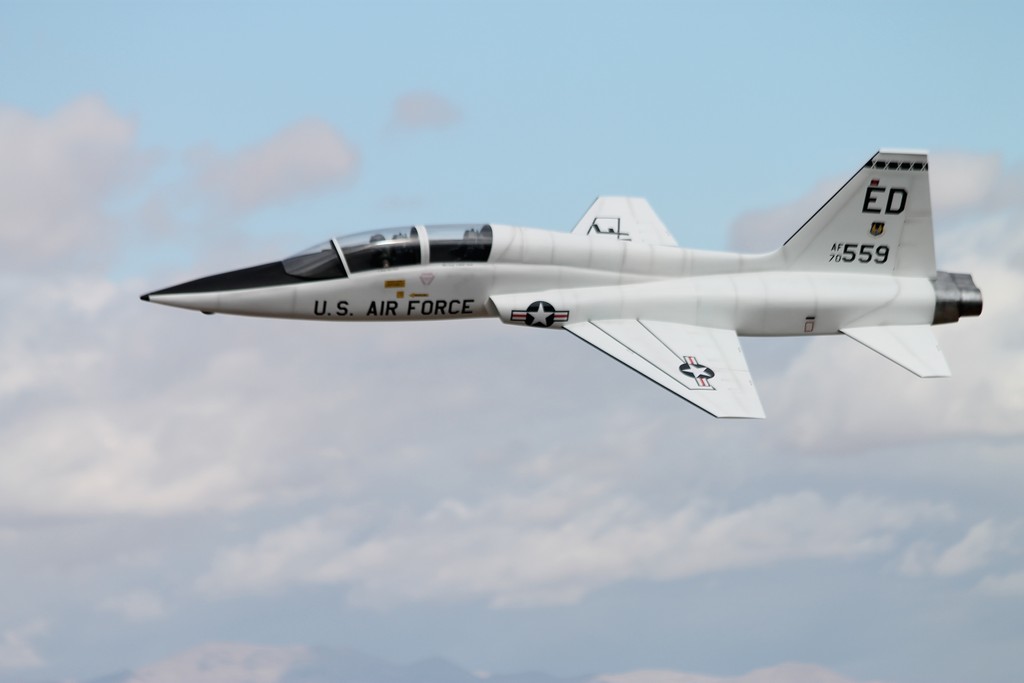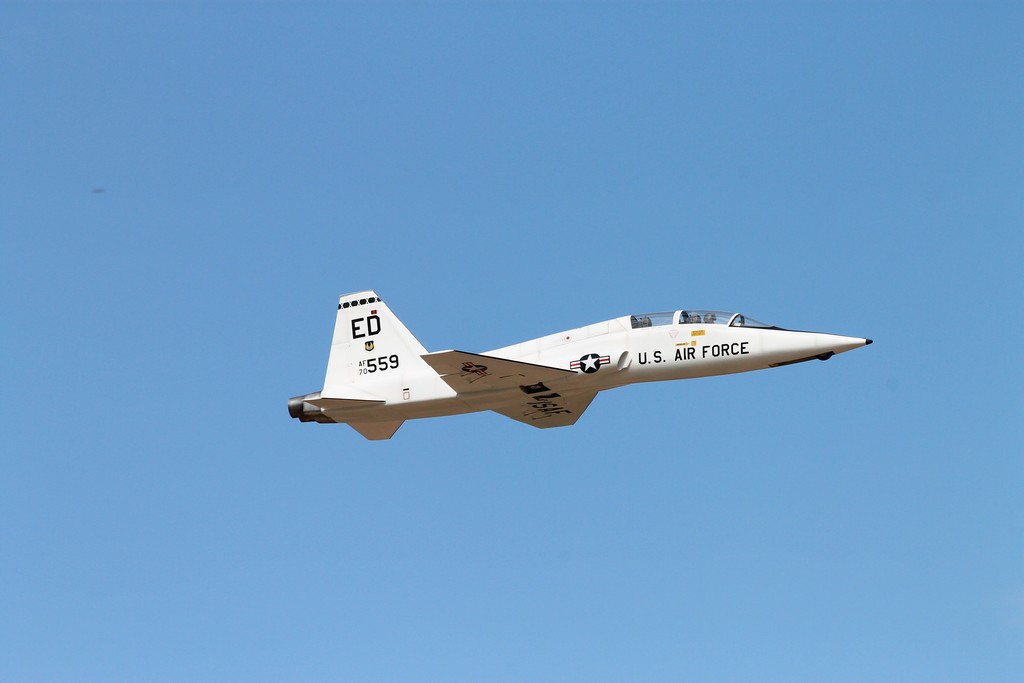 And just so you get a little feel for the "scale" of this plane, here's Nut putting the battery hatch back on the little bugger!!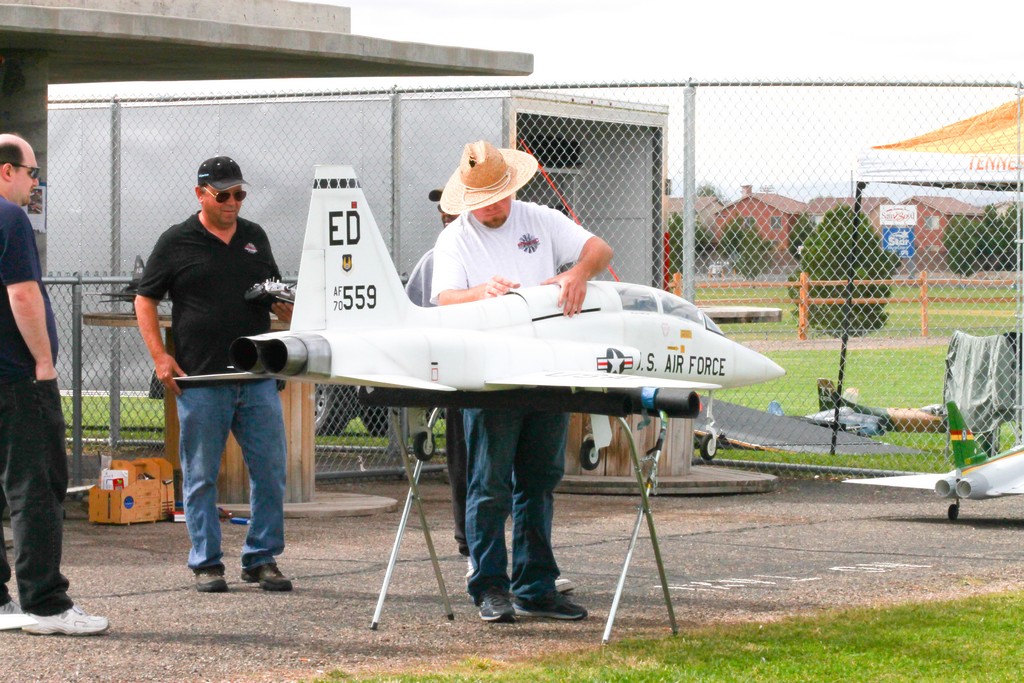 Hillbille
12-15-2013, 06:31 PM
---
12-15-2013, 06:46 PM
---
That's the funny thing about AIH in Vegas. It's a "fun fly" event that has open flying all three days, but is primarily a "scale" event with a LOT of the models being flown in the LARGE scale category.
Nut and Falcon5 both built IDENTICAL T-38's to be flown at last years AIH event and - they both crashed for various reasons. Falcon5's plane was beyond repair, but Nut rebuilt his and as you can see - it flies really well.
Andy (Falcon5 on RCG) built a new plane for AIH this year. An A-4.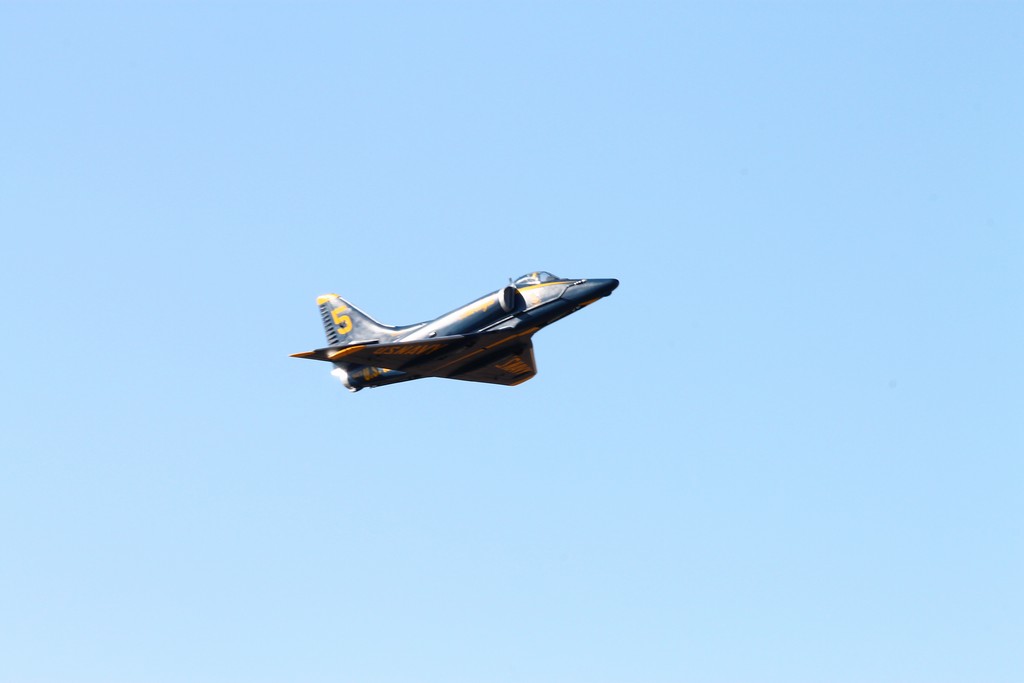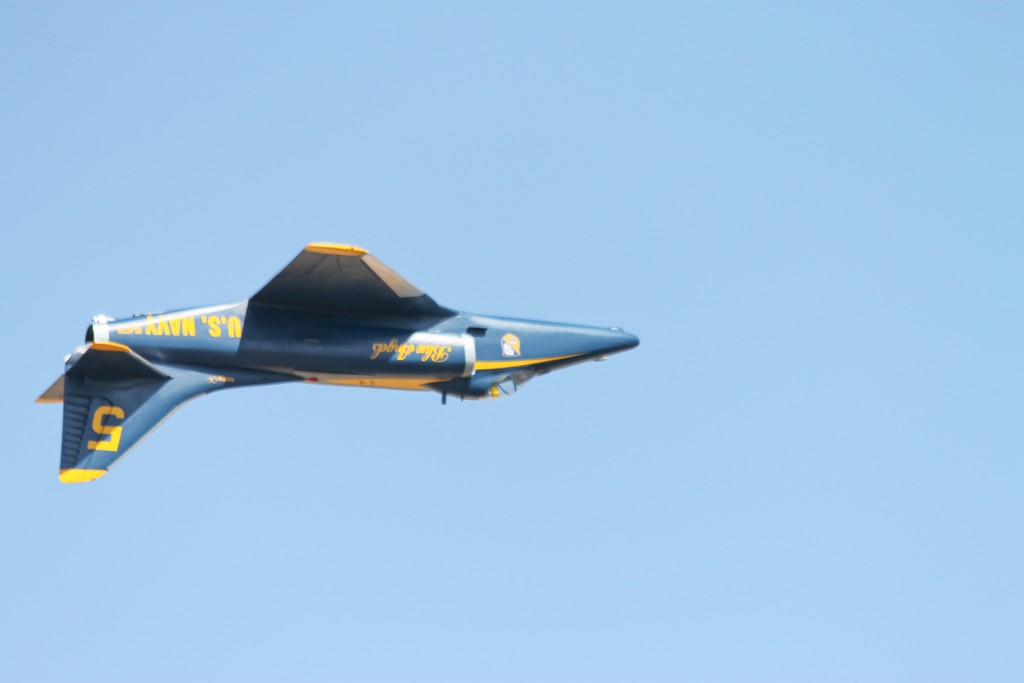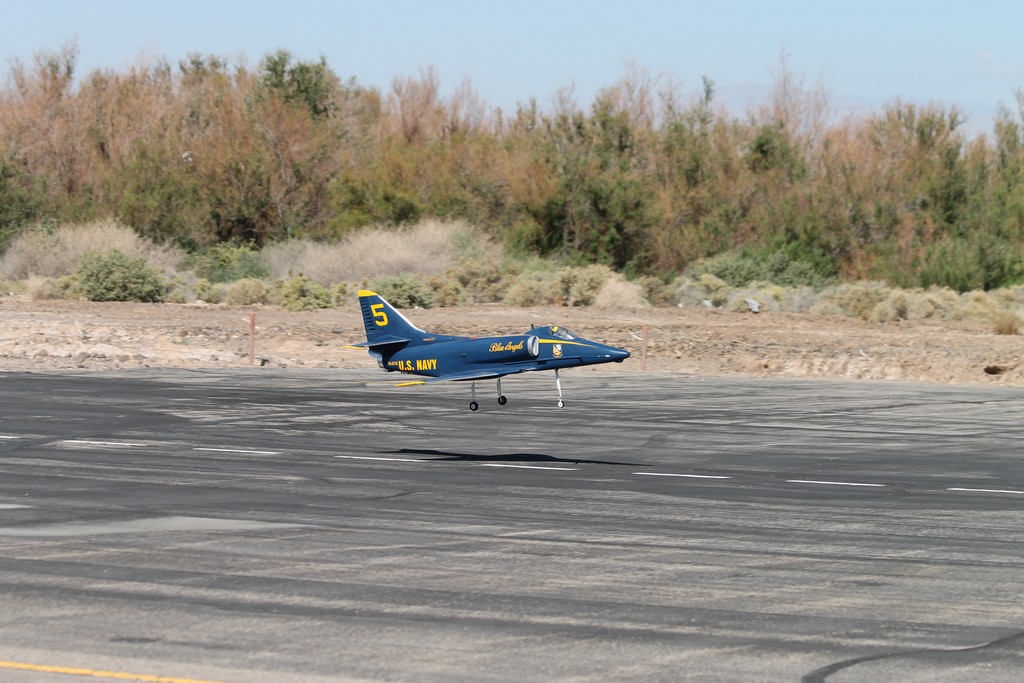 And again - just so you can have an idea as to the "scale" of this cute model. Here's Andy holding the model - he actually did this a lot - all three days as he flew this plane at least 5 times each day!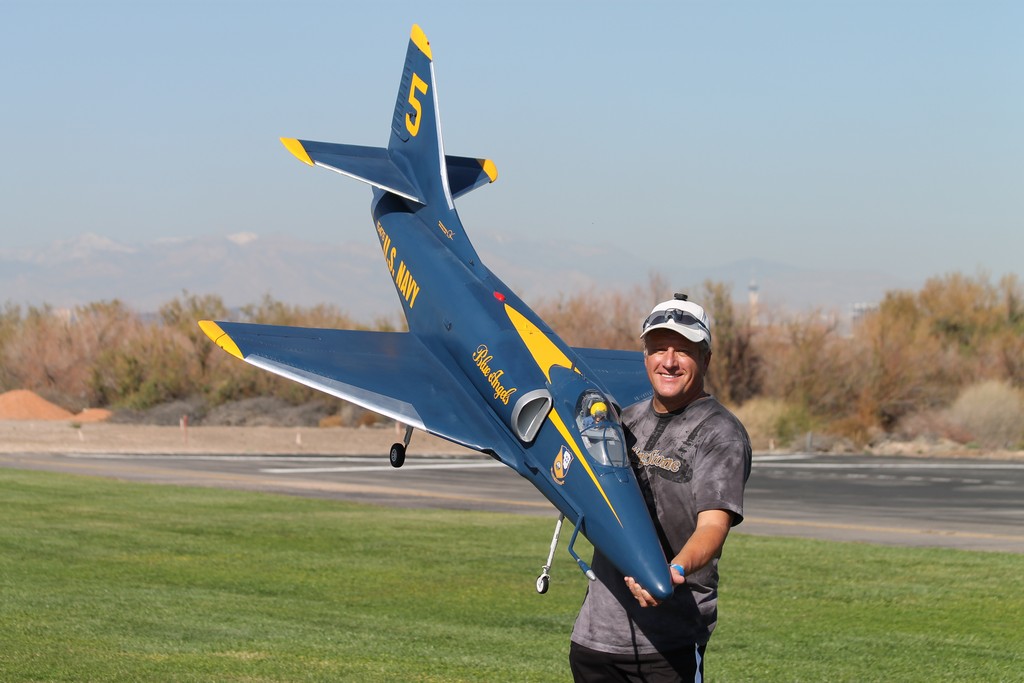 Hillbille
12-15-2013, 07:21 PM
---
12-16-2013, 01:56 AM
---
Talented? I'd like to have just a fingernail's worth of any of the talent from a couple of these guys!! LOL!!
Here's a few of John Morgan and Hans assembling the FFF Blucor F-16 that John built Hans in about a month. John was building a F-7-F Tigercat for the AIH and wanted Hans to have a new F-16 to fly so...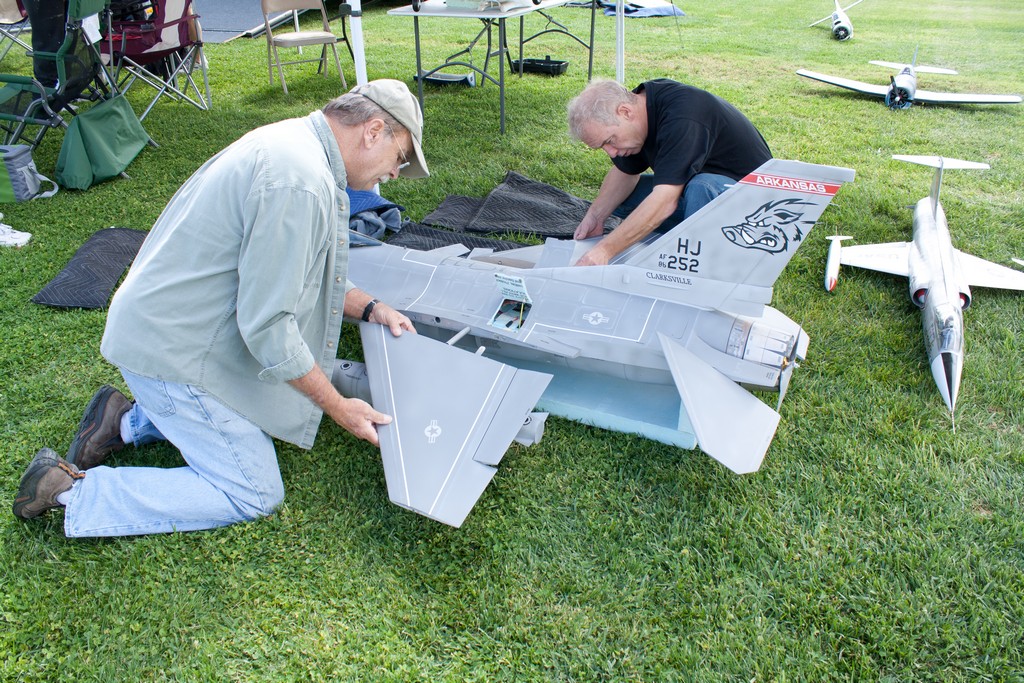 The hatch made to plug in the aileron lead on the left side - the reason for this photo is to show the interior - ALL BLUCOR. LOL!!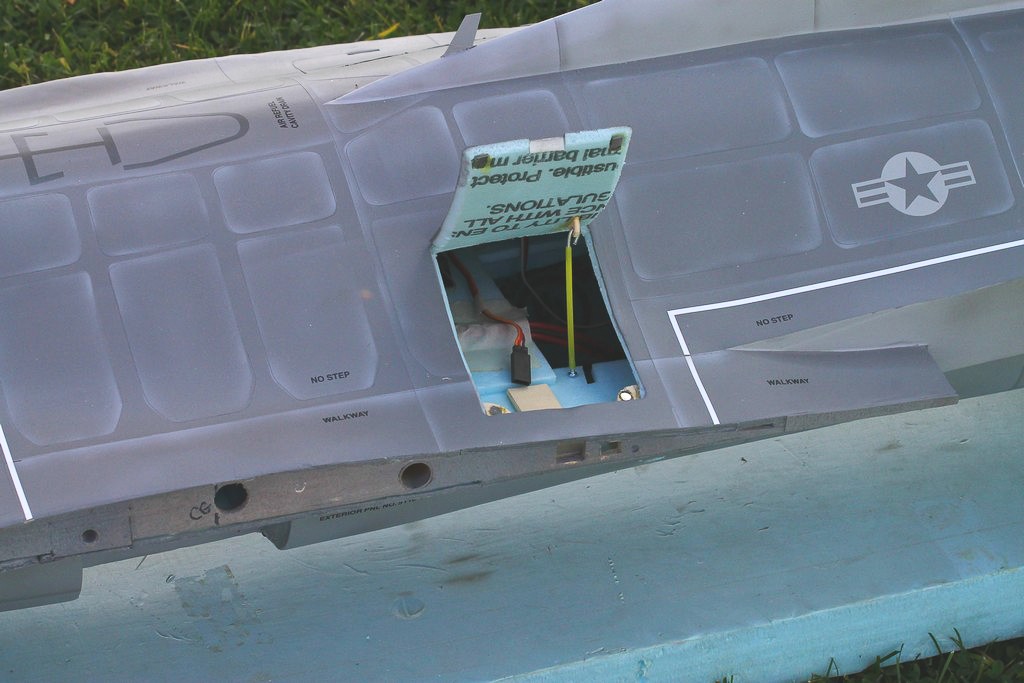 Another scale plane!!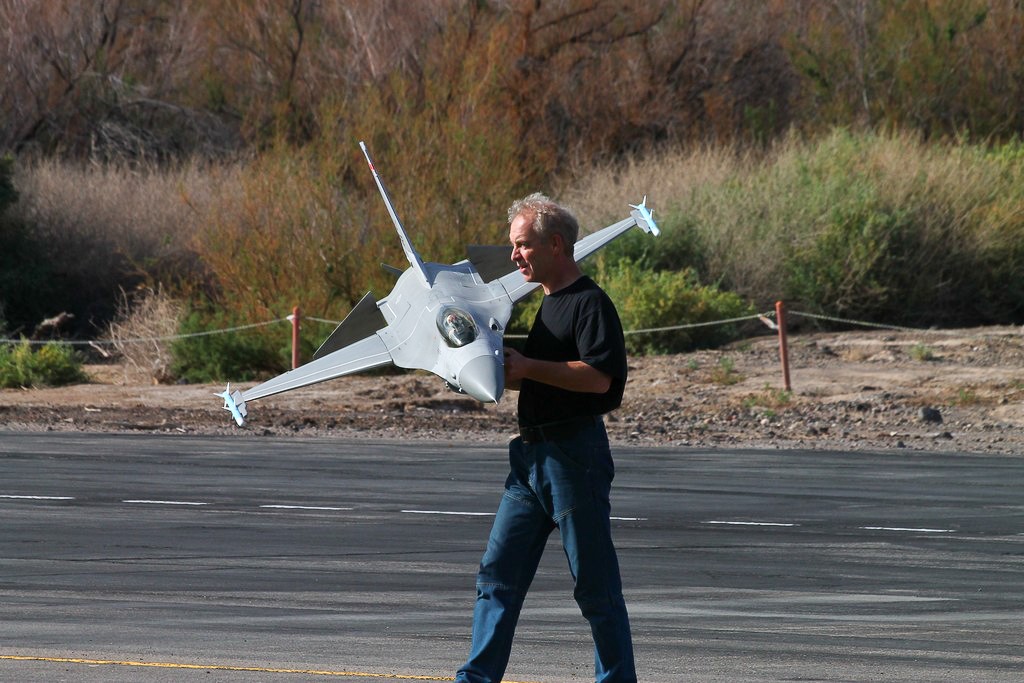 Hillbille
12-16-2013, 05:36 AM
---
No no no - bungee launch - on a fatal short flight. John had already flown the F-16 prior to it coming to Vegas. The idea was to make absolutely sure everything was right and that the plane would fly BEFORE bringing it to Vegas.
You see Hans lives in Germany and flies in just to attend the AIH every year.
The problem arose because Hans is a Mode 1 pilot and the plane was set up in mode 2, that in and of itself would not have been a problem as the Spektrum system they usually use is easily "converted" via software from mode 2 to mode 1, but - and this is a big but - John had wired in some LED's to the tail cone to simulate afterburners - and - had connected the lights to the unused rudder channel and slaved that to the throttle channel so that as the throttle advanced so did the lights brighten. All was good in the test flights - BUT - the failure to note that once changed into mode 1 the RUDDER becomes the aileron and the slaving to the throttle channel was - well to put it mildly - a disaster!!
Oh well, it wasn't too bad of a crash and John had it rebuilt within a month - so - it is again ready and has been test flown again WITH the proper slaving of the afterburner lighting system and it is ready for next year!! LOL!!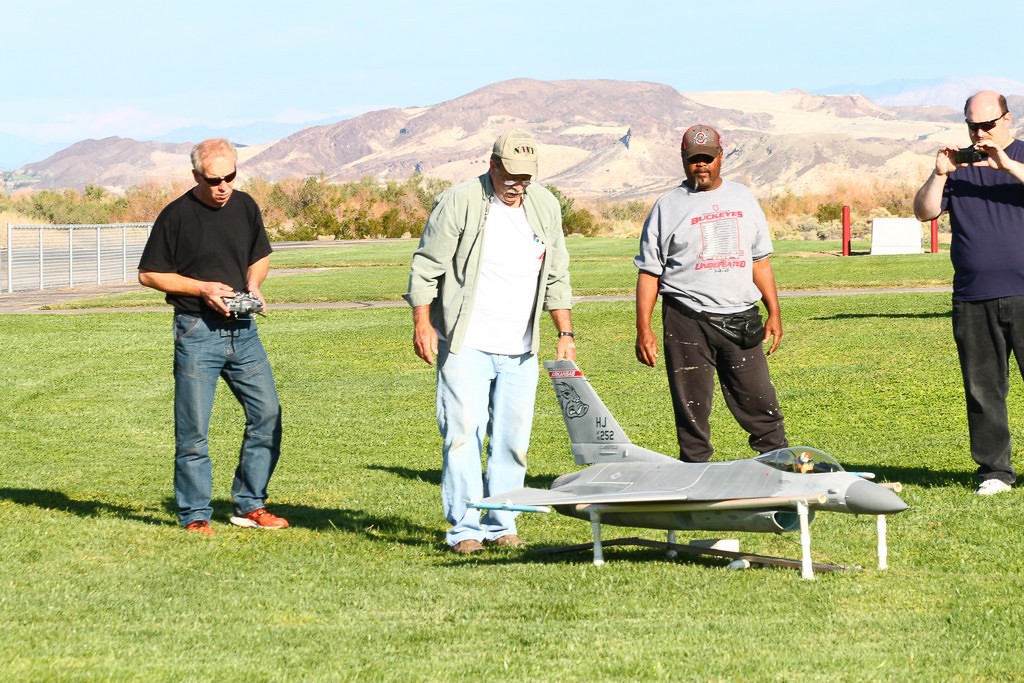 Hillbille
Thread
Thread Starter
Forum
Replies
Last Post
Airplanes - Electric For Sale & WTB
Scratch and Kit Built Aircraft
Currently Active Users Viewing This Thread: 1
(0 members and 1 guests)
Posting Rules
You may not post new threads
You may not post replies
You may not post attachments
You may not edit your posts
---
HTML code is Off
---