Discussion-servos
09-09-2008, 11:50 PM
---
Hey coop,
Servos for what? There are tons out there but if you are looking for a particular heli, we may be able to give suggestions. I am a MG (metal gear) guy. They last longer and I've had no breakage with mine on my Trex 450SE V2.
09-10-2008, 01:59 AM
---
Hi Theecoop
yes all kinds of servos out there, for my foamy planes, you cant beat the hextronic 9 gram servos, they are very powerful, and very strong, and only about $3.65 from hobby city on line, they are not for helis, for helis, i use the HS56 hitec servos in my 400 size heli, good enough with the karbonite gears, or better yet, is the hitec HS65 with the metal gears for 400 size helis, digital servos are great too, they consume more power from the battery, but for demanding performance, they are the best to have, I am using digital servos, with the metal gears in a fun jet, that will be doing over 100Mph, so I want to be on the safe side and use quality stuff, Soooo when it comes to servos, you have to know what you will be needing from a servo, speed, strength, accuracy, ETC, and the application of the servo to aircraft, thats just my 2 cents worth
Take care, Chellie
http://www.servoshop.co.uk/index.php?pid=HITHS55
---
Last edited by CHELLIE; 09-10-2008 at

02:51 AM

.
09-10-2008, 03:37 AM
Servo Sizes?
---
Hi Coop, great idea for a thread!
Here's a good explanation of some of the servos specs:
http://www.geocities.com/BourbonStre...rvobasics.html
And a couple of Servo Charts, specs and prices for most available servos;
http://www.fatlion.com/sailplanes/servochart.html
http://www.hobbylisting.com/html/ser..._frameset.html
Last, I'll try to break down the names and categories of servos. This is open to opinions, comments and corrections, of course, but is mainly to provide a general guide. So, from "Sub Micro" to "Standard", here we go;
Sub-Micro, Ultra Micro, Nano, Feather
The smallest and lightest "Outdoor" servos (there are smaller magnetic actuators, mainly for indoor models) commercially available. These are usually in the 3 to 6 gram weight range, use standard connectors (usually, check before buying!) and have torque outputs in the 7-9 oz/in range. Used on very light and small models, 4-10 ounces RTF.
Micro
Most common servo size used on small electrics, up to (about) "Speed 400" size models. Use standard connectors, weight range 8 to 14 grams, torque output normally 10-15 oz/in. Models weighing 10-24 ounces RTF.
Mini
Mid-size (for electric) models or where more torque is required, for example a torque-rod (one servo) aileron application. Weight range 20 grams to 35 grams. Torque output 30 to 50 in/oz. Model size 24 to 45 ounces.
Standard
The largest servos normally used on models under 5 lbs. Weight 1.5 ounces to 2.5 ounces. Torque output 45 to 75 oz/in. Models 3 to 5 lbs RTF.
I'll leave it to modelers more well-versed in digital, high-speed, high-torque and other special applications to explain the differences/exceptions to this. But as a general guideline, hope it helps!
Ron
12-11-2008, 03:29 PM
many many choices
---
I disagree, I don't think metal are the best. They wear faster, they're heavier, and they cost more. Yes, they are far tougher, however you need to weigh the advantages and disadvantages. What do you want to be your weakest link? typically you want a cheap part, not an expensive head. I've run the HS65hb for some time on my cyclic, several crashes. Yet to strip a gear. A higher torque servo will have stronger gears in general, so that may be a better option than just 'give me metal!'
so, that's on a 325mm heli.
for entry level on a 600mm, I'm using HS5625's and love them. (yup, I went metal gear here)
for my 'top shelf' 600mm, I'm using JR 8717's, and I - LOVE THEM. But then again, they're currently the fastest, strongest
helicopter rated
servo available as of today. And after my research, they are a great value.
Watch for the brushless digitals, when Futaba finally realeases heli servos, or JR catches up, they should be much better with lower power consumption and still fast/strong. Looking forward to the new technology!
FYI, I love servocity.com as they have a full Futaba chart and a Hitec chart, if you want to do a comparison.
this is a great chart, although it doesn't have the latest: fatlion.com/sailplanes/servochart.html
and another thread here:
http://www.wattflyer.com/forums/showthread.php?t=28711
---
Last edited by MaxAdventure; 12-11-2008 at

03:30 PM

. Reason: poor spelling
12-11-2008, 06:55 PM
---
11-05-2010, 10:13 PM
Super Contributor
Join Date: Oct 2010
Location: Ex UK Brit now in Latvia west coast - Ventspils
Posts: 12,908
---
Servos what is best to use ?
IMHO considering Helis and likely of crashing, I advocate stick with plastic gear servos. My 450 was supplied with SG90 Tower Pros fitted, which have a weak top gear cog ... but when that strips - I know no other damage has been done / servo itself is still ok and new gears will have it working fine.
I also have a bag of 8 Mystery servos that can use TP servo gears apart from that top one - but Mystery top gear is stronger, while gears under are weaker. So combo of TP lower gears and Mystery top gear are good set-up.
Therefore I have 12 servos to keep me flying ... I have a job lot of TP replacement servo gears ...
I have metal gear Tower Pro's on order but will not fit them till I am confident about not crashing so often ! I just have the feeling that metal gear servos will not strip and other problems will happen ... plastic gears strip .. saving other stuff ...
I have also remounted my servos as external instead of the designed inside frame of the 450 ... now it's easy to maintain servos for just a slight angle to connecting rods ....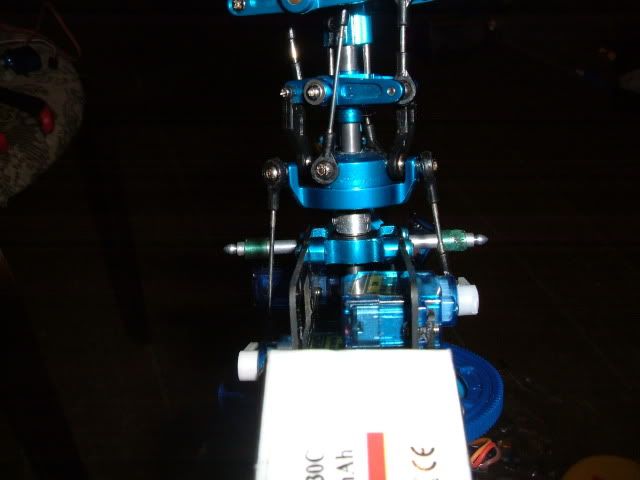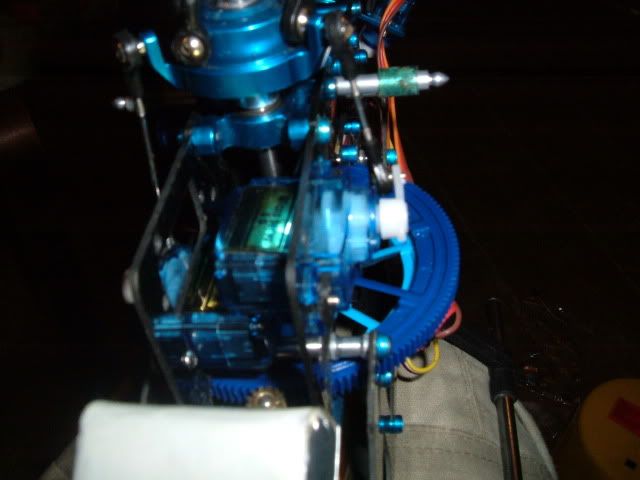 I believe in making life more easy ...
Currently Active Users Viewing This Thread: 1
(0 members and 1 guests)
Posting Rules
You may not post new threads
You may not post replies
You may not post attachments
You may not edit your posts
---
HTML code is Off
---