New ParkZone F-27Q Stryker for ClearView, FMS, RC Desk Pilot
05-18-2011, 04:07 PM
Member
Join Date: Jun 2006
Location: Chantilly, VA
Posts: 246
New ParkZone F-27Q Stryker for ClearView, FMS, RC Desk Pilot
---
Hello simming friends.
Just completed the final versions of 3 models for
ClearView
,
FMS
and
RC Desk Pilot
of the
ParkZone F-27Q Stryker
.
__ClearView Version______FMS Version______RCDP Version_____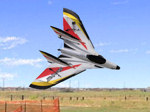 _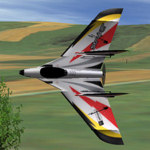 _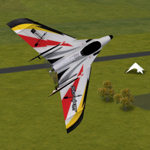 -
Notes: The ParkZone F-27Q Stryker is a brand new beast of an
airplane. Borrowing from the two older generations and breaking
new ground for a delta wing design, ParkZone has shown some
amazing capabilities in this new model. New to this version are
the dual rudders and fiberglass reinforcements. I saw this model
at SEFF 2011 and seeing the blenders, flat spins, elevators,
knife edge, snap rolls and the new dive-n-stop were just awesome.
This model is sure to sell well and looks like a whole bunch of fun.
Wing Span: 37.1 in / 943mm
Overall Length: 24.1 in / 612mm
Flying Weight: 30.0 oz / 855g
Motor Size: 480 power (2200Kv) brushless outrunner motor
Prop: 6x6
ESC: 40A brushless
Battery: 3-cell 11.1V 2200mAh 25C LiPoly
Channels: A/R/E/T four DSV130M digital servos
Receiver: AR600 DSM2 6-channel
Requires: full-range DSM2 aircraft transmitter (sold separately)
Please compare the sim planes to the real models and let
me know what changes need to be made and be sure to mention
the sim version in your comments.
Happy Flying!
-- ggunners
---
Last edited by ggunners; 05-20-2011 at

02:18 PM

.
06-14-2012, 04:54 PM
Member
Join Date: Jun 2006
Location: Chantilly, VA
Posts: 246
---
I have supported sims that are under $50 because I try to encourage training new pilots in the basics of RC flight. So, I have not purchased any sim for more than $40 at this point and prefer to put my money into real airplanes and my extra time into sim models. -- ggunners
08-23-2012, 04:33 AM
Clearview
---
Learned to fly from Clearview and appreciate all of your planes. Have you ever created a P-38 or a Bearcat. Haven't been able to find any decent ones in the 2+ years I've owned it. Started with FMS but it was much too easy and there was a noticeable lack of gravity.
08-23-2012, 08:53 PM
Member
Join Date: Jun 2006
Location: Chantilly, VA
Posts: 246
---
There's a
P-38 on Ken's website
.
I do not recall seeing a Grumman F8F Bearcat for CV anywhere.
Good Flying! -- ggunners