ALZRC Devil 420 FAST - build log
04-12-2017, 08:53 PM
ALZRC Devil 420 FAST - build log
---
I got a nice surprise yesterday, those nice people at BangGood asked me to do a build review of the new ALZRC Devil 420 FAST
So I've not got the kit yet but it's sitting ready to ship in my BangGood account, so hopefully it will be here in a week or two.
This is the heli for those who havent seen it before:
ALZRC Devil 420 FAST at BangGood
The Devil 420 FAST is basically a stretch of the Devil 380 FAST, which in turn is a clone of the Goblin 380. Despite being a 'clone' these helis have a reputation for being great quality. The stretch to 420mm blades makes it about the same size as the Trex 500.
I've not made my mind up on build spec yet but the ALZRC motor and servos look like great value so chances are that's the way i'll go.
Motor:
http://www.banggood.com/ALZRC-Devil-...l?rmmds=search
Swash Servos:
http://www.banggood.com/ALZRC-DS452M...l?rmmds=search
Tail Servo:
http://www.banggood.com/ALZRC-Devil-...l?rmmds=search
ESC I'm not sure on, I think the Hobbywing 60A that commonly gets fitted to the 380 may be a bit on the small side for the 420, so maybe the HW 80A would be the ticket? FBL might depend on what i can get hold of at a good price but a Kbar is the fallback option.
A quick pic:
04-12-2017, 11:18 PM
---
Interested to hear your qualified thoughts on this. Congrats on being selected!
I have a set of their DS501MG servos in a 58" Edge and am impressed by the fit, finish, price and performance.
Subscribed.
04-13-2017, 08:51 AM
---
Thanks for the interest.. Some people will never like this heli purely because it a 'clone' of the SAB Goblin, but if you can get part that I've heard only good reports. The quality by most accounts is just as good at the Goblin. Anyway, my report will be an honest one, if it's got faults I'll not hide them.

It's smaller than the helis I usually fly but it might turn out to be the ideal size for a heli to throw in the back of the car and take flying in my lunchbreak.
04-24-2017, 09:43 PM
---
So here we go with the build
For those of you who have forgotten what the thread is about, those nice people at BangGood gave me one of the new ALZRC Devil 420 Fast heli kits to do a review of
This is the heli:
ALZRC Devil 420 FAST at BangGood
(please click the link as it tracks and shows the guys at BangGood that that these build threads generate interest in their products so they might give more people here the chance to review)
The kit took ten days to arrive which wasn't at all bad considering how far it's had to come. It was well packed in protective foam and lots of labels as proof of it's world tour: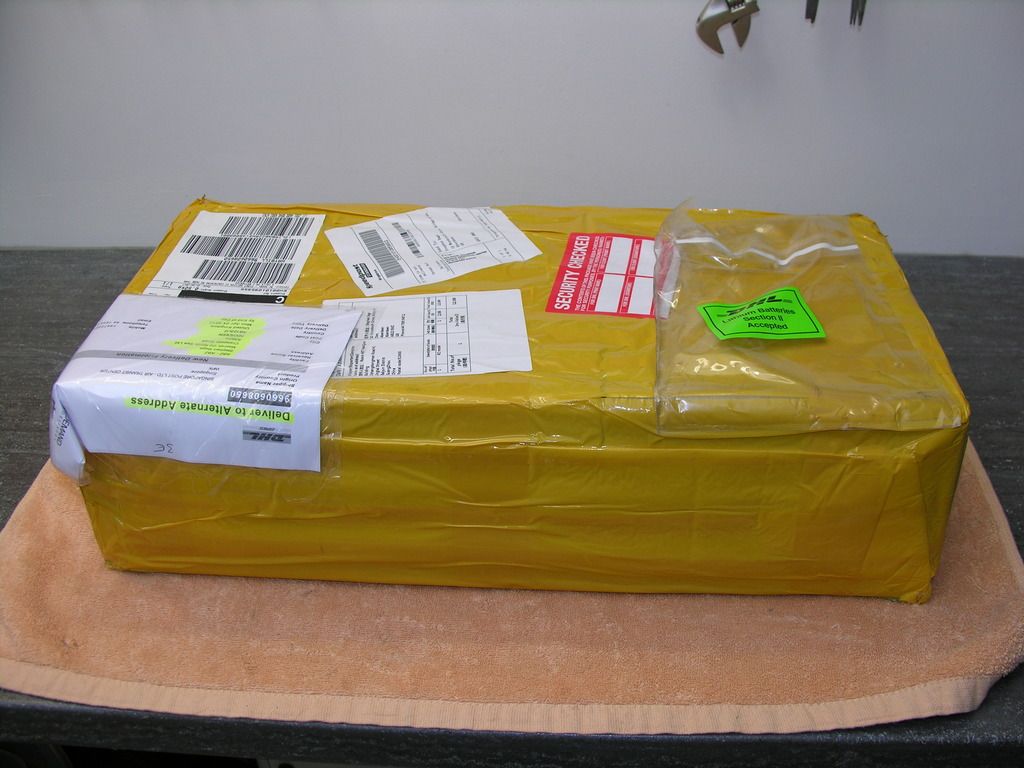 Under the foam packaging was the box, which looks spookily like the box of a certain heli brand I could name
: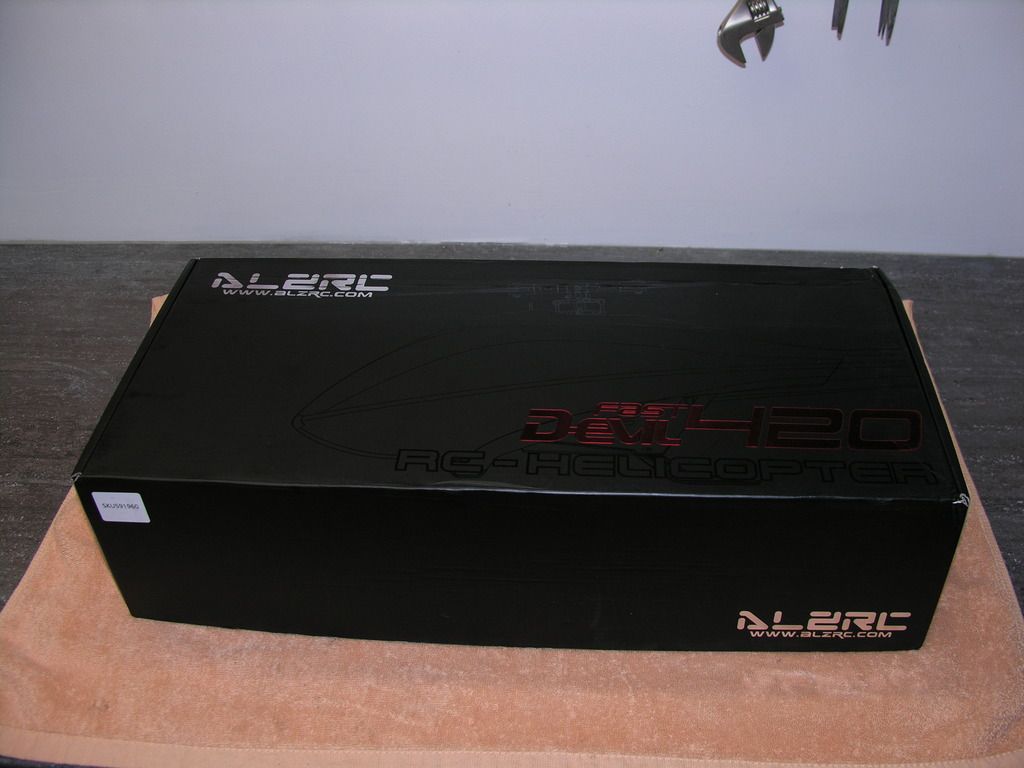 Inside are found another three boxes, so everything is well protected:
The boom, tail pushrod and blades are found in the first of the two skinny boxes. Quality of the boom is flawless and it's made out of carbon rather than glass fibre, so nice and light.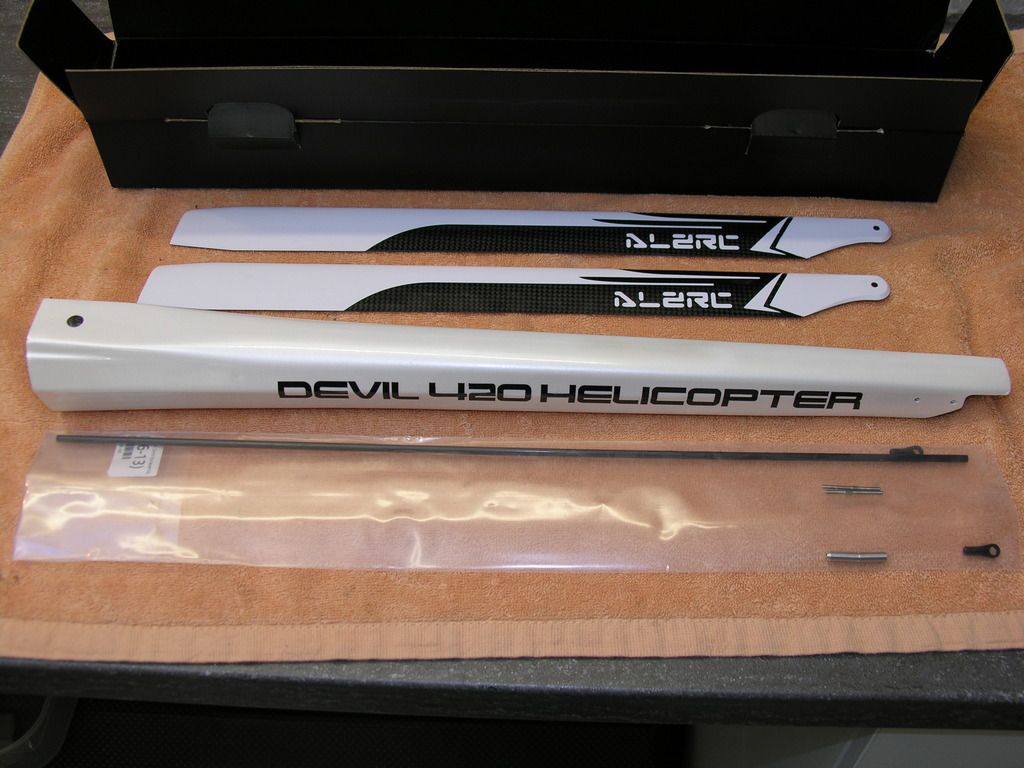 The blades are nice too though there was some very minor fuzziness of the masking lines, purely cosmetic and nothing I've not seen on high-end expensive blades.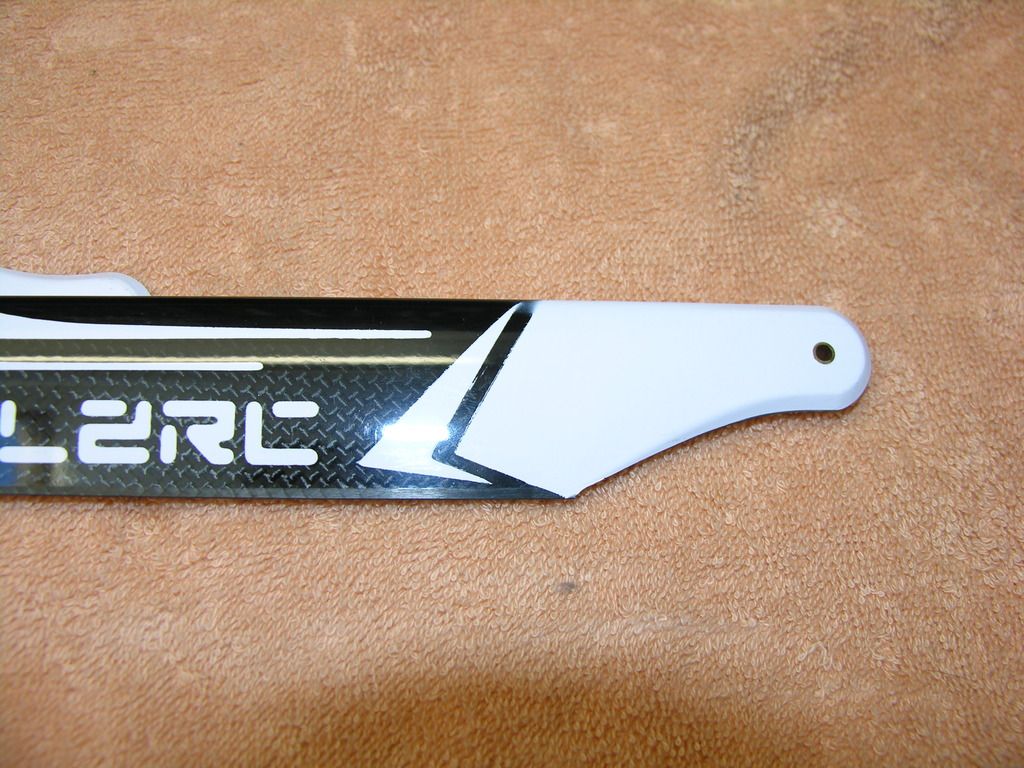 In the second skinny box was hardware such as the alloy frame plate, motor mount, heads, swash, pulleys, main shaft and it's bearing housing, tail assembly etc. The quality of these parts looks absolutely top notch:
The heads and swash are loosely pre-assembled but these will of course need stripping and reassembling with grease and Loctite as per normal practice:
And finally the big box which contains the canopy and the main frame components along with canopy edging rubber, battery straps etc:
The canopy like the tail boom is flawless, the white colour is pearlescent metallic and looks really good:
I couldn't resist taking a pic of the canopy alongside my spare Goblin 700 Speed canopy for an idea of scale: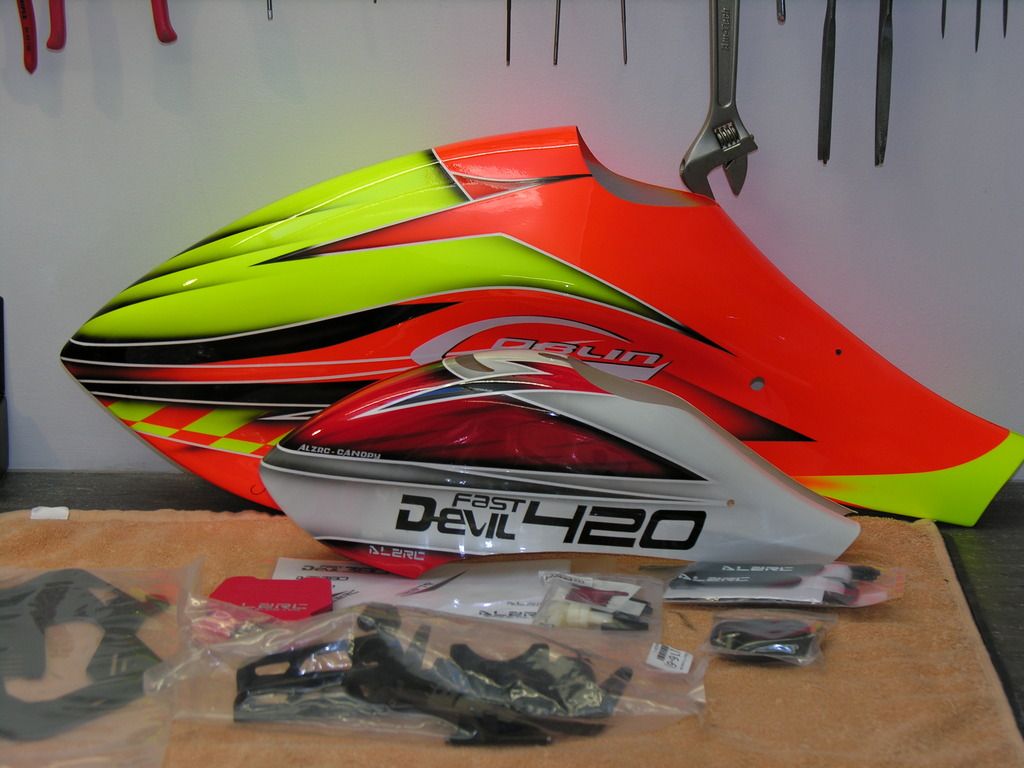 So all in all I'm extremely impressed so far. The only flaw of any kind I can find is the slight fuzzy edge on painting of the blades, but that's nit-picking. It is worth noting the obvious absence from the kit...
NO MANUAL
... This comes as no surprise to be honest, i guess the intent is that the builder uses the Goblin manual.
That's the unboxing done, so watch this space for the build starting proper
04-24-2017, 09:43 PM
---
PS.. Today i ordered all the remaining hardware that I'll need. The build spec will be as follows:
FBL: mini Vbar on Pro firmware
Motor: ALZRC 1000Kv
ESC: Hobbywing Platinum 60A V4
Swash Servos: KST DS215MG V3
Tail Servo: KST DS565X
04-30-2017, 12:15 AM
---
Here's the devil 420 built except for electronics installation. Other than the fit of the boom (which needed a bit of trimming) and a bit of confusion over the difference between the main shaft design supplied vs that shown in the manual, it was all a very straightforward and enjoyable built. The quality and fit of all parts was first class. I think she looks great too: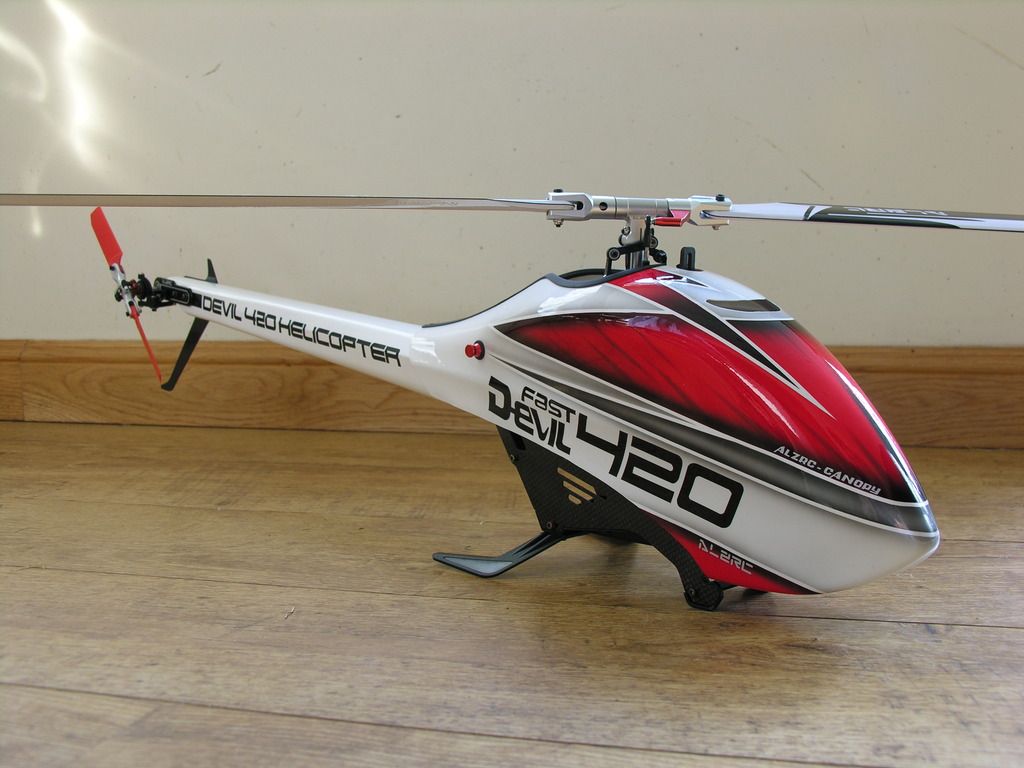 Cant wait for the electronics to arrive...
---
Last edited by JetPlaneFlyer; 05-12-2017 at

06:55 AM

.
05-12-2017, 06:57 AM
---
The electronics have arrived, the ALZRC motor arrived earlier in the week an is already fitted:
And yesterday the servos and ESC showed up, so I'll try to get them installed quickly and with a bit of luck i might have a maiden flight to report this weekend...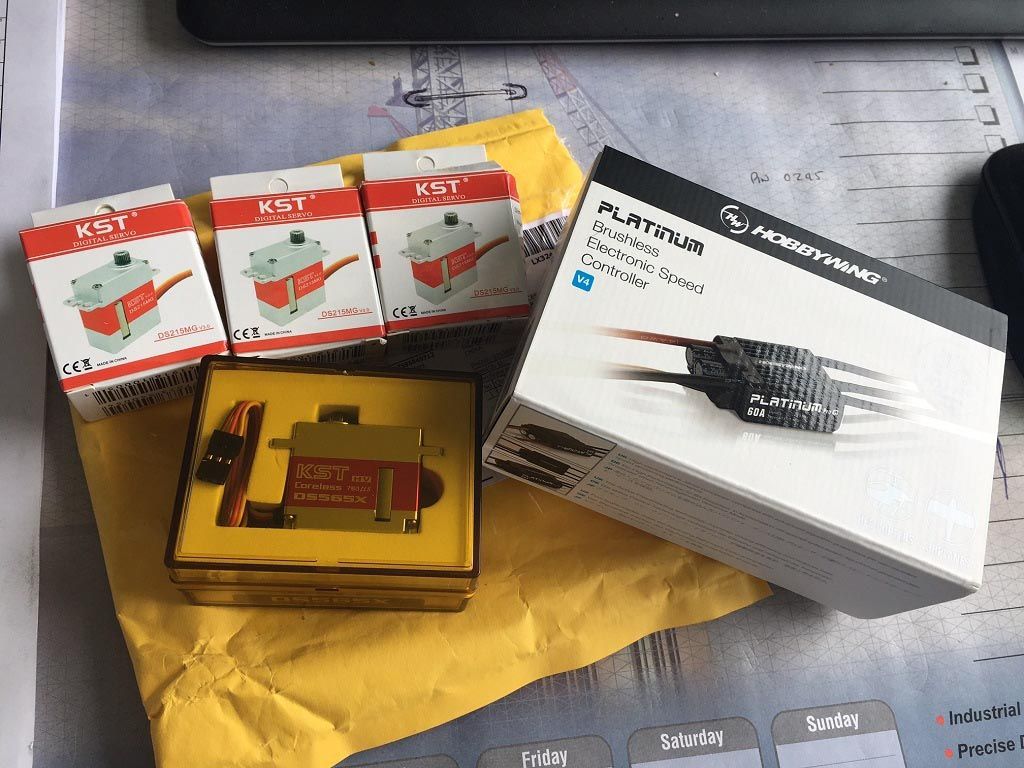 05-13-2017, 12:05 AM
---
I got home early today so put a long shift in the get the devil 420 finished, so that's it all done, setup and ready to go: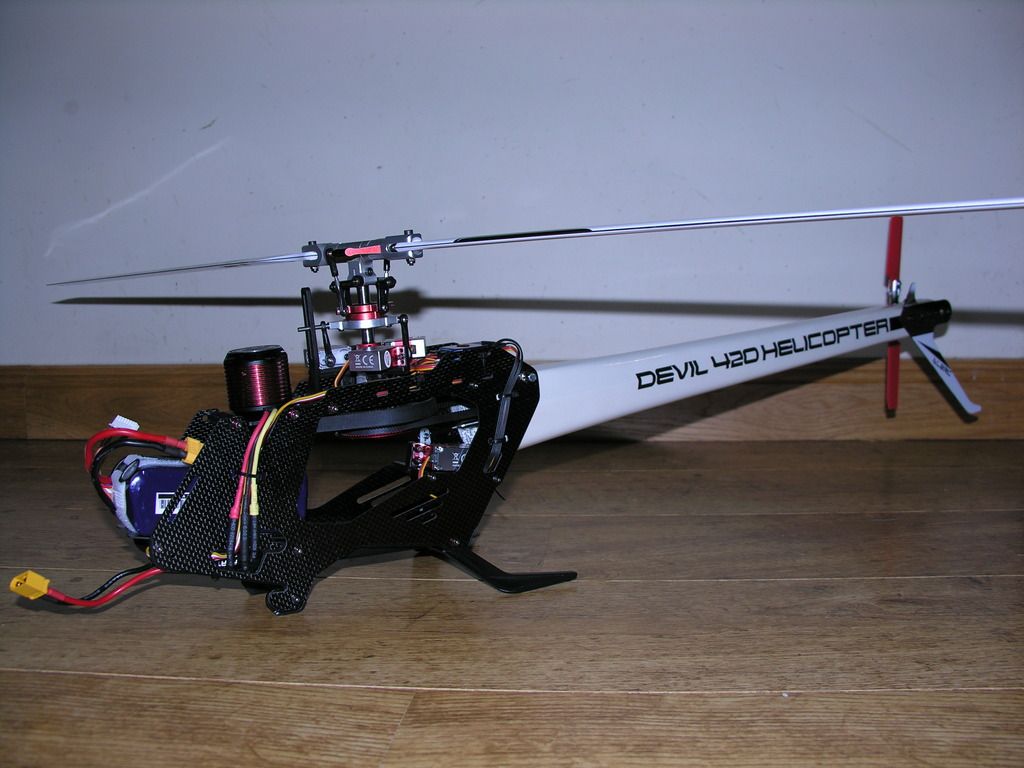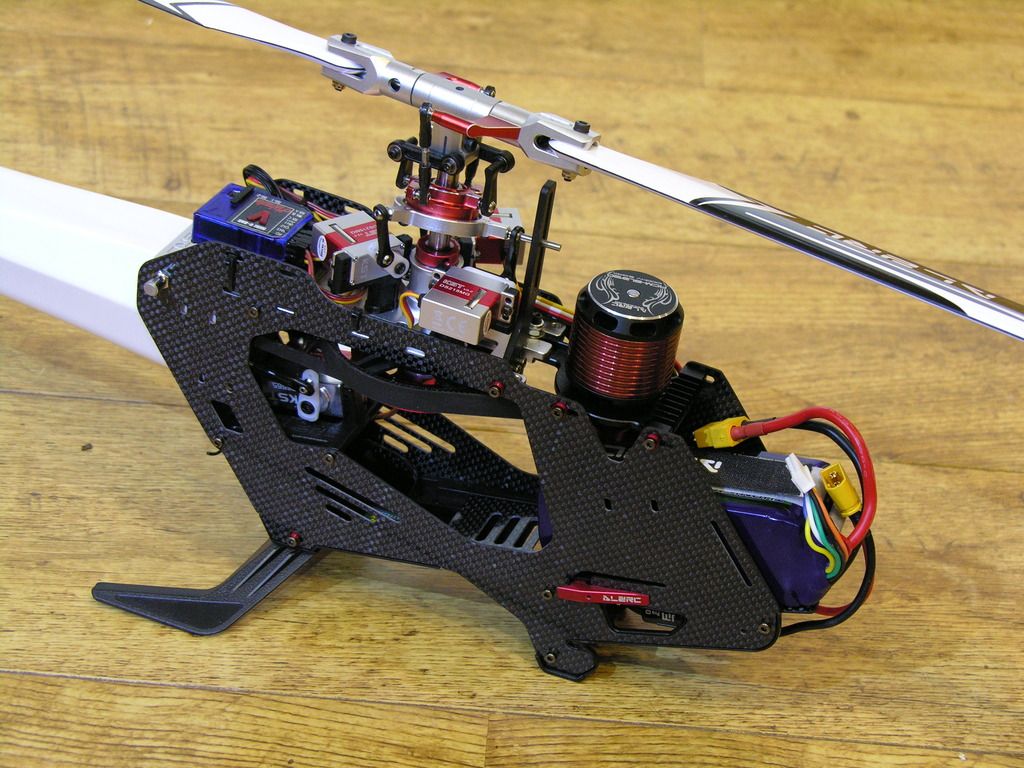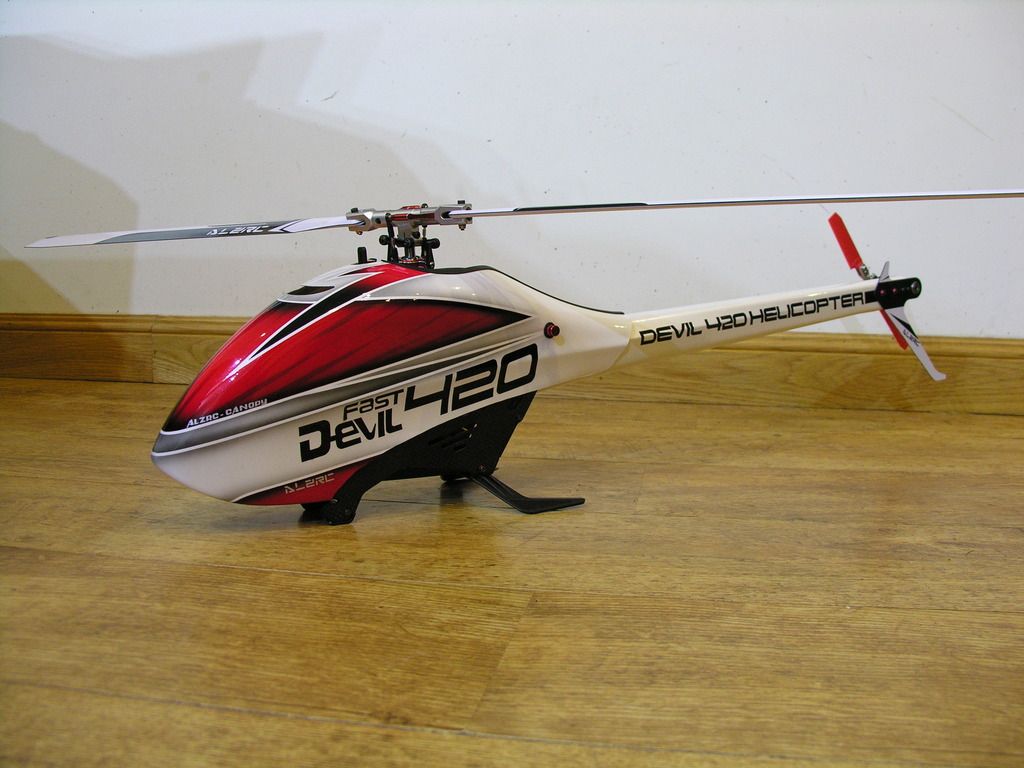 The weather forecast looks terrible for the weekend but if I get half a chance to get out and give it a maiden flight I'll take it.
05-13-2017, 12:27 AM
---
This "ain't no kiss-up" JPF...But, that FBL is extremely nice. To add, the "goodies" you have installed are top shelf, impressive. I'd not expect less from an experienced and capable heli guy.........but you've set a very good example.....Thanks

Note:

Haven't heard much here related to mechanical...:

I believe this model is belt driven...what are your thoughts on it's durability....bearings, guide adjustment, tension factors at the tail and rear rotor mechanics.....?
05-13-2017, 10:03 AM
---
Pizzano,
Yes it's all belt drive, a single stage belt primary drive and also a belt tail drive.
As a rule belts are tougher than gears especially on the tail and they require almost no maintenance. They use the exact same type of belt as used in car timing belts, which run for years without problem. I have belt drives on a few of my helis and they have all been trouble free. The down side if there is one is that they do add a bit of drag to the drivetrain. You can feel this drag quite easily when you hand turn the rotor and you see the rotors stop a lot quicker when you power off, but in flight the drag doesnt seem to make a lot of difference.
The belts dont have any guides or tensioners, they both run direct from the driver to the driven pulley. To tension the belts you slide the motor forward and the tail box backward, the instructions say to make the belts 'very tight'. There is actually an 'upgrade' set of guide pulleys that you can get for the tail belt which increase the clearance between belt and boom, but mine seems fine as it is so i dont think I need to go there.
This is the tail end: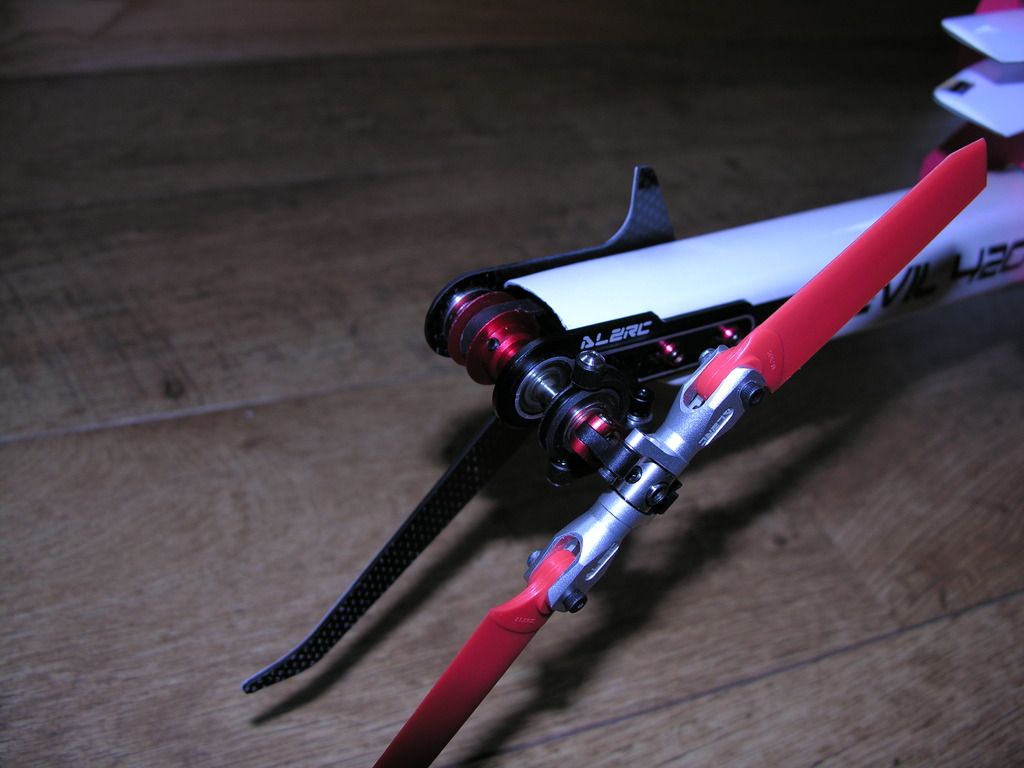 And the main shaft assembly with the main and tail drive pulleys: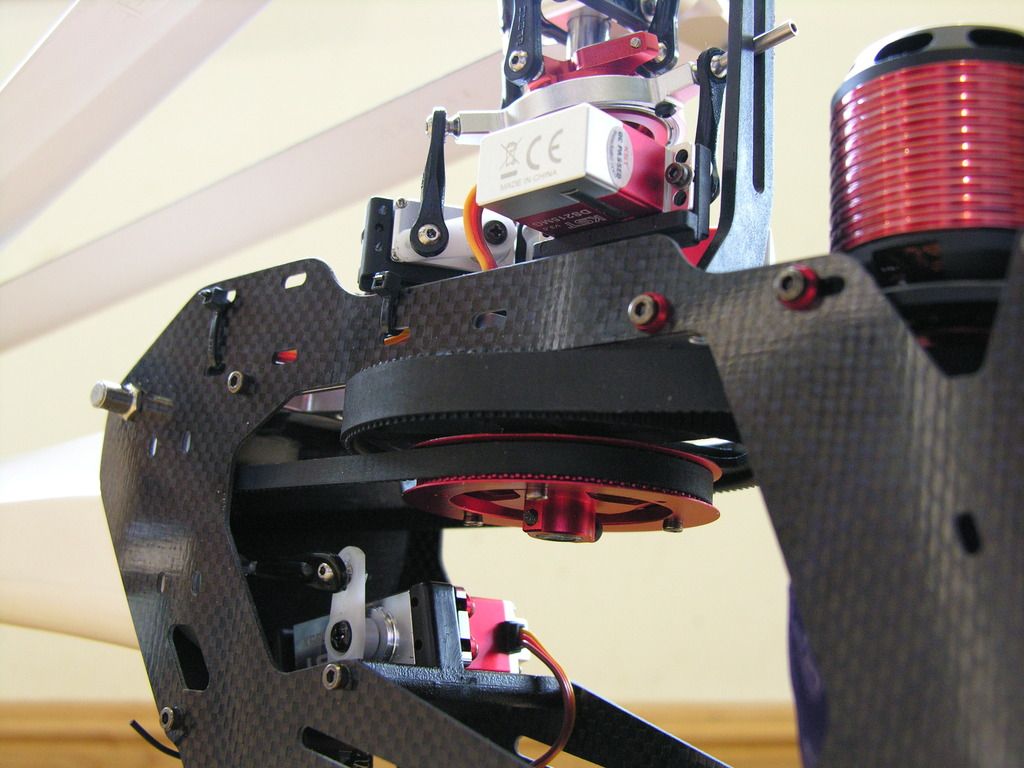 05-13-2017, 06:09 PM
---
Very clean set-up.....So there is no "clutch" per se........If memory serves, I remember early versions of dual belt had something like a clutch integrated within the drive assembly for the main rotor. They were a pain to maintain.
Also like the dual belt since there is no motor pinion gear and main rotor head gear meshing or need to "push/pull" the boom in order to adjust the belt tension for rear rotor operation.........another maintenance head-ache.
Very nice JPF......look forward to your flight run-down...!
I'll admit, there are moments when I miss my old fly-bar, single belt drive 450's......when I see birds like yours. But I've lost "touch" with the technology and wouldn't even consider putting thumbs to one today. It's all I can do to keep my little 250 quads off the turf now.....
Note:
Being the "flight mechanic" at work for the Topcon equipment we use, I still get in the air with the Falcon 8 "V" after repair and maintenance.......but that bird could fly it's self (sometimes it does)....nothing like collective pitch machines and not 1/2 as nerve racking.......for these old pilot skills.
05-13-2017, 08:52 PM
---
No clutch, that's really a Nitro heli thing. The bigger Goblin helis use a two stage reduction with a belt primary drive and helical gear secondary. I've also got a KDS 450 that uses two stage belt reduction. There are pros and cons for each setup, the single stage reduction on this heli keeps it nice and simple but you need to use a relatively low kv motor, which tend to be heavier for the same power than higher kv motors.
05-13-2017, 09:35 PM
---
I haven't been into rotary since about the time that X-Heli starting copying Align 450's. Was never a huge fan of the pinion gears. Seeing this design, and really liking the belt drive main, almost makes me consider rotary again. Almost... Nice write up. Anxious to see how the components hold up (although I have seen nothing but good reviews of the KST servos and am running a dozen of the 215 v3's in fixed wings with great success).
05-15-2017, 01:13 PM
---
The weather over the weekend was mixed, foggy and/or windy but I managed to get a few flights in on the new Devil 420:
Getting ready for the maiden: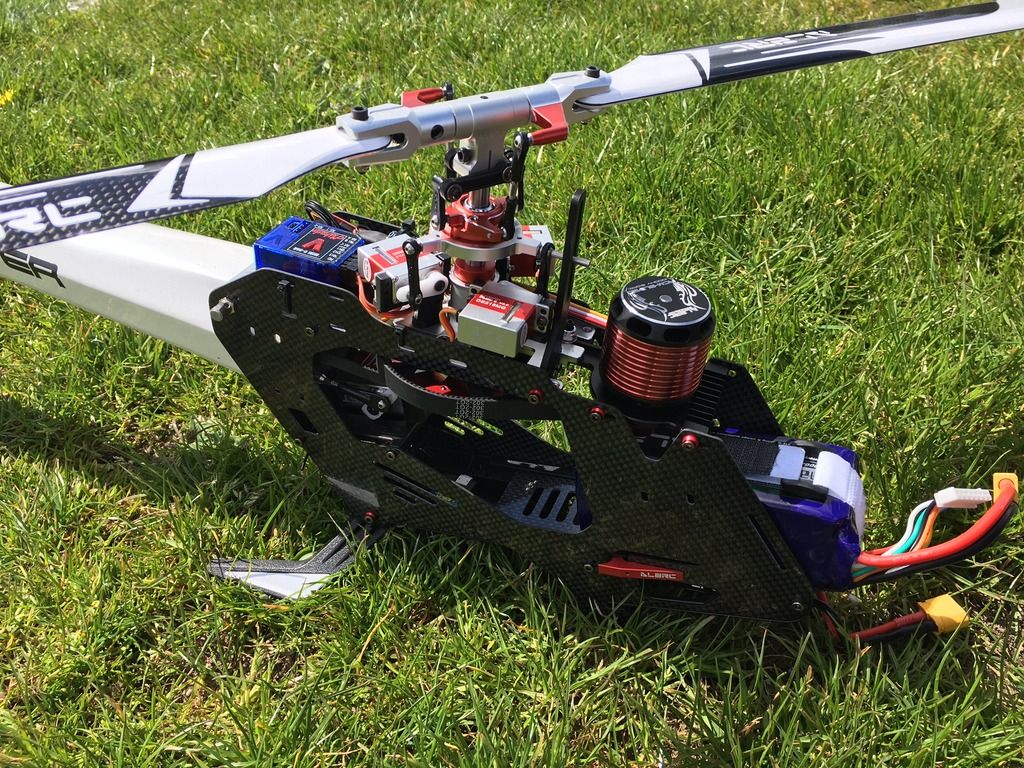 And ready for a maiden in the fog: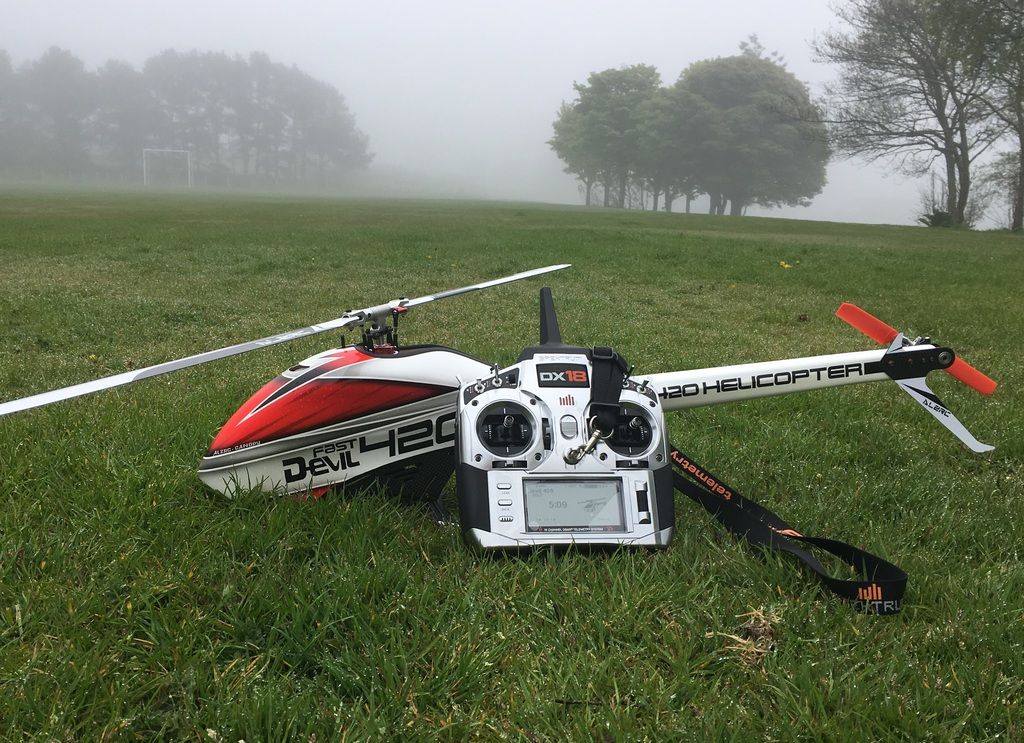 First flight after setting up (excuse the lame skills):
https://www.youtube.com/watch?v=T7ewZC0jSHU
So overall comments looking back on the build and first few flights:
Pros:
Very well priced
Good service from Bangood, well packed
Great quality overall
Fit and finish on metal parts as good as anything out there
Sensible use of plastic parts keeps weight down and work well
Brilliant design, low parts count, quick and easy to build
Flies great and looks great
ALZRC motor powerful and cool running
ALZRC Combo package looks like great deal (I was given the basic kit)
Cons:
Boom and tail servo tray needed trimming for good fit
Main bearing holder/shaft retainer supplied is different to what's shown in manual so might cause confusion
Not enough red finishing washers supplied (order up two extra packets, they are pennies)
Main blade root thickness varied on my blades making it hard to get even tension, I had to shim one blade.
Tends to come out tail heavy, so needs a biggish battery or weight added to nose to balance
It's a clone, that might put some people off.