Kasama Dune 600
11-01-2014, 04:42 PM
Kasama Dune 600
---
I got lucky yesterday, power cut at work so they sent everyone home which gave me time to finish off my new Kasama Dune.
Final Build Spec:
Kasama Dune 600
Kontronik Pyro 700-52
Hobbyking YEP 80HV
Kbar (full size)
RJX HV servos
2 x Lemon DSMX remote receivers
600mm RJX main blades
95mm CY tail blades
12s, 2700 - 3000mAh Lipos
2s 1800mAh Rx pack (unregulated)
I had to put a long shift in to get it all built and set up but by midnight it was done (and so was I).
One of the things i like on the Dune is it uses sub-assemblies that much of the hardware is mounted on to form separate modules attaching the the minimalist main frame. This is the module for the aileron and pitch servos, the engineering is equisite: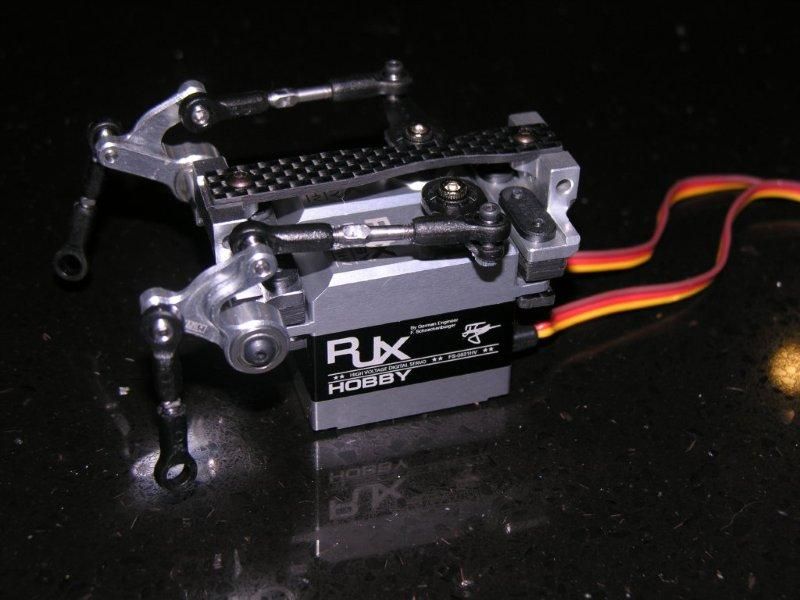 The frame is basically a spine structure, it's very narrow so much of the electronics has to be externally mounted. This makes it hard to avoid a bit of clutter but the canopy covers it all
I did my best to keep it reasonably tidy.
Left side: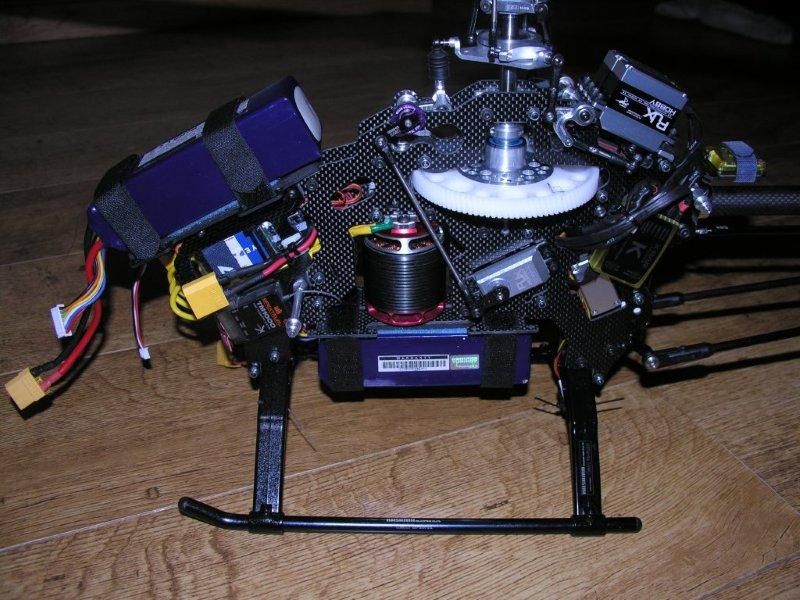 Right side: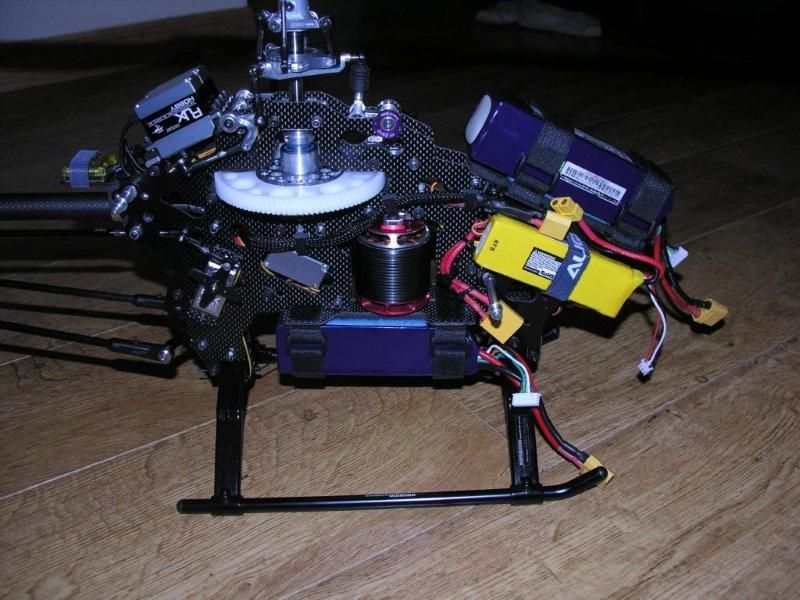 The whole thing less canopy: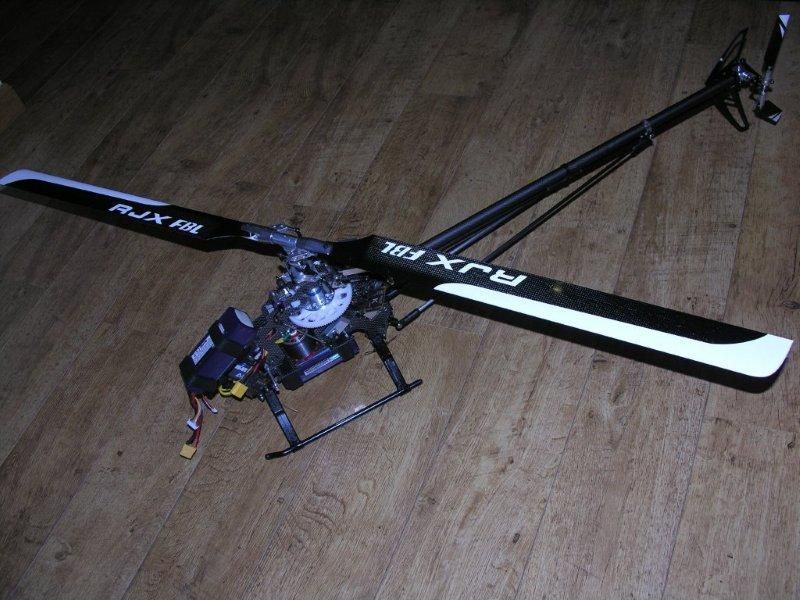 Ready to fly: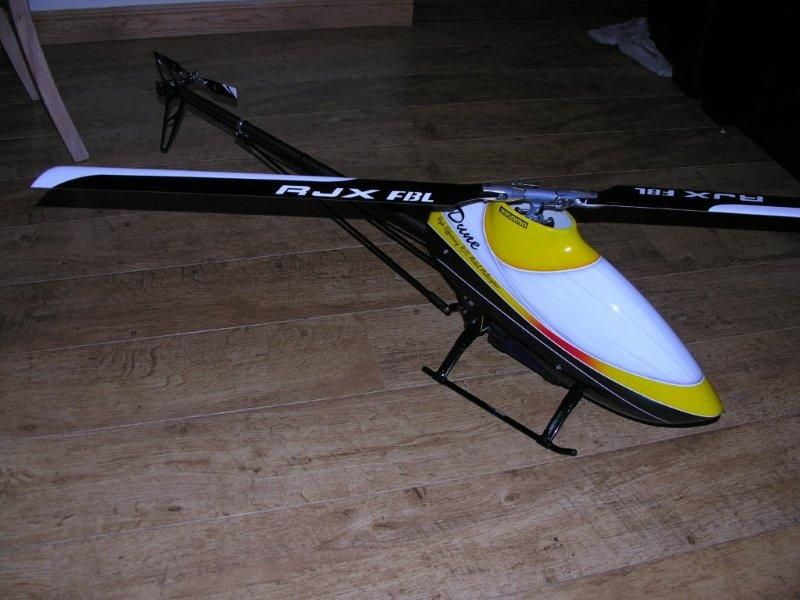 Some critisise the Dune as it runs in the face of the modern trend for low part count. The quite complex linkages that operate the swash are a good example, most designs these days have direct linkages from servo to swash. While there are a lot more parts on the Dune the design does allow for a perfect setup. On many direct to swash designs servo travel is limited due to linkages hitting the frame or the servo case. The Dune design totally avoids that allowing optimal travel values to be used rather than having to limit servo travel to avoid binding, like I've had to do on most of my direct to swash designs. So maybe Mr Kasama has method in his madness?
I got out and had four test flights today, it flew pretty much perfect right off the board. The blades are slightly out of balance (ran out of time last night) so i need to sort that, but otherwise it was fine right from the off using settings in the Kbar for the Logo 600. Flights were a bit boring so no video, i'll shoot a vid tomorrow weather permitting. It's remarkably quite in flight but has massive punch, I think it's going to me a firm favorite.
11-01-2014, 05:18 PM
---
Nice and tidy wiring......JPF
Real clean.....youv'e done this before......
That RJX module is very nice.......as I'm not that versed in FBL, it appears that mechanical linkage adjustsments would be a whole lot less hassle...... a very good thing..!
Servo placement options on the frame and motor mount location look very well designed and manufactured......a very top-shelf (no Trex clone), at least a couple of notches above an Align.....
11-02-2014, 04:42 PM
---
Thanks, this heli is growing on me all the time.

I shot a video today but be warned it's pretty boring. I'm still very tentative with the new Dune plus the field was being used for a cross country running contest, so lost of people wandering around.

Anway, it proves that it flies. It has quite a distinctive sound, very quiet actually.

11-03-2014, 05:48 AM
---
Yes, i'm running a separate receiver pack. it's a 2s 1800mAh LiPo which powers the flybarless unit and the HV servos unregulated.

The HV ESC doesn't have a BEC built in so it's either a receiver pack or a high power external BEC.
11-03-2014, 10:55 PM
---
Some inverted, loops, rolls, flips, etc are about as close as i come to 3D with any of my helis... old dog new tricks and all that.

But the Dune will certainly do hardcore 3D:

11-03-2014, 11:03 PM
---
Hey you found a video of me flying!
I am not exactly great myself, especially with the 450x malfunctioning and smashing into the car wash roof, and the 130x having tail/gear issues. After tons of posts on Helifreak of saying the last tail gear couldn't cause an issue with the T shaft, installing a stock one proved it...now just waiting for different gears.
Looking forward to some more flight vids.
---
Last edited by thepiper92; 11-03-2014 at

11:34 PM

.
11-11-2014, 07:52 PM
---
Here's another (not very exciting) video of the my Dune flying this last weekend. It's interesting that flying in the same style and with the same batteries the Dune gets significantly longer flights than my Trex 600, probably because it's about 300g lighter.

Thread
Thread Starter
Forum
Replies
Last Post
Helicopters- Electric For Sale & WTB
Helicopters- Electric For Sale & WTB
Standard & Large E-Heli Talk
Helicopters- Electric For Sale & WTB
Currently Active Users Viewing This Thread: 1
(0 members and 1 guests)
Posting Rules
You may not post new threads
You may not post replies
You may not post attachments
You may not edit your posts
---
HTML code is Off
---