Build and Fly review : Ultimate EP Biplane from World Models Man. Co. Ltd
12-31-2011, 07:18 AM
Super Contributor
Join Date: Oct 2010
Location: Ex UK Brit now in Latvia west coast - Ventspils
Posts: 12,413
Build and Fly review : Ultimate EP Biplane from World Models Man. Co. Ltd
---
First ... I have no commercial connection with WM at all ... I'm just a buyer who heard Santa's Call !!
Yep - went into Model Shop on way home from Airport .... arrived home with an extra package !
Wife put it under tree for me ... that lasted about 30 sec's - just enough to get this photo ...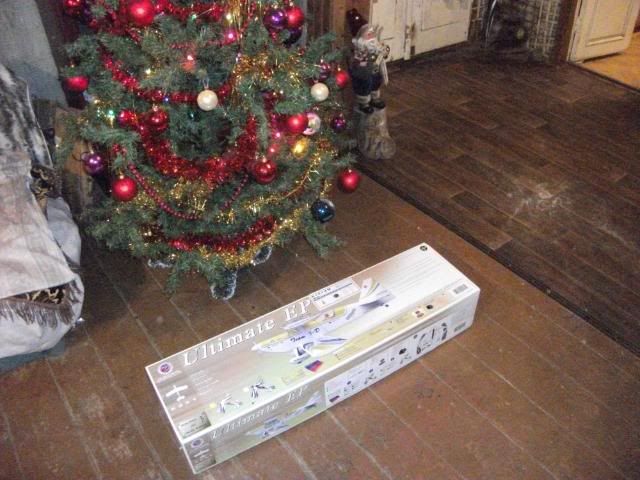 Let's get on ...
Here's the box as handed opver after the painful part of paying out money ...
Box art close-up :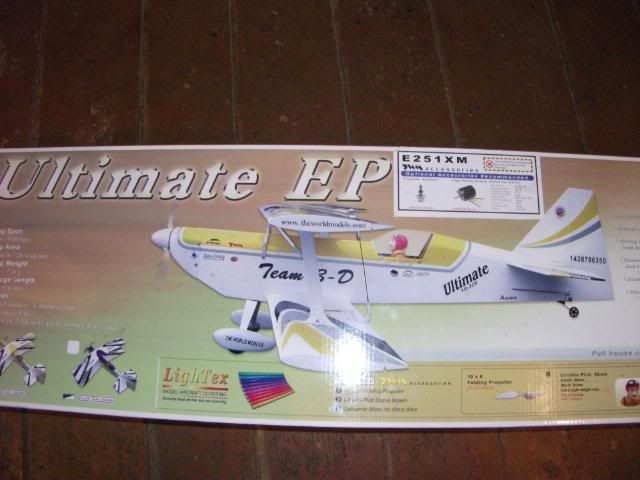 Lid off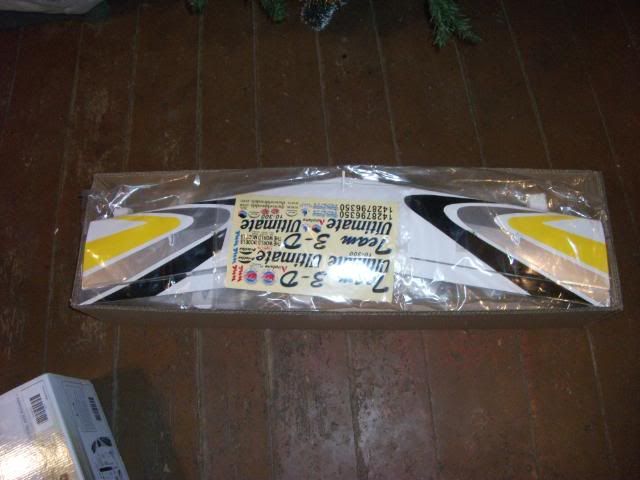 and laid out (I've removed various protective bits of styrene so you can see contents ... it comes very well boxed !)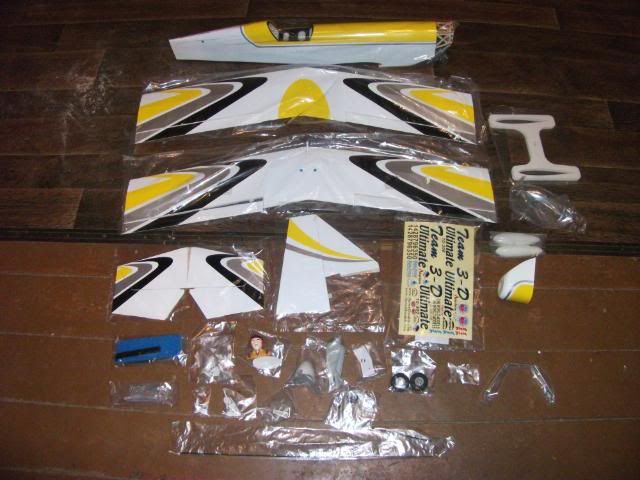 Lets see what we have on the floor ...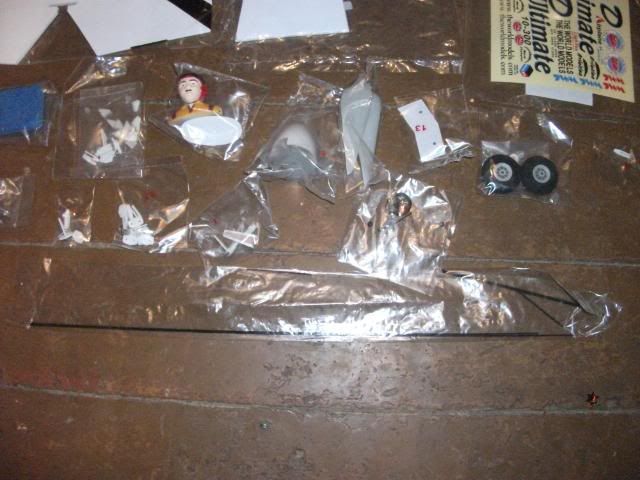 Control rods, pilot figure, folding prop and boss, wheels, horns and connectors.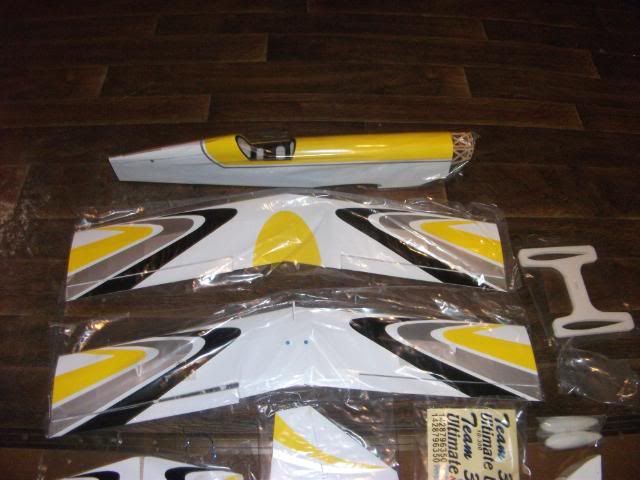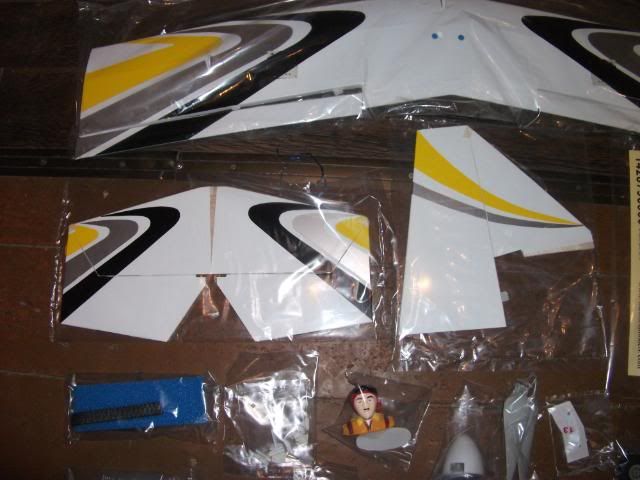 Wings, Fuselage, templates to hold wings for alignment when building, battery tray foam and strap, tail parts.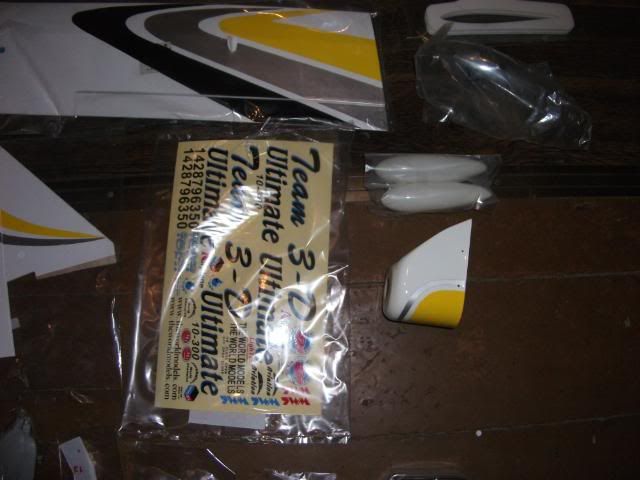 Decal sheet, wheel spats, cowl ..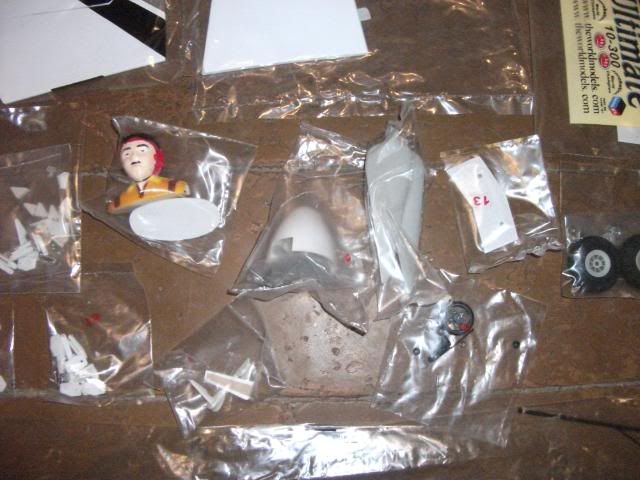 U/C wheels and assorted ..
Overall out of box ?
Very well packaged and no damage that I can see so far.
Points I noted :
No hinges are fixed by factory, provided but not fixed. Big PLUS point to me - I like to fix my own ! Second no tape hinges here - these are mylar strip as I prefer.
The covering is so well done - that it's very hard to see any joins, signs of it being a super job.
The woodwork when spied inside is clean and boy is it light ! This reminds me of the 80's when Japanese Kits from Pilot came on market with super fine diecutting, Liteply and super detailing.
Folding prop ............ now this has me confused ! I've only dabbled with these on gliders ... never on aerobatic model. I always considered folders as less efficient ... so anyone explain this one for me ? I have Fixed props in the box I bought - so have both to trial.
This is one LIGHTweight machine that really looks nice.
What's not in the box :
This is the ARF version as against their RTF ... so it needs 4 x 9gr servos, 2830 1000KV or more BL motor 180W, 3S 2100 Lipo, 4ch radio + Y lead on ailerons ... prop and spinner are supplied.
I have for it :
2822 1400KV motor, 200W (with a RCTimer 2822 14 300W waiting new shaft)
3S 2280 30C Lipo's from my 450 Heli's
35A ESC
SG90 and Corona MG 9 gr servos
FrSky 8ch Rx
FlySky Tx
The motor is under sized for spec'd 10x6 props as a 2822 ... but given the power rating - should be OK. The RCTimer also less dimension is much more powerful than specifications ask ... so that should do well ...
Both power plants will be bench run on the 10x6 specified props before installation ... make sure no burn-outs etc.
Next post will be the putting it together .....
I'm interested in anyone else who has one of these machines and any comments - advice - faults found - modifications needed etc.
One comment I see on a Youtube video is to beef up the ply motor mount, they mention it's in the manual ... went all through my manual and no mention of this at all ... (with ply mounts - I usually epoxy fillet joints anyawy ... )
Till next post !
---
Last edited by solentlife; 12-31-2011 at

07:43 AM

.
Thread
Thread Starter
Forum
Replies
Last Post
Scratch and Kit Built Aircraft
Currently Active Users Viewing This Thread: 1
(0 members and 1 guests)
Posting Rules
You may not post new threads
You may not post replies
You may not post attachments
You may not edit your posts
---
HTML code is Off
---