SAB Goblin 770
03-21-2016, 09:10 PM
SAB Goblin 770
---
So this is my birthday/Christmas present to myself
It's the Goblin 770 Comp 'carbon edition' .. The carbon bit gets you a pure carbon canopy and tailboom plus a few upgrades of stuff like the swash, tail control mechanism and maingear. The 770 used basically the same mechanicals as the Goblin 630 and 700 but with larger frames and longer tail boom and main shaft.. plus longer blades obviously. It's a big old beast but because it shares mechanicals with it's smaller siblings the airframe is not much different in weight.
Being a skinflint I decided to use mainly hardware i had laying around or transferred from other helis. This meant no mega 14s power system, I'll use the 12s batteries from my trusty Compass 7HV. The full build spec is:
Motor: Kontronik Pyro 750 560Kv
ESC: YGE 160HV
FBL: Vbar Silverline
Servos: King Max HV Brushless all round
Batteries: 2 x Turnigy (or Zippy) 6s 5000mAh 40C
Rx power: 2s 2200mAh LiPo unregulated.
I had to cut the beefy 8mm shaft of the Pyro down to suit the Goblin, it had previously been fitted to a Mikado Logo which use really long shafts. Due to the relatively high Kv I also had to go down to the smallest motor pulley available at 18t. Otherwise it was a very straightforward build, much the same as the Goblin 630 I already own.
Surprisingly the 770 built up the the exact same flying weight as the 700 size Compass which was an encouraging sign as I was initially worries it might be a little underpowered with the setup i had (most people put 800 size motors and 14s in the 770)
So here are a few pictures: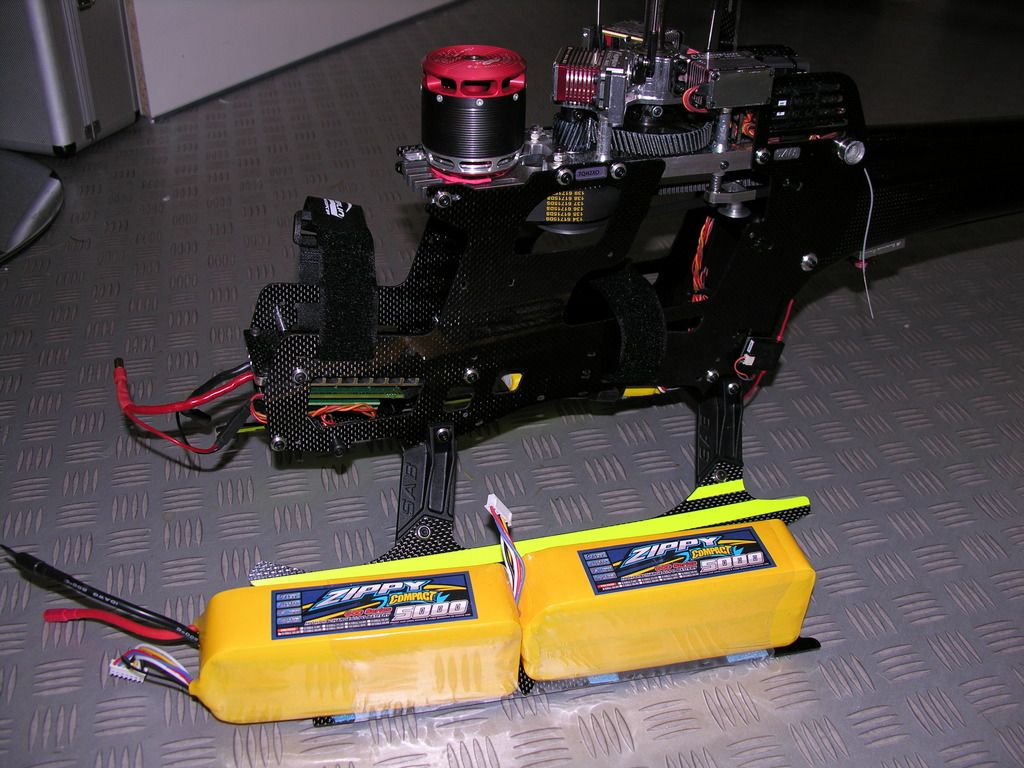 Flying opportunities have been limited by weather but it has flown and was pretty much setup spot on from the first flight. Power is ample, it really only needs 1700RPm to perform well but the motor will turn the rotors at 1950RPM and at that it's ballistic.
Anyway, here it is flying with low headspeed:
Thread
Thread Starter
Forum
Replies
Last Post
Standard & Large E-Heli Talk
Currently Active Users Viewing This Thread: 1
(0 members and 1 guests)
Posting Rules
You may not post new threads
You may not post replies
You may not post attachments
You may not edit your posts
---
HTML code is Off
---