New HobbyZone Micro Champ for Clearview, FMS and RC Desk Pilot
12-28-2010, 09:24 PM
Member
Join Date: Jun 2006
Location: Chantilly, VA
Posts: 246
New HobbyZone Micro Champ for Clearview, FMS and RC Desk Pilot
---
Hi RC sim-folk.
Just completed the final versions of 3 models for
ClearView
,
FMS
and
RC Desk Pilot
of the
HobbyZone Micro Champ
.
__ClearView Version________FMS Version________RCDP Version_____

_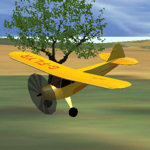 _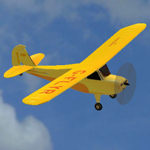 -
Notes: The HobbyZone Micro Champ RTF airplane is a
very scale micro outdoor flyer with the ability to
fly indoors in a decent sized area. This model is
just slightly bigger and heavier than the ParkZone
micro J-3 Cub.
Wing Span: 22.4 in / 517mm
Overall Length: 14.3 in / 65mm
Flying Weight: 1.3 oz / 38g
Motor Size: 6.0mmX15mm geared 4.25:1 pager motor
Prop: 5.12x2.75 in / 130x70 mm
Battery: 1-cell 3.7V 150mAh LiPoly
Charger: included
Channels: R/E/T 3 channel (tail wheel on rudder)
CG (center of gravity): 28mm from wing leading edge
Receiver: Spektrum AR6400 (3 channel PKZ3351)
Requires: full-range DSM2 aircraft transmitter (included)
Please compare these sim models to the real airplane
and let me know what changes need to be made and which
sim you are using.
Happy Flying!
-- ggunners
12-28-2010, 09:58 PM
---
Very nice looking! Unfortunately, I can't get it to work for Clearview 5.25. It crashes before I can even take of. It seems that the initial position is a few inches above ground and that the drop is enough to break the model. Any simple tweak I can make to prevent this from happening? I maidened the real thing a few days ago and I'm eager to compare it to the sim!
12-29-2010, 12:57 AM
Member
Join Date: Jun 2006
Location: Chantilly, VA
Posts: 246
---
Hmmm... I'm running ClearView 5.28B and it is just awesome. Perhaps it is the flying field. I'm using VacaValley.
Otherwise, try increasing the wheel impact values in the params.txt file and see if that will keep it from crashing. So increase the 7.0 7.0 9.0 12.0 to higher numbers.
Code:
   breakPart maingear1 1.0 7.0 7.0 9.0 12.0 0.0050 8002.0 0.0 0.0
   breakPart maingear2 1.0 7.0 7.0 9.0 12.0 0.0050 8001.0 8003.0 0.0
   breakPart tailgear 1.0 7.0 7.0 9.0 12.0 0.0050 8003.0 0.0 0.0
-- ggunners
12-30-2010, 01:23 AM
---
Changing to another field did the trick. In hindsight, I should have figured that out myself. The real model can't take off from grass, so why would the sim? *duh*

Anyway, very nice simulation from what I can tell. Stable as a rock, which is exactly like the real thing. Also, it climbs like crazy with no elevator input on full throttle, which is exactly what the real model does too. I first thought I was out of trim until I realized this thing has a lot of lift an no weight...

Thanks for making this available!!!
05-10-2011, 11:44 PM
Member
Join Date: Apr 2011
Location: Clearwater, Florida
Posts: 537
---
Just picked up on of these. Hoping I can fly it in the front yard - not very big - and use it to start teaching grandkids to fly-( ages 7 - 11) - to start flying. You guys think that is realistic?

Wolfe
05-10-2011, 11:47 PM
Thread
Thread Starter
Forum
Replies
Last Post
Currently Active Users Viewing This Thread: 1
(0 members and 1 guests)
Posting Rules
You may not post new threads
You may not post replies
You may not post attachments
You may not edit your posts
---
HTML code is Off
---