Park size Avro Vulcan pusher prop
02-13-2019, 11:55 PM
---
You can always put in suitable 'finger' hold recesses in the under side
My XB 70 has a pair.
They are either side of the EDF (AEO 70 mm!) as it about the strongest thing in the whole plane!
I appreciate you have a prop to worry about but if you positively drop your arm as you release the plane your hand should be well out of the way by the time the prop passes.
Yesterday, 04:10 PM
Super Contributor
Join Date: Oct 2010
Location: Ex UK Brit now in Latvia west coast - Ventspils
Posts: 11,986
---
The Parkjet has similar recesses for fingers to grip for launch ... nothings thrown out yet ... all possibles considered.
Looked in my drawer and all I can find is the old P1 Gyro that Banggood were selling .. its a simple 3axis with manual pots .... OFF - Normal stabilised - AVCS modes with V tail / Elevon and conventional outputs.
I never had much luck with it before - as it has a terrible setup routine where you are counting flashes of Blue / Red LED.
Today I fitted it and persevered ... I know some have had good success with it .. my biggest concern of course is that manual gain. At least with the A3 - I have Tx controlled gain ...
To save embarrassment - I have set my 3 pos switch as : OFF - OFF - Normal .... just in case ... YES ! I have accidentally taken of with that switch wrong ... gets very painful taking of in AVCS mode ... so I avoid AVCS modes like the plague !!
Just laying out wiring ... then its sheet top of wing... making sure all propped up level to avoid any twists.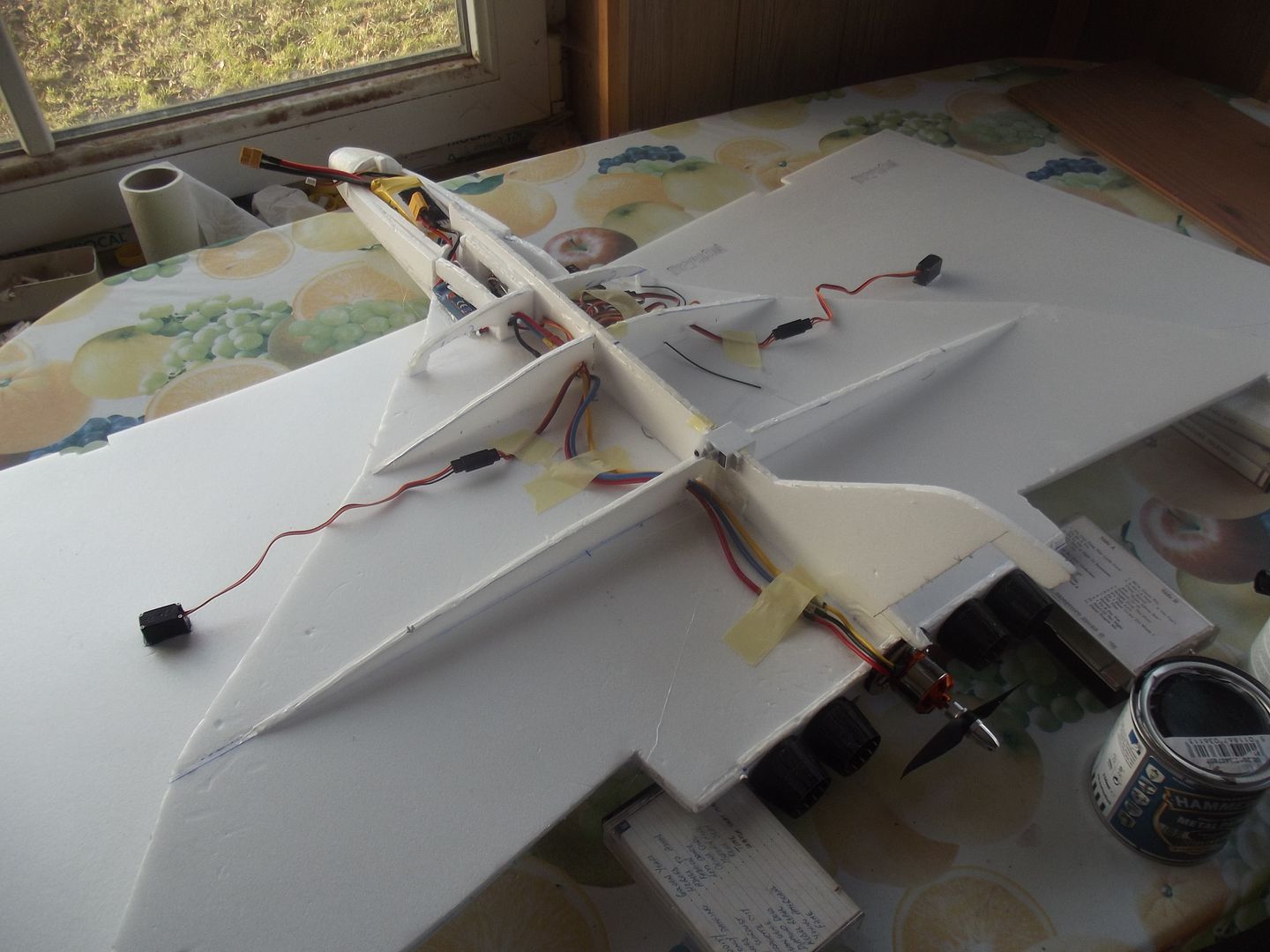 I know I'm not the most tidy when it comes to laying out the wires !!
Top sheet on and letting the UHU POR really take ...
Because of the compound curves involved ... there is FG tape round the wing outer circumference
Thread
Thread Starter
Forum
Replies
Last Post
Hi-Performance and Sailplanes
General Electric Discussions
General Electric Discussions
Currently Active Users Viewing This Thread: 1
(0 members and 1 guests)
Posting Rules
You may not post new threads
You may not post replies
You may not post attachments
You may not edit your posts
---
HTML code is Off
---