Hobby King MX2 EPP 39" (Skywing)
09-28-2018, 11:44 AM
Super Contributor
Join Date: Oct 2010
Location: Ex UK Brit now in Latvia west coast - Ventspils
Posts: 12,911
Hobby King MX2 EPP 39" (Skywing)
---
Little while ago at a meeting - I overcooked my Hummer into the ground and decided that flying a lot of glue joined together by scraps of EPP was possibly near end of life for it.
So instead of doing the sensible thing and getting another Hummer ....... they really are excellent 3D machines to learn on ..... I looked for something a little different. You know what they say ... change is as good as a rest.
I had looked at the Skywings 39" EPP jobs before but thought Oh well ... having had their larger Edge 540T that kept shedding hinges ... scrolled on past.
Hobby King having secured supplies some time ago rekindled my interest but of course the Hummer was still doing its best to stay with me !!
Till this event.
Hummer sat there at back of 'hangar' and I ummed and arred about it ... then finally plumped for the MX2 which HK were selling cheaper than Skywings ....
Being EPP laid over ply frame - its weight was literally same as the Hummer with similar size. It is spec'd for similar motor / LiPo / ESC etc. - so all I had to do was swap out my Hummer gear to it.
TGY 2836/6 1100kv motor
Red Brick 30A ESC
FrSky 7ch Rx
Hobby Eagle A3 Super II
1300 - 1750 3S LiPo
Turnigy 9018MG servos all round.
The box arrived to the immortal words from wife :
What's that ??
I replied :
mmmmm well its a replacement for a broken model ... old ones so bad ...
Did she believe me ? Doubt it !!
Open box and all in good condition - well packaged. Looks better than the online photos actually.
Using CA - this goes together so quick - its a one evening job if you get stuck in. Leaving electronics for next day.
NOTE : Hobby King for some reason have decided that Skywings build instructions need modifying. Skywings say to insert elevators first, then slide in stab. But Hobby King say to slide in stab first and then CUT the rear of fuselage to get elevator in .. Why ??
Elevator through slot :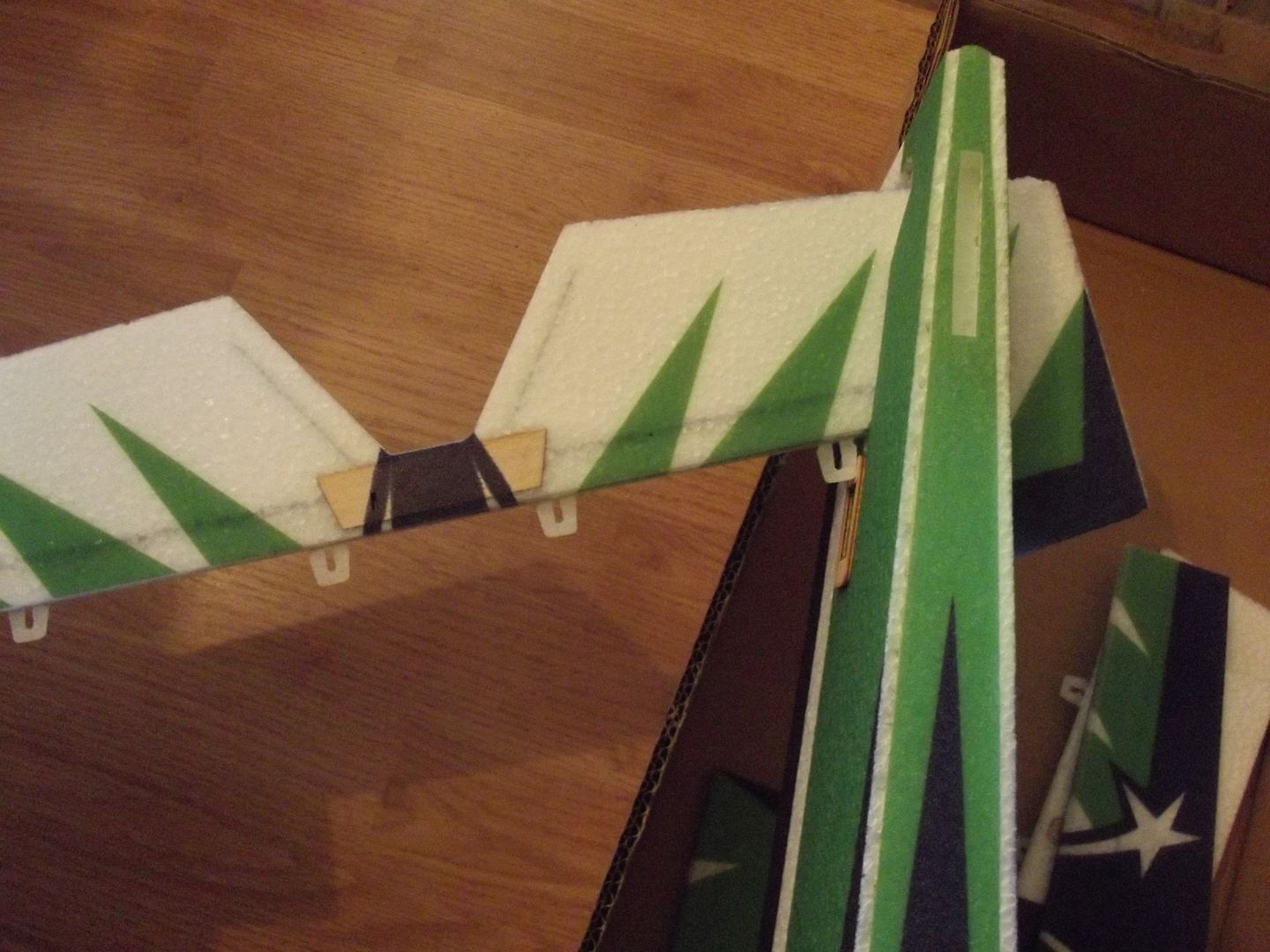 Move out of way :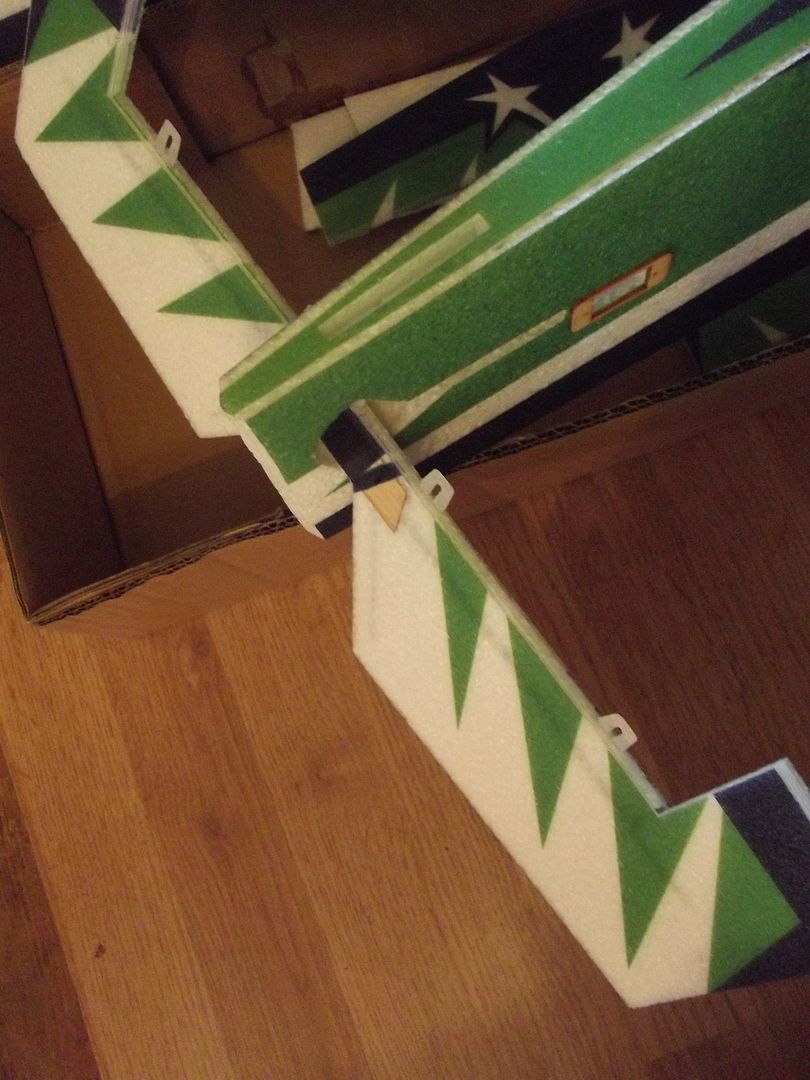 Insert stab and CA in place :
Hinges are CA jobs and easy to get into place etc...
The control rods are typical Skywing / Other profile setups where you have two rods to align ... CA and heatshrink tube together ... UGH !! So I used the Z bend rods but singly as they are too long anyway ... one end Z and other the screw EZ connectors .. allowing easy adjustment in the field.
The installation of motor is dead simple ... firewall is already setup (minimal side / down thrust - so that will need checking on maiden) ... you need a rear mounted X motor setup ... with leads passing into battery bay.
The ESC is to go in the next bay - so the motor / ESC leads have to be moved to side and taped to allow battery to sit in there.
RX is supposed to go in the rear bay with elevator / rudder servos with extension leads coming through a slot in rear area. Aileron leads are easy to bring through ... I passed leads into the wing then used a hooked end wire to lift plugs through the slot into fuselage ... a Y lead then keeps them safe from going back down the holes !!
I tried to fit my HE A3 Super II unit 0 but couldn't clean up the leads etc. enough to get the canopy on. Then I had a brainstorm ! I swapped the Rx and HE unit over so HE unit is now in the Rx slot and the smaller Rx unit is sitting proud to easily pass through slot in canopy ..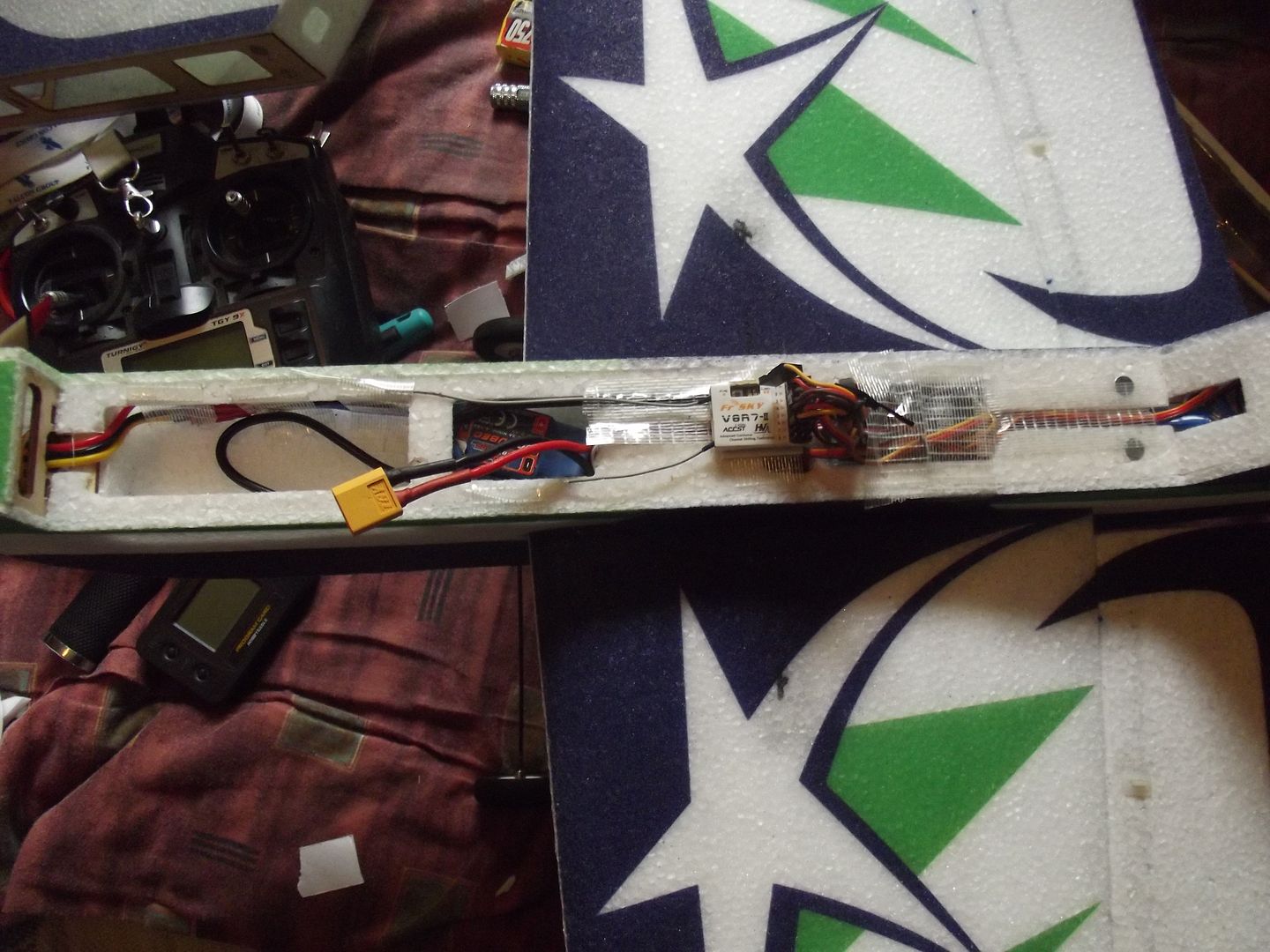 I have even managed to have the HE Program cable left in !!
AUW is about 720gr ... with CoG a little rearward of recc'd ... but I am going to fit an Alloy spinner to make front end look better and add a few grams.
With a 1300 LiPo - it certainly is too rear a CoG ...
Here ready to go ...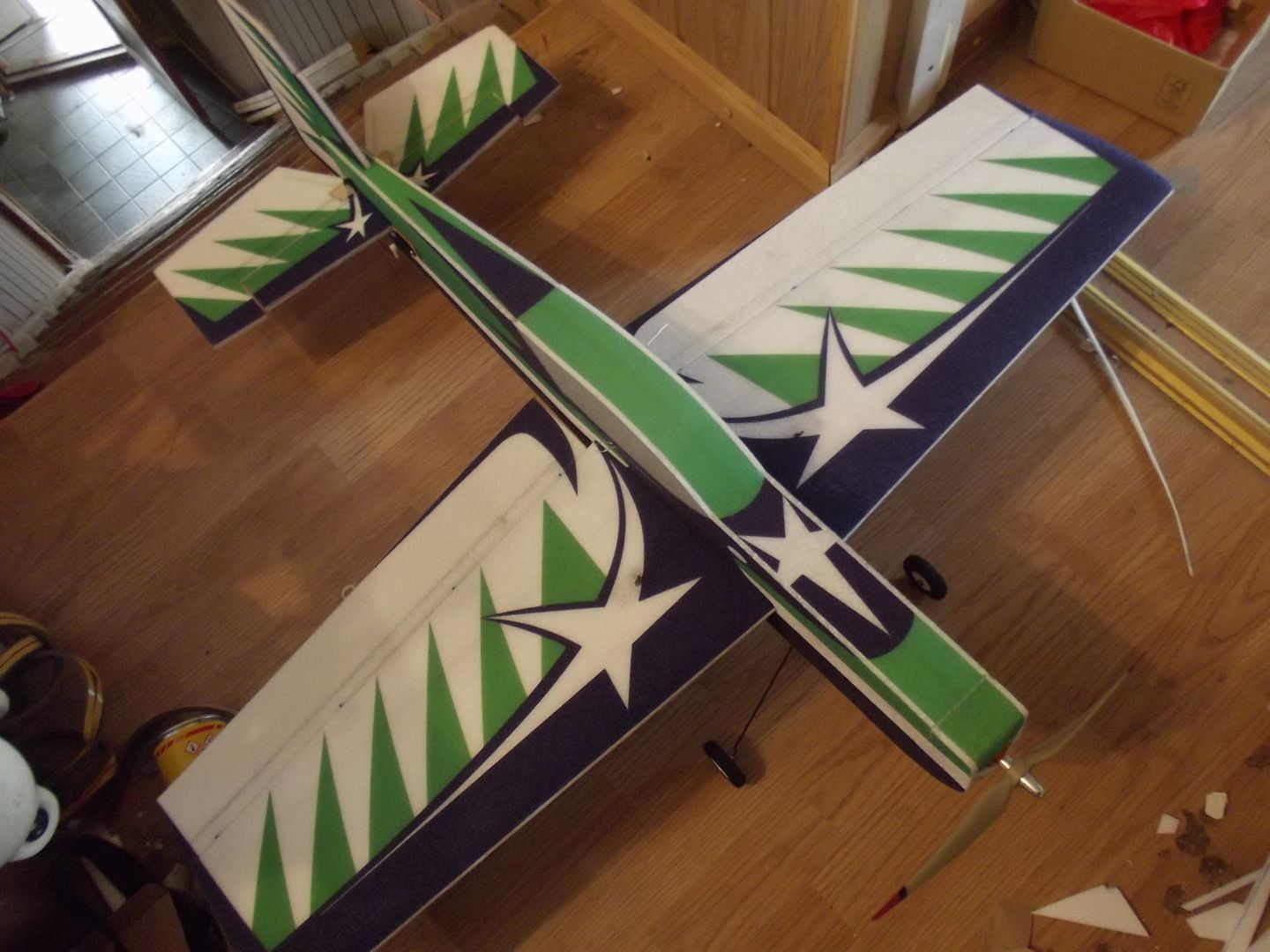 Nigel
06-12-2020, 06:33 PM
Hobby King MX2 EPP 39" Skywing
---
So I have a few questions. I have ordered two 6s Lipo batteries for my ebike I built. I have heard that sometimes you can get dud cells. Does Hobby King replace those under warranty? Also, has anyone else noticed that their tracking service does not work right? One of the batteries arrived and the tracking still did not work. But at least I have it. What are your guys experience with Hobby King and turnigy multistar lipo batteries?