Just bough J3 Piper Cub, Looking for suggestions
12-23-2013, 11:24 PM
New Member
Join Date: Dec 2013
Location: Olathe, KS (SW KC)
Posts: 2
Just bough J3 Piper Cub, Looking for suggestions
---
Just bought a new Electric J3 Piper Cub with 40" wingspan and I'm super excited about getting in the air!! Looking for pointers.....Any suggestions?? Thanks in advance, PiperCub
12-23-2013, 11:57 PM
---
Hi Piper,

Welcome to WF. Can you tells us more about your Cub? Who makes it? Does it have ailerons or just rudder control? What radio ? Foam or balsa ? How much does she weigh?

My first electric plane was the 3-axis Hobby Zone Super Cub. There are several Cubs out there and the WF community here could best help if we knew more about your plane and flying experience. Chances are someone will respond with experience flying the exact airplane.

That being said, is this is your first RC plane ?

Cheers,

Hawk
12-24-2013, 06:43 AM
---
Yeah, we need to know make and model of your Piper Cub. I picked up one for the local EAA chapter that was used for showing young kids how to fly RC. This was a very nice model that had plenty of power for flight. Its roll rate was very slow, but again, this was a trainer model.
If this is your very first RC,
GET HELP!!!!!!!!
The first maiden flights of an RC model by a pilot with zero experience in RC is often measured in seconds. Word to the wise.
12-24-2013, 03:29 PM
New Member
Join Date: Dec 2013
Location: Olathe, KS (SW KC)
Posts: 2
Specs on my new J3 Piper Cub....
---
OK Dahawk & Kyleservicetech here's the specs from the Ebay listing where I bought the plane...Does this help?

COMPLETELY READY TO FLY WITH EVERYTHING INCLUDED!!
Features:
•4 channel radio remote controlled plane (aileron, elevator, throttle, rudder)
•Simple and easy to assemble
•Constructed of EPO foam
•Detailed cockpit design
•Landing gears with scaled suspension suspension
•2.4GHz spectrum technology with the functions of automatic identification and precise code pairing, and strong anti-jamming that allow more than 20 aircrafts to fly in the same field at same time
Package Includes:
•Airplane (90% assembled)
•Pilot figure
•4 channel 2.4GHz multifunctional spectrum transmitter
•Battery balance charger with alligator clips
•Rechargeable 11.1V 25C 1300mAh Li-Po Battery
•User manual

Specifications:
•Wingspan 1030mm (40.6 inch)
•Length 715mm (28.2 inch)
•Flying Weight 650g (23 oz)
•Drive System KV1300 Brushless OutRunner Motor
•Propeller 2-Paddle
•Speed Controller 20A Brushless ESC
•Servo 4X 9g high speed micro servos
•Battery 11.1V 1300mah 25C Li-Polymer
•Control System 2.4GHz Multifunctional Transmitter and Receiver
•Radio Control Range 3000 feet (1000m)
•Pilots using their own radio systems will need to adjust Travel Adjust and or EPA (End Point Adjustment) settings before operating.
12-24-2013, 03:56 PM
---
Okay,

Sounds like the Airfield J3. Good reviews and if that's your plane, good looking too ! Again, if this is your very first attempt at rc flying, get some help. Always sad to see "one and done"

If you've joined a club, have an experienced rc pilot "buddy-box" with you. Since it's Spektrum, there should be no issues. If that's not possible or you just don't want to do that and want to be self-taught, then at least get a little time on a simulator before heading out the local soccer field.

You can get these used on ebay or rcg for pretty cheap. Real Flight or Phoenix.

Trust me, it's real easy to lose orientation at first, especially when you turn the plane towards you.

Best of luck. Let us know how it goes.

Cheers,

Hawk
12-24-2013, 05:01 PM
---
There are at least three other brands that provide the J3 mentioned (spec'd) below......probably all made by the same manufacture re-labled.
Dynam
FMS
Art-Tech
My experience with J3's (Dynam) of that size has been decent. They're not real durable and like most Cubs (landing gear and wing struts are the weak links), a little tricky to get off the ground at first (they tend to tip stall easily without a little head breeze during ground take-off).........but they fly well, are predictable and slow enough to learn aileron control.
Some may express a good first aileron trainer, I learned on one, but it took a beating.......easy enough to repair and learn basic build skills with.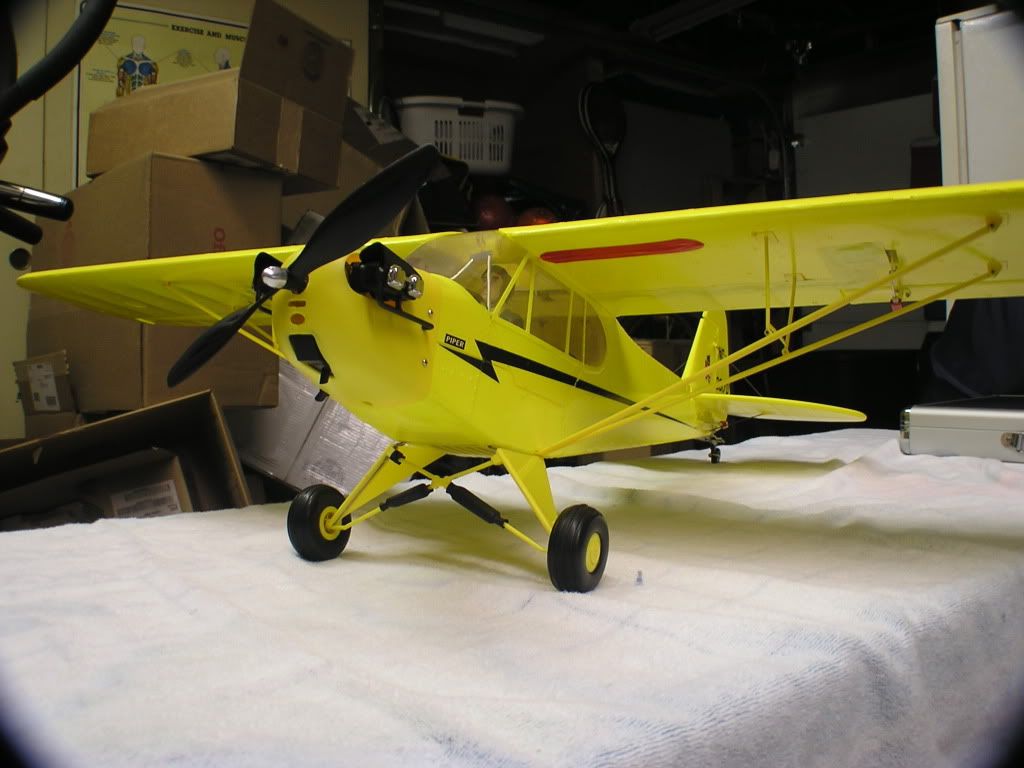 12-24-2013, 05:08 PM
---
Hi pipercub. Have you had any rc experience before? How about simulator experience? Or how knowledgeable are you about how planes fly? If the answers to these questions are mostly negative, I'm afraid what Kyleservicetech said will come true.

Many newcomers to rc flight are attracted to the Cub. It's full scale brethren is legendary so it must be good, one would think. But the truth is, unless the model had some deviations from the full scale design, it's not a good beginners plane. The HobbyZone Super Cub is an example of the rc version done right for a beginner.

So my advice, if you are totally new, is to find someone who's experienced to help out, possibly at a club, or get a simulator to at least get a feel for it. At leastan experiencedperson couldcheck thatyour plane is airworthy and trim it out so it flies straight. For you to assemble and fly that plane with no experience, is like someone who doesn't know how to fly test flying a plane that has never been flown before.

Hate to be like I'm putting a damper on things, I just hate to see folks start the hobby excited, smash their nice new plane on the first flight, then give up because 'it's stupid'. It's kinda like learning to ride a bike. Hard at first and you need a helping hand, but when you get it, you get it. Some people manage on their own, but they are rare, and sometimes go through a few models on the way.