Help ... Hobby King / Art Tech Sound module plugs
02-08-2016, 06:12 PM
Super Contributor
Join Date: Oct 2010
Location: Ex UK Brit now in Latvia west coast - Ventspils
Posts: 12,597
Help ... Hobby King / Art Tech Sound module plugs
---
Can anyone help me identify the plugs used to connect to the Hobby King . Art Tech AT6 Sound module ?
I have a module but guy lost the cables for it. If anyone can identify the right plugs for it ... eternally grateful.
Cheers
Nigel
02-09-2016, 10:54 AM
Super Contributor
Join Date: Oct 2010
Location: Ex UK Brit now in Latvia west coast - Ventspils
Posts: 12,597
---
Decided in the end to hard wire leads direct to the module ..... Once I figured out polarity ... and that the Rx to module lead has RED where Signal should be ... it was easy. The socket plastic surrounds pull of easily leaving the bare pins ready to carefully solder the wires to direct.
The heat shrink was a difficult one and to be honest is crap ! So I think once tested .. I will cut away the heat shrink and Hot Glue around the pins to give support and insulate.
Standard servo wire used. I have a kit of wire and plugs with proper crimper ... so I knock out leads anytime I want.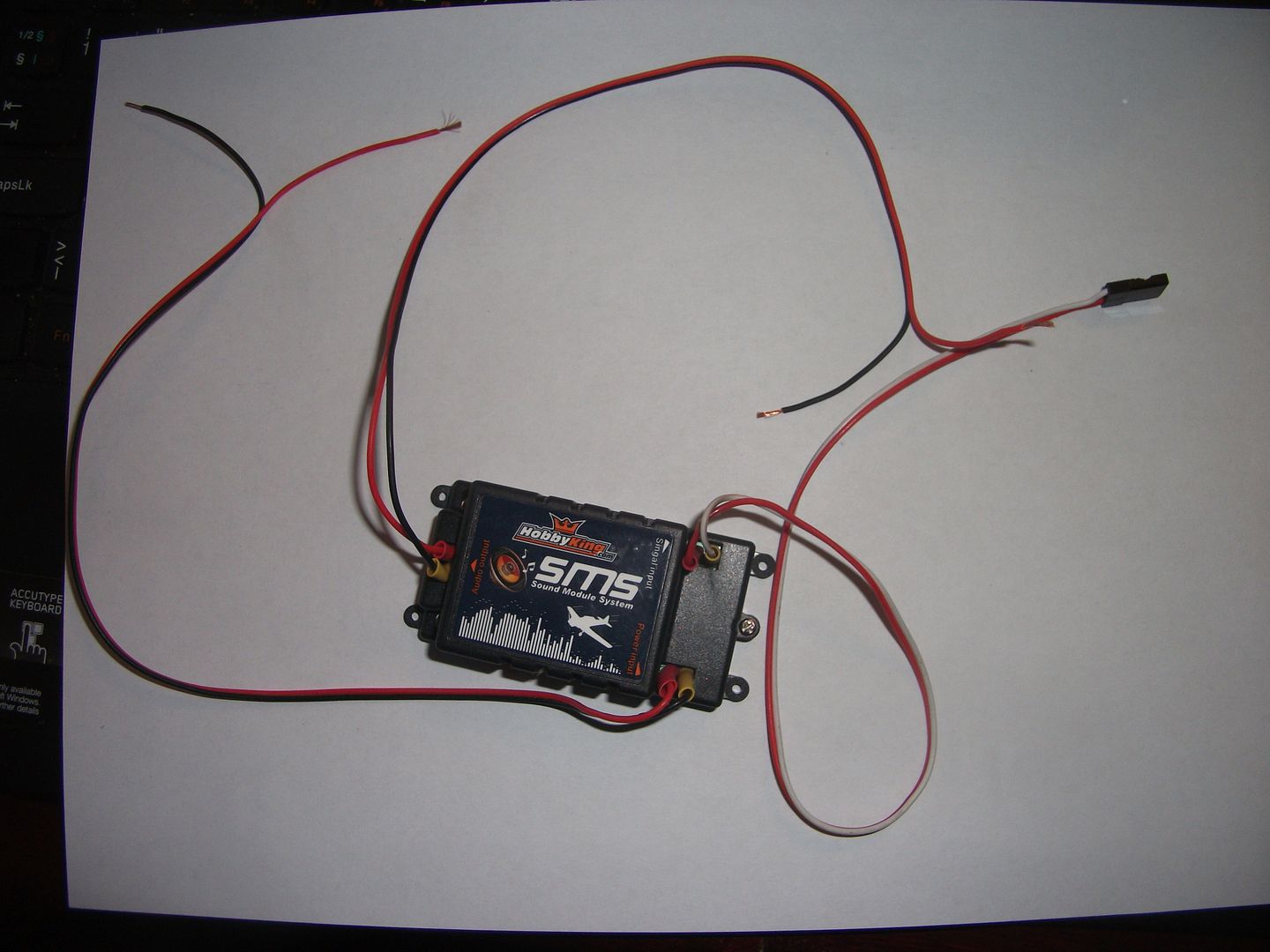 Nigel
02-09-2016, 04:05 PM
Super Contributor
Join Date: Oct 2010
Location: Ex UK Brit now in Latvia west coast - Ventspils
Posts: 12,597
---
Now here's one for the boys ...

The unit is supplied with 8 Ohm 15W speaker ... looks about a 2.5" or similar.

I gave a test of my module above with two 3W 8 Ohm speakers in parallel and in series ... no difference in sound level to a single either way .. I realise that the 3W is restrictive ...

I have four 15W 2.5" 8 ohm speakers coming and want to place all in the big lanc. Which way is best do you think ? Parallel two speakers to each module (I will have two modules in the Lanc) ... or in series for each module ?

Nigel
02-10-2016, 08:07 PM
Past President of PSSF
Join Date: Sep 2009
Location: Lacey WA, 1 mile E of Mushroom Corner
Posts: 2,148
---
Not sure, but the plugs look like the same one as on my JR, TX main battery leads.

The power rating on a speaker is how much power it can handle before the speaker coil can not cool itself properly. If you feed a 2 watt signal to a 3w speaker or to a 15w speaker the volume should be similar if the two speakers are similar in efficiency and designed frequency range.
I think wiring the speakers in series might be safer for the amp. Should keep the current down in the final circuit.

I don't know the power output of the Turnigy sound system, but there are some small but powerful amps that could be added to give you plane shaking volume.
02-10-2016, 09:02 PM
Super Contributor
Join Date: Oct 2010
Location: Ex UK Brit now in Latvia west coast - Ventspils
Posts: 12,597
---
The power out is a lot more than my 3W speakers I know that.

I've now hard-wired the module so plugs no longer needed.

The other unit coming from HK will of course have the plugs ... but no problem.

I'm interested to see the difference in volume of my setup vs the original speaker etc.

Nigel
Thread
Thread Starter
Forum
Replies
Last Post
Currently Active Users Viewing This Thread: 1
(0 members and 1 guests)
Posting Rules
You may not post new threads
You may not post replies
You may not post attachments
You may not edit your posts
---
HTML code is Off
---