Discussion- Tx (radio's) stock or what
09-09-2008, 10:12 PM
Discussion- Tx (radio's) stock or what
---
Lets dedicated this dicussion to using the stock tx or getting a better one.

what are the advantages?
what are the cost ?
are the cost worth it?
what is 2.4 ?
Explain your opinons
09-09-2008, 10:34 PM
---
Let's suppose the DX7.
Advantages: Better built. Likely more channels, so you can expand into more complex models. One radio for up to 20 of your models. Relatively easy progamming for mixes and the stuff you need for helis in particular.
Cost: $350 for the Heli model radio and a reciever + three DS285 servos, addl. $50-$90 for receivers. Not Cheap.
Worth it: I think so. I like having one radio for everything I fly, and it is a great system.
What is 2.4GHz: An alternative to traditional radio control in that it uses
DSSS
instead of FM, PPM or
PCM
. Way too technical, I know. But its main advantage is that it copes / overcomes interference in a much safer way. DSSS is, in te simplest terms, the same principal that wireless networks use, so you can think of a room full of computers all communicating on the same network but not (preceptably) interfering with eachother... same thing with multiple 2.4GHz radios working on the same flight line. each radio and its Rx are linked, and even though there is info out there on the same frequency, the Rx only listens for the 'packets' coded for it, ignoring others.
hope that helps.
09-09-2008, 10:40 PM
---
I don't like the DX7 for heli's, mainly because it does not have the pitch trim knobs. Yes you can change that in the radio, but I like the ease of turning a dial. Other than that it's a great radio. What I'm using is a JR 8103 with a spektrum module. Has just about the same programing as the DX7 too. They go really cheap on the bay (got mine for 100$).
Mike
09-09-2008, 10:45 PM
---
I'm with GRU. I have a DX7 and the programming makes a world of difference. If you need to save a few bucks, you could look at the DX6i which is 6 channel instead of seven and doesn't have quite as many programming features as the DX7. BUT, it would still be a great radio. I think that smaller helis would be much easier to fly with a programmable radio. If you took a CP Pro with a DX6i, I think many people would be happy with the flight. The difference is the quality of radio.

Programming will help with centering servos, keeping the throw of the servos equal, reversing, servo range, and the list goes on. Try working with a cheap radio that can't be programmed and then work with one that can. You will find that there is no comparison between the setup quality.
02-10-2009, 12:41 AM
New Member
Join Date: Jun 2008
Posts: 1
futaba tx.
---
hi guys,
I am new to comp tx's, set mine up ok exept the sw/t setting...
It can be set from 0 to 50% ............... now................
does this mean that is the amount of throttle it will give 'extra' to the specified servo comand? or is that the range it will work in?
it's only available in Idleup, I set mine to 30% but there seems to be no difference,
dual rate is set 100 and servo epa is 140% - if that makes any difference
-.
regards
don
11-05-2010, 08:54 PM
Super Contributor
Join Date: Oct 2010
Location: Ex UK Brit now in Latvia west coast - Ventspils
Posts: 12,522
My mini review of radios I used / use ...
---
I know this thread is old - but it is a sticky.
I come from the early days of mixing radios. Most were flying with Futaba M series or similar. No mixing or other fancy stuff ... we had to do it via mechanical link-ups on the model.
Then came JR with the Propo series with trim pots, mixing on panels at back of radio :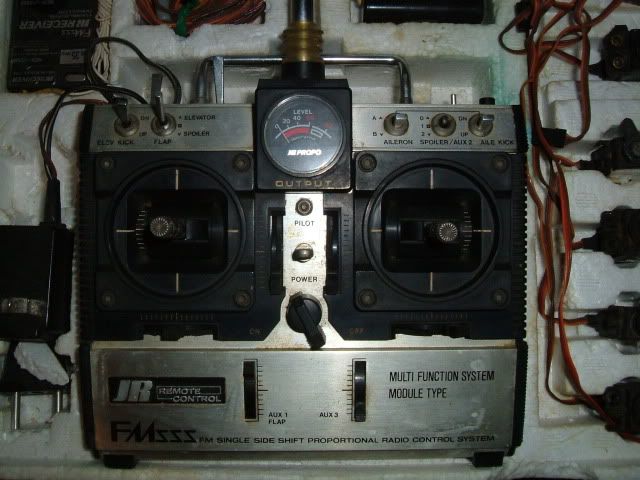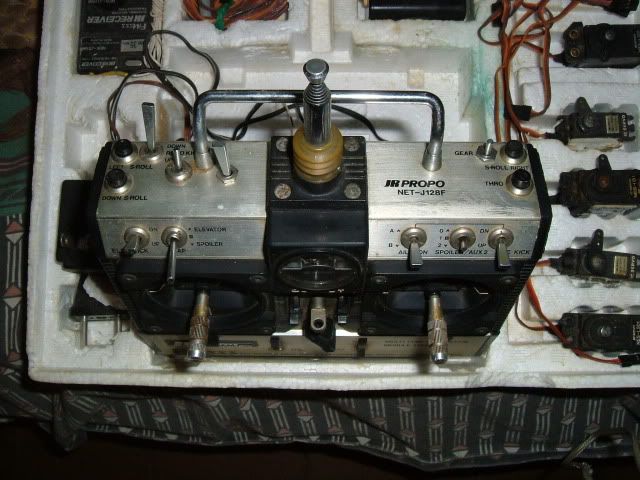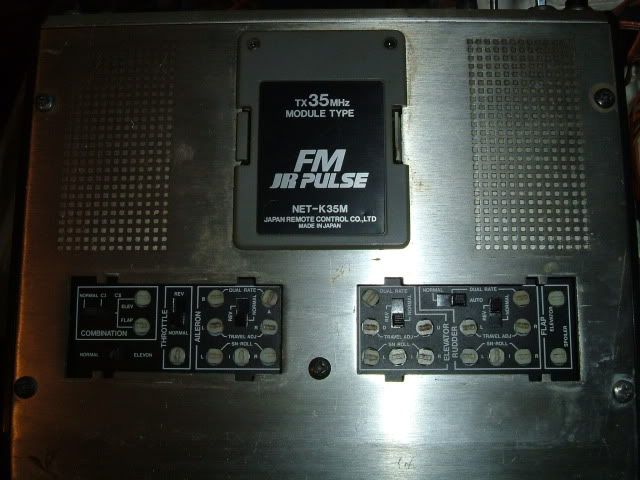 Yep - I still have it in its original styrofoam ... unfortunately it needs a repair.
This was my heli and aerobatics radio back in mid 80's. It was the Rolls Royce of radios then and still feels better on the sticks than many I've tried today.
Here I am using it for my FP Glow engined Heli ...
Anyway - my return to RC a year ago was something of a learning curve with all the new style Computer radios about. In 80's they were not available until basically about 1990 .. but extremely untrusted !
I read loads of posts and comments about programmable radios ... 2.4Ghz etc.
In the end I decided to go for a RTF plane with basic 4ch 35Mhz (europe). This proved to work even though radio was obviously a cheapo Chinese and worth about $20 max !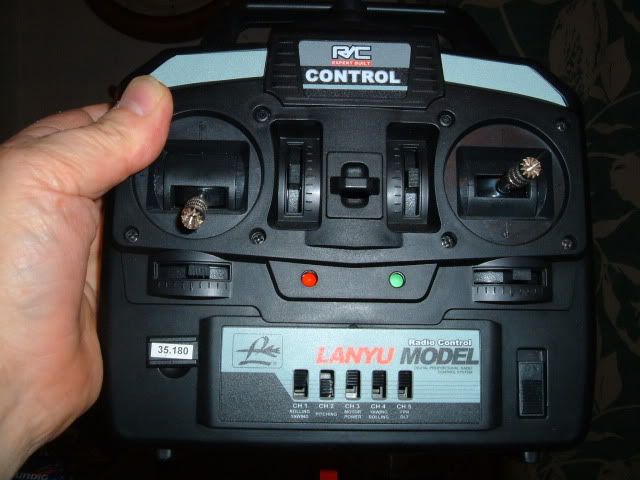 As I wanted to progress on and get back to more advanced flight fixed wing and also return to Heli's ... would mean investing in a programmable radio. I fell upon reviews of the cheap FlySky 9ch system with all the programming I could ever need for less than $100. I ordered the radio and I have to say that it has exceeded all expectations ... it has performed nicely. It is well balanced, menu easy to use, mixing all I need, additonal RX's are about $15 a throw and quick to bind ... and it's 2.4Ghz with as good a range as any other set I have seen on site incl. JR, Futaba and Spectrum. No interference from other sets or to them.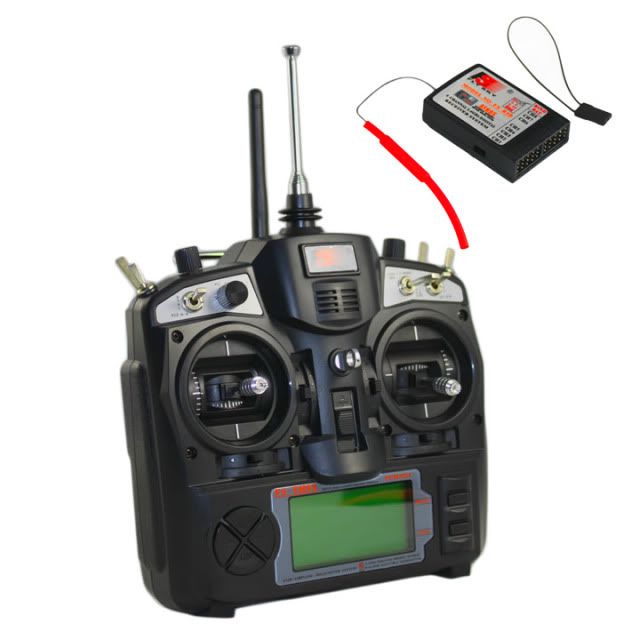 It's the TM-002 version with the B Rx ...
I use my old Futaba charger, yes I still have a Futaba 6M system and it works....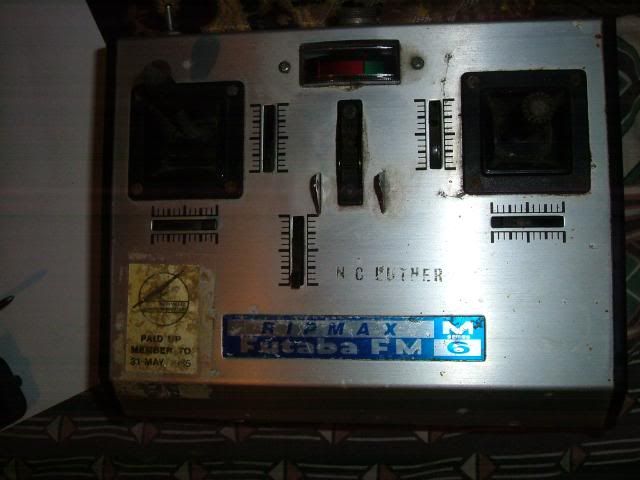 charger in use ..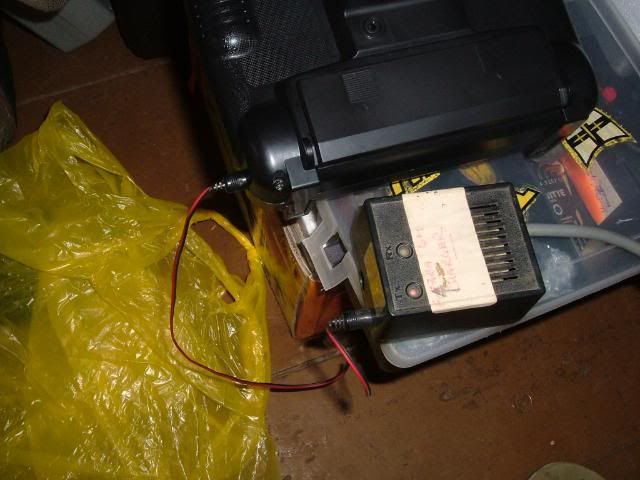 with 2300 mAH NiMH cells in the pack ... gives me plenty of hours use ...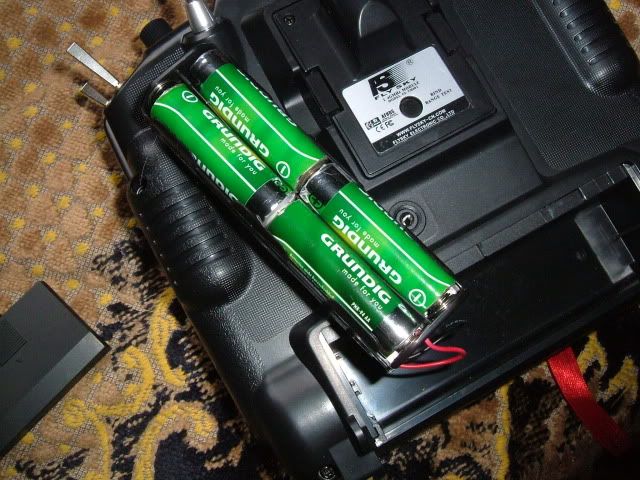 So I now had a modern chip based radio and I had installed it in my fixed wing ... no probs.
Now I wanted a heli and a 450 to be exact. So I ordered a 450 RTF clone at $120 all in + shipping .... which came with a Futaba T6 clone radio - the T6EHP-E Heli variant ...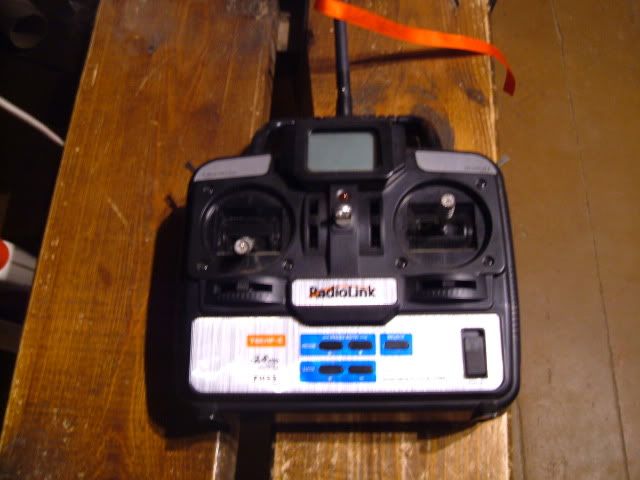 This has a couple of switches removed compared to the general version, but still has gyro up / down, Idle up, thro hold ... 120 CCPM etc. In fact it really does do the job. Now I'm a novice with this sort of gear - but I have given this radio and also the FlySky to others to try .. who have Spectrums etc. and they are pleasantly surprised at feel and control with them.
I only have one problem with the 6ch set ... which seller has failed to rectify, but sending back to China considering a new Tx / Rx combo is only $45 is not realistic ... the problem is extreme left top section of LCD screen has an intermittent fault, sometimes it shows and most of time it doesn't as per photo here :
but it is still useable, just care to make sure what screen you are on.
With the cheap radios one area of concern is the quality of assembly and also life of the stick pots. I have heard of pots getting 'gritty and worn' quite quickly. This is quite possible. But so far I have had no evidence after approx. 10 months with Flysky 9ch and 3 months with T6 - and they get a lot of use not only on models but also on sims.
Onto Sims .... the T6 connects via a Futaba Din plug and USB adaptor direct without any need for extra utilities. It controls RCPlanemaster, HeliSimRC, FMS without problems. (Personally I think FMS is horrid - but incl here as many I know use it).
The FlySky connects via standard stereo jack plugs as used in audio speakers to PC audio ... But you need to install SPPconsole and PPjoy utilities and have them running in background while playing the sim.
Both give excellent performance on sims as well as out on field in the models.
One day I may return to JR but at moment every $ is important to me in these hard hit days.
02-03-2011, 11:10 PM
New Member
Join Date: Feb 2011
Posts: 4
---
Wow how old is this post...
I remember my dad haveing somethink like that probably still has it,i have a dx6i..its a gr8 radio only used it for flying planes but I'm steping into the unknown sooner or later"helicopters" n wanted to bind my dx6 to the honey bee cp3 it but cant unless i spend mre money apparently so that plans down the drain
:-(
02-03-2011, 11:12 PM
New Member
Join Date: Feb 2011
Posts: 4
---
Wow how old is this post...
I remember my dad haveing somethink like that probably still has it,i have a dx6i..its a gr8 radio only used it for flying planes but I'm steping into the unknown sooner or later"helicopters" n wanted to bind my dx6 to the honey bee cp3 it but cant unless i spend mre money apparently so that plans down the drain
:-(
Thread
Thread Starter
Forum
Replies
Last Post
Radio Equipment For Sale & WTB
RC Radios, Transmitters, Receivers, Servos, gyros
Radio Equipment For Sale & WTB
Currently Active Users Viewing This Thread: 1
(0 members and 1 guests)
Posting Rules
You may not post new threads
You may not post replies
You may not post attachments
You may not edit your posts
---
HTML code is Off
---