EACHINE E010 review
07-18-2017, 02:26 PM
Super Contributor
Join Date: Oct 2010
Location: Ex UK Brit now in Latvia west coast - Ventspils
Posts: 12,766
EACHINE E010 review
---
I was contacted by Ms 'S' and agreed to receive the EACHINE E010 Quad for review.
Link :
http://www.eachine.com/Eachine-E010-...RTF-p-398.html
So here goes :
Review of the EACHINE E010 Quad
2.4Ghz 6 axis One Key Return Home
The E010 is a 'pocket sized' quadcopter and arrives in a well packaged box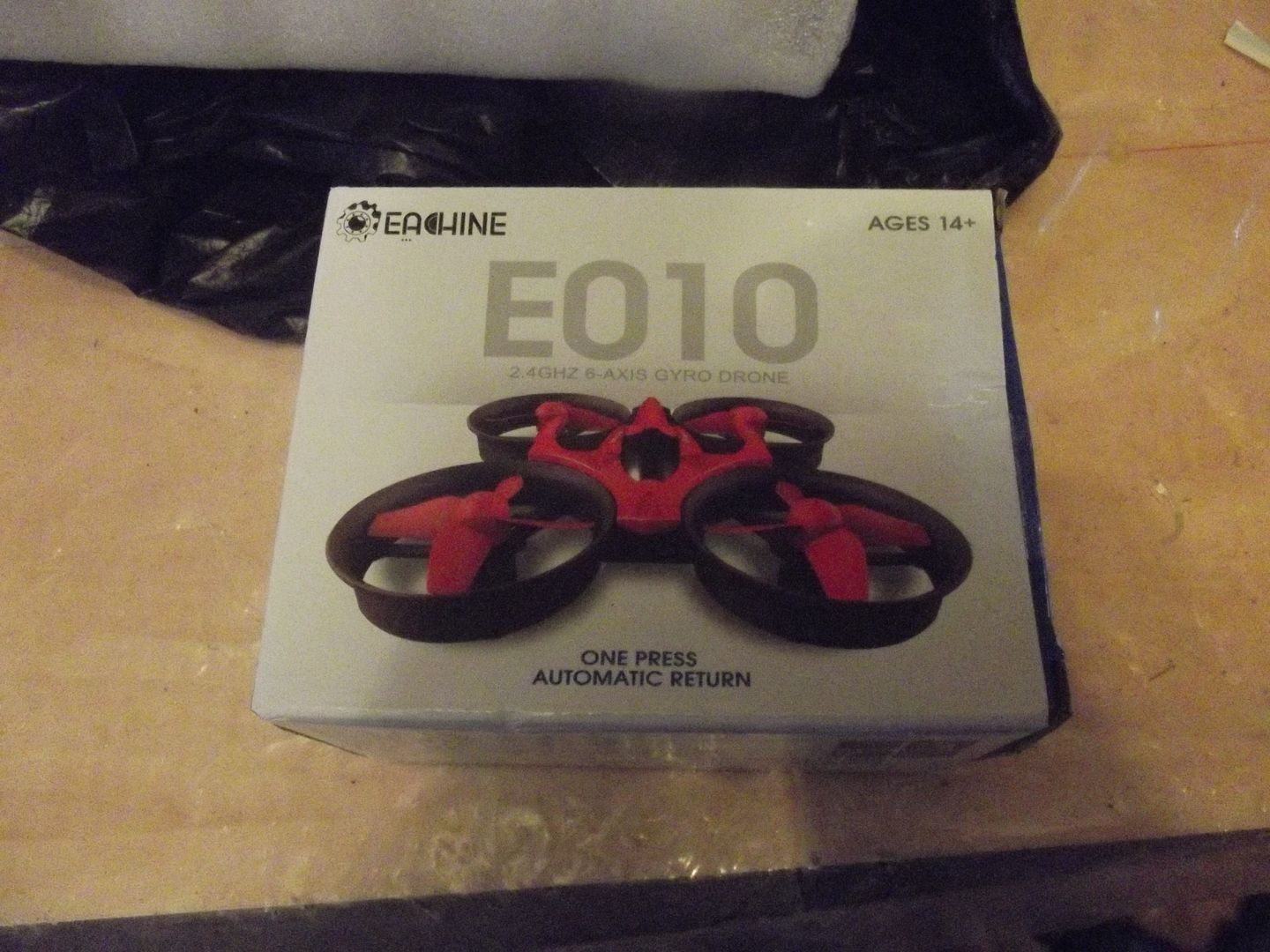 The items are contained within interlocking protective plastic trays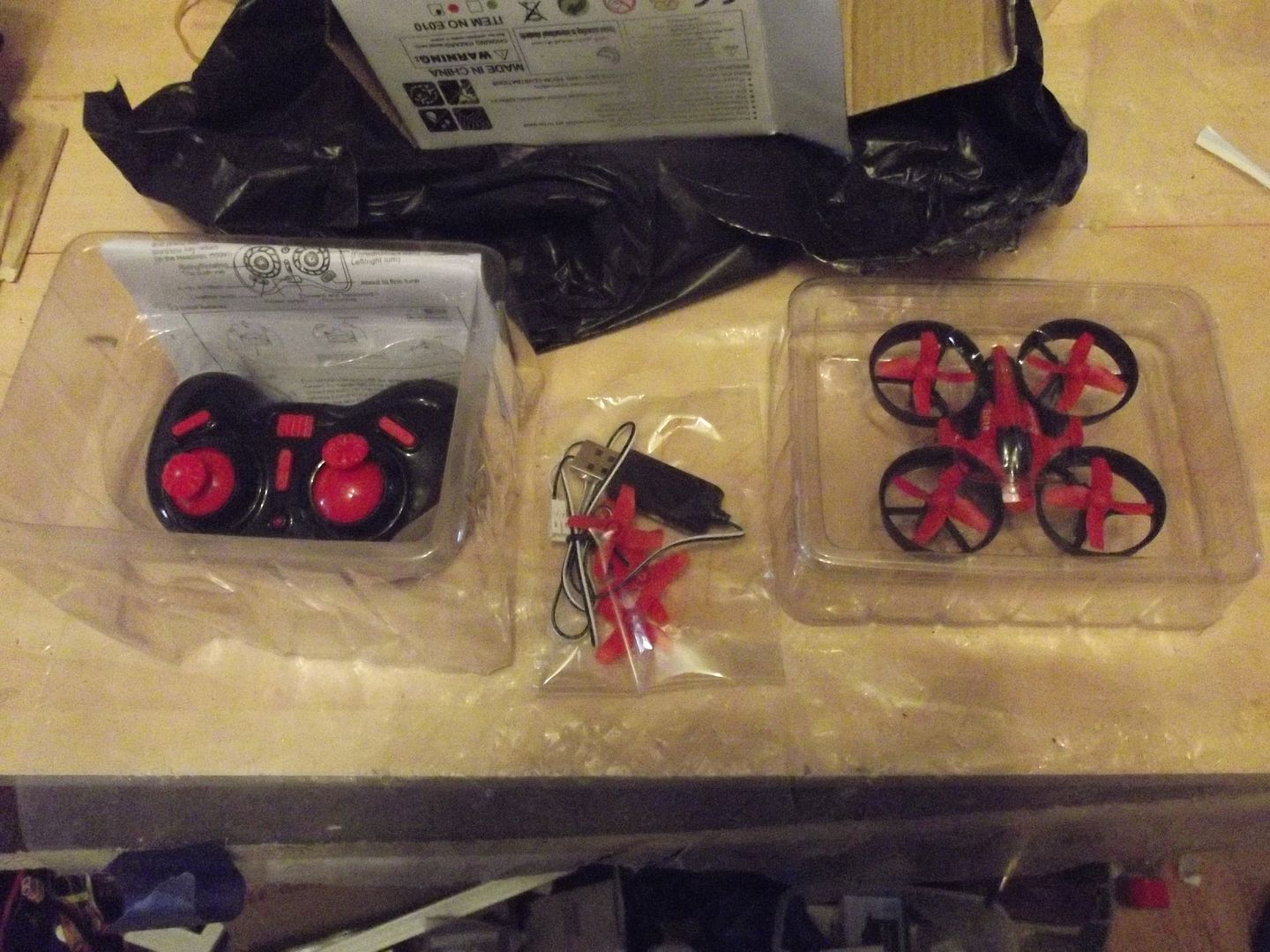 All undamaged and well protected from shipping handling.
Included are
Manual
Quadcopter
LiPo battery 1S 150mAh 30C
Charger
Controller
4 spare props
The quadcopter and battery weighs 23gr RTF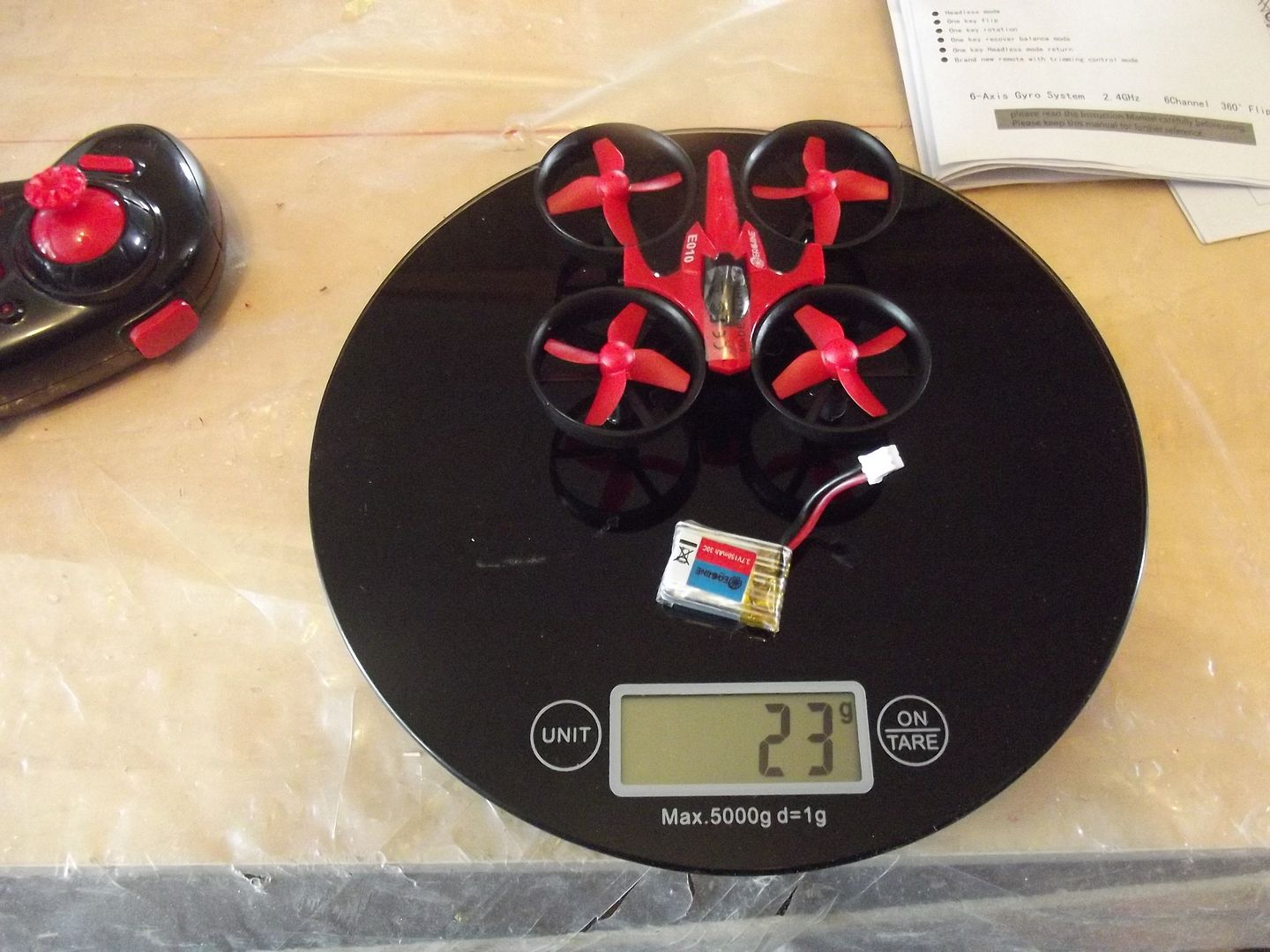 The size being ~9cms square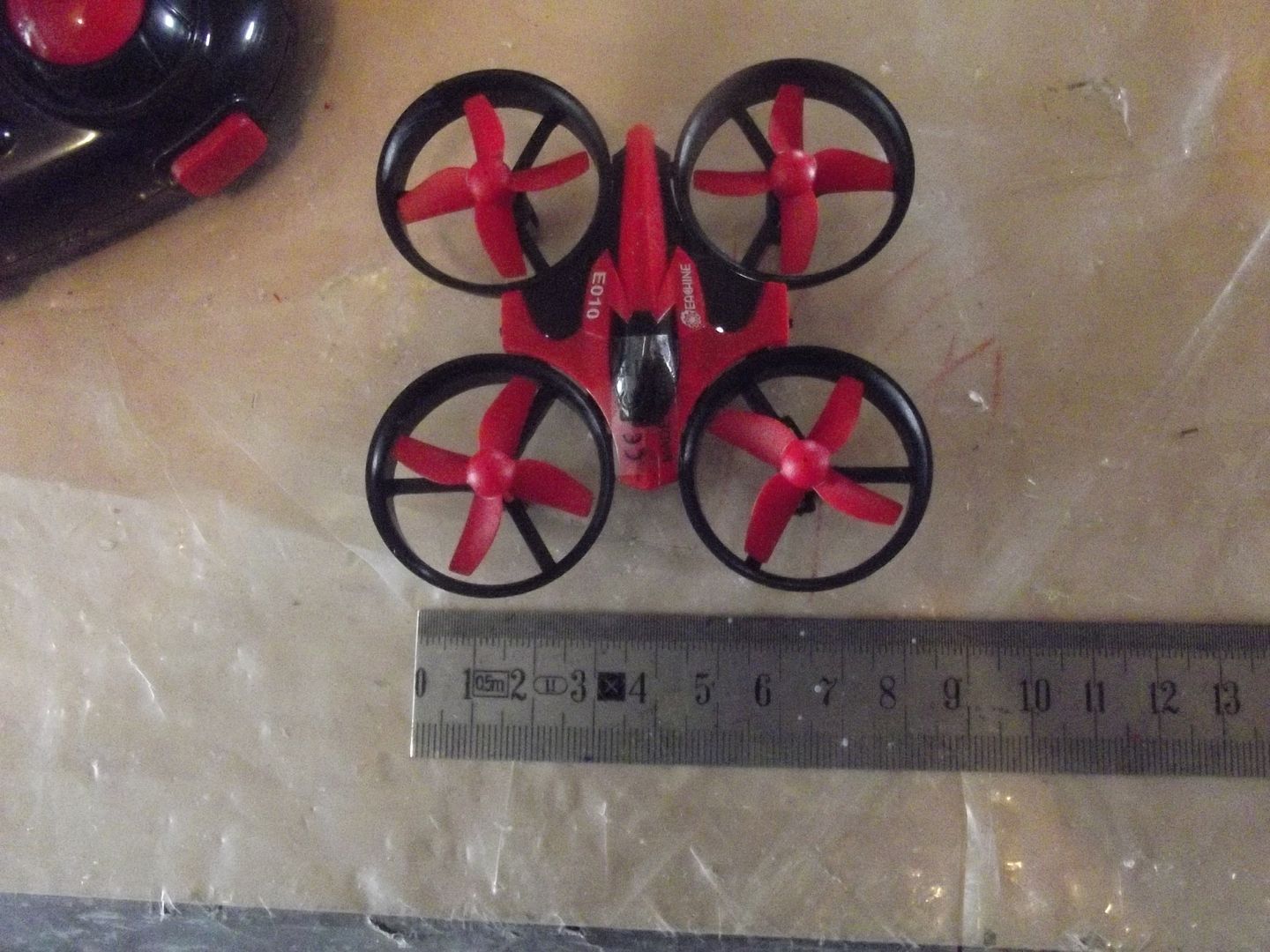 The Controller is smilarly compact in size and uses 2 x AA NiMh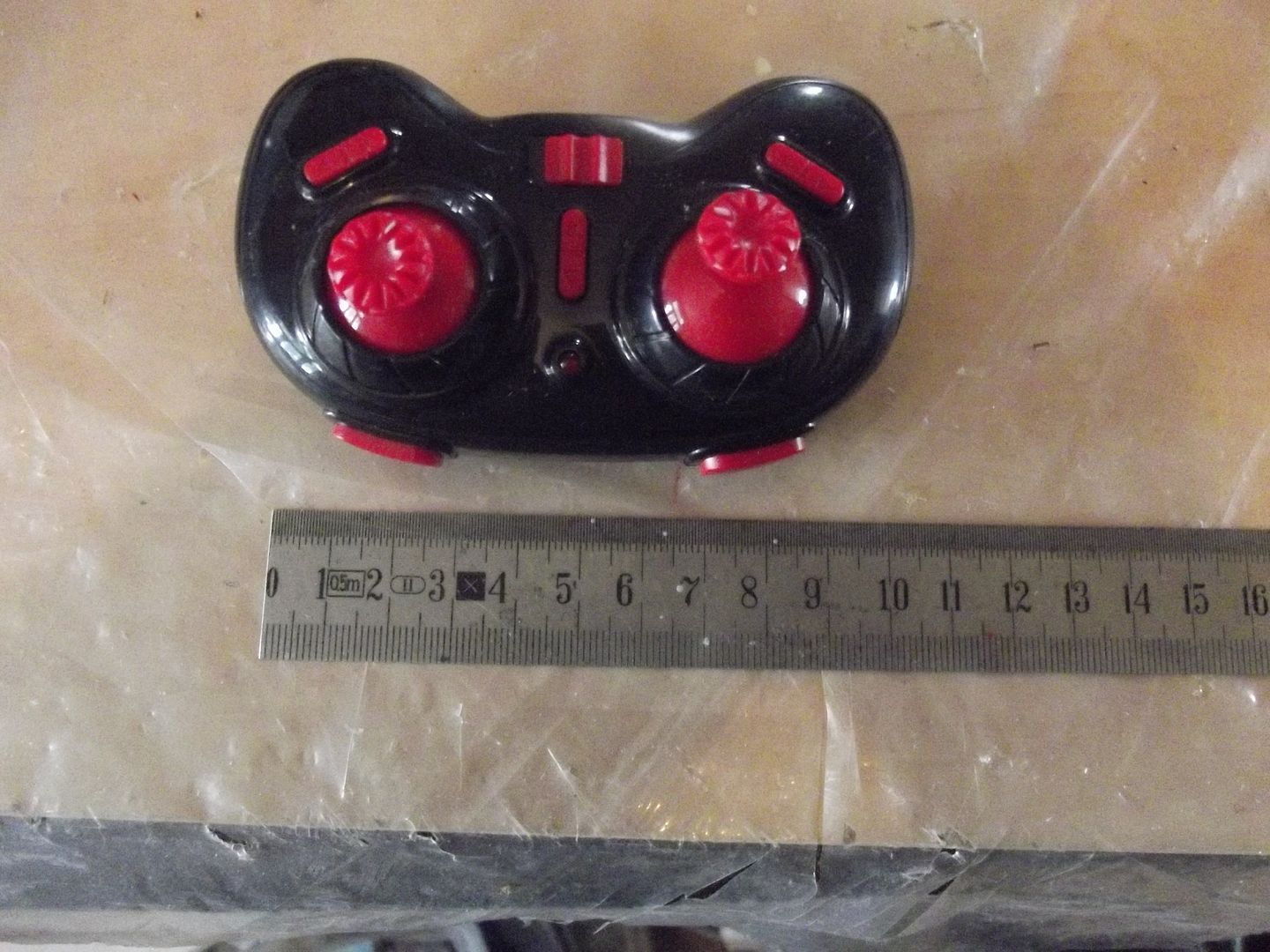 Initial impression is WOW this is small !! and makes you wonder where you are going to fly it. It has prop guards, so indoors should be safe and fun.
The controller differs significantly from my other 'indoor' quads.
There are two short stubby sticks as usual giving the normal UP / DOWN, LEFT / RIGHT, Bank LEFT, Bank RIGHT, FWD / BACK
Then the buttons.
On top left a multi function button that purports to support INVERTED flight and stunt mode
On top right a Trim and start button
Bottom left gives One Key REturn and "Carefree mode" (itching to see what happens with that one !)
Bottom right gives fine tuning (I assume trimming).
The Right Stick also includes the FLIP mode, pressing and controller will BEEP indicating ready to accept FLIP command. The direction of flip is commanded by which stick you use.
The manual does not actually give any instructions about the INVERTED part that right top button quotes.
At present waiting for battery to charge and to find a good area to actually test fly in. The initial hops I have done indicate it is 'lively'.
Next post will be flights and hopefully some video.
Nigel
---
Last edited by solentlife; 07-19-2017 at

07:43 AM

.
07-26-2017, 12:39 PM
New Member
Join Date: Jul 2017
Posts: 2
---
Thanks Nigel,
What improvements is the new version supposed to have? I got mine from Amazon UK yesterday, but I don't think it is new version, since it looks exactly like the one you reviewed above.
Chris
07-26-2017, 01:07 PM
Super Contributor
Join Date: Oct 2010
Location: Ex UK Brit now in Latvia west coast - Ventspils
Posts: 12,766
---
The E010 is basically an Indoor flyer as any wind and it is hard to keep it from blowing off downwind. On calm days - it would be an excellent backyard fun machine.

The Flip works excellently but as the manual advises - have height on as it loses a lot of height when you first do it. It can flip in any of the 4 main directions .. fwd, back and sides.

The sticks I find too short and that means hard to have fine control. On my other indoor Heli's and MR's - I have been able to insert rods to increase length but here not possible.

I haven't been able to test the One Key Return yet as wind has been too much to fly outside.

It is highly manoeuvrable and great fun - my dogs go nuts trying to grab it.

Video ? Very difficult to get a video of it .. its fast and agile.

For the price point of about $14 is real budget and well worth it.

Nigel
02-04-2018, 02:14 PM
---
Recently purchased the E013 FPV RTF package. I have to admit that it is a durable little bugger. This is my first venture into FPV as well as basically first multi. My first multi being a cheerson x10 wich I flew about 10 times and gave away.

Excellent little package, especially for the cost. Lots of fun if you are not the family pet.

I would highly recommend it to anyone considering trying out FPV.

The only problem I have is disconnecting the micro JST connectors. I have started, in some cases, simply using a pair of tweezers as fork. It decouples the stubborn ones easily.
Thread
Thread Starter
Forum
Replies
Last Post
General RC items For Sale and WTB
Currently Active Users Viewing This Thread: 1
(0 members and 1 guests)
Posting Rules
You may not post new threads
You may not post replies
You may not post attachments
You may not edit your posts
---
HTML code is Off
---