Tomhe Eurofighter
01-01-2019, 04:26 PM
Super Contributor
Join Date: Oct 2010
Location: Ex UK Brit now in Latvia west coast - Ventspils
Posts: 12,523
Tomhe Eurofighter
---
I've had this plan on my hard drive for some years and keep looking at it ... I do like the Typhoon regardless of my being a Brit. Plenty of videos show it to be a highly manoeuvrable machine not only in full size - but also in model form as well.

I look at the plans and its one of those that gives the lines but leaves a lot to the builder to work out.

Such as :

1. Rudder / Fin is shown with multiple lines but no text to say what is to cut or leave .. you cut the whole out and still you try match it to the wing cut-out and it does not match.
2. Fuselage is not full length - so obviously the fin from 1. is to be mated to it ...
3. No indication or marking for where its best to set the CF spars ....

But still its quite a big model for flat plate and takes 1 + 1/2 sheet of 6mm.

I did think to scale it to match my Mig29 to create adversary models ... but then decided to just go with Tomhe's scale.

(It would be good if Hobby King would produce a Glue and Go Typhoon .... ).

If anyone else has built one of these ... I am really interested in any tips / tricks / CoG info ...

Cheers
Nigel
01-03-2019, 03:09 PM
Super Contributor
Join Date: Oct 2010
Location: Ex UK Brit now in Latvia west coast - Ventspils
Posts: 12,523
---
I decided that from start - I would add CF in places that I felt needed support ... so it has 4 CF inserts ... 2 in the wing ... 1 in the canards ... 1 in the fin.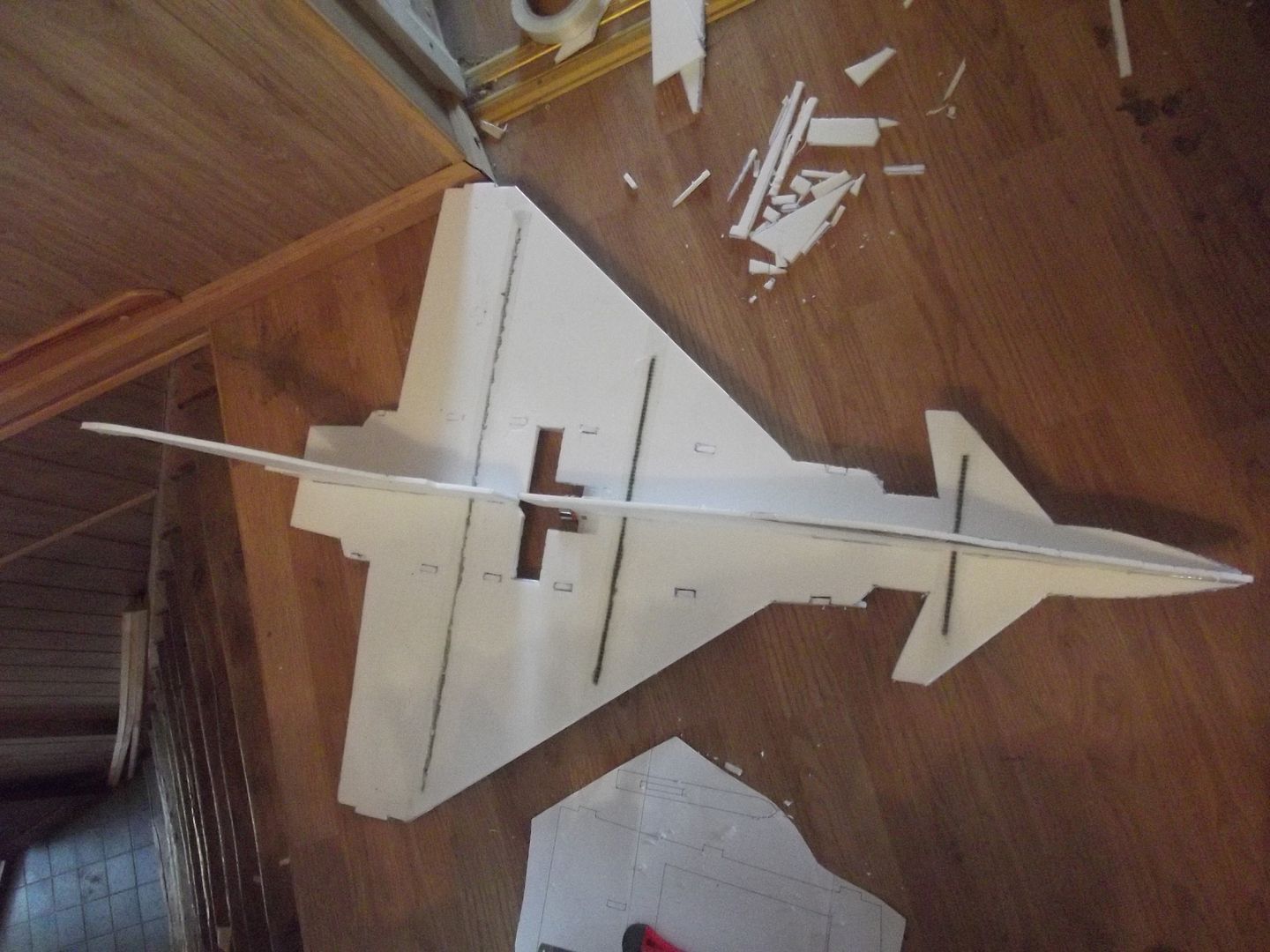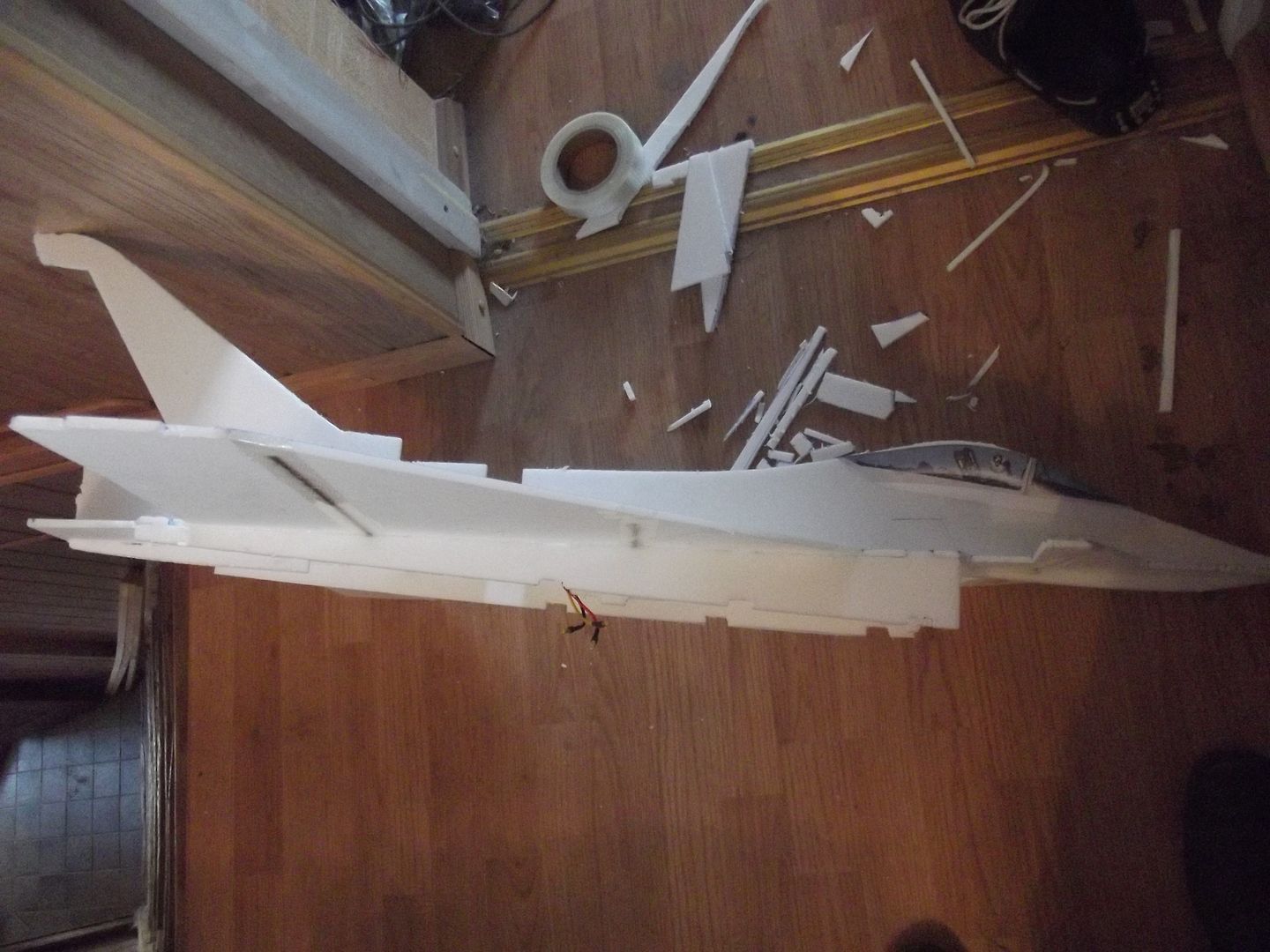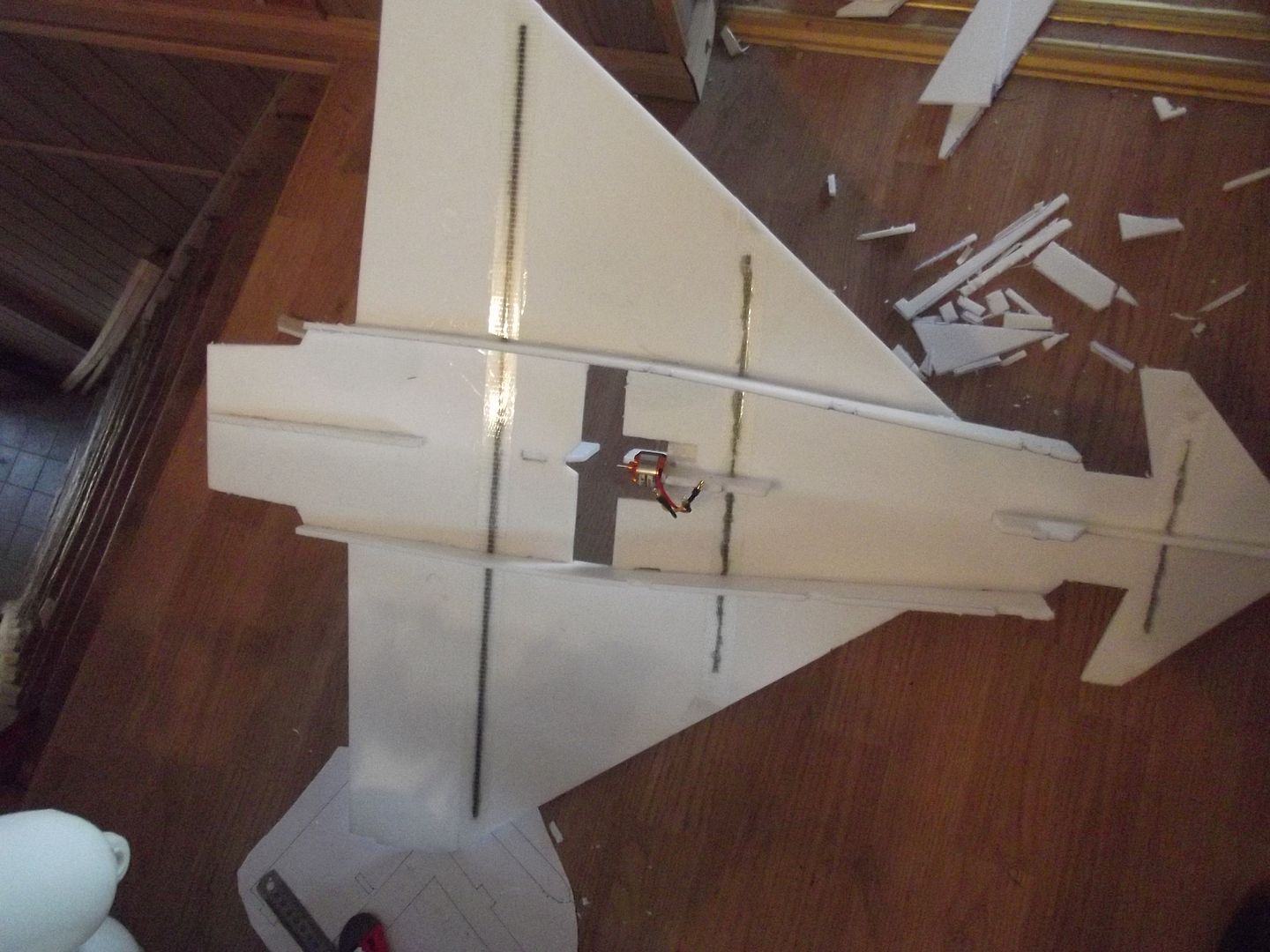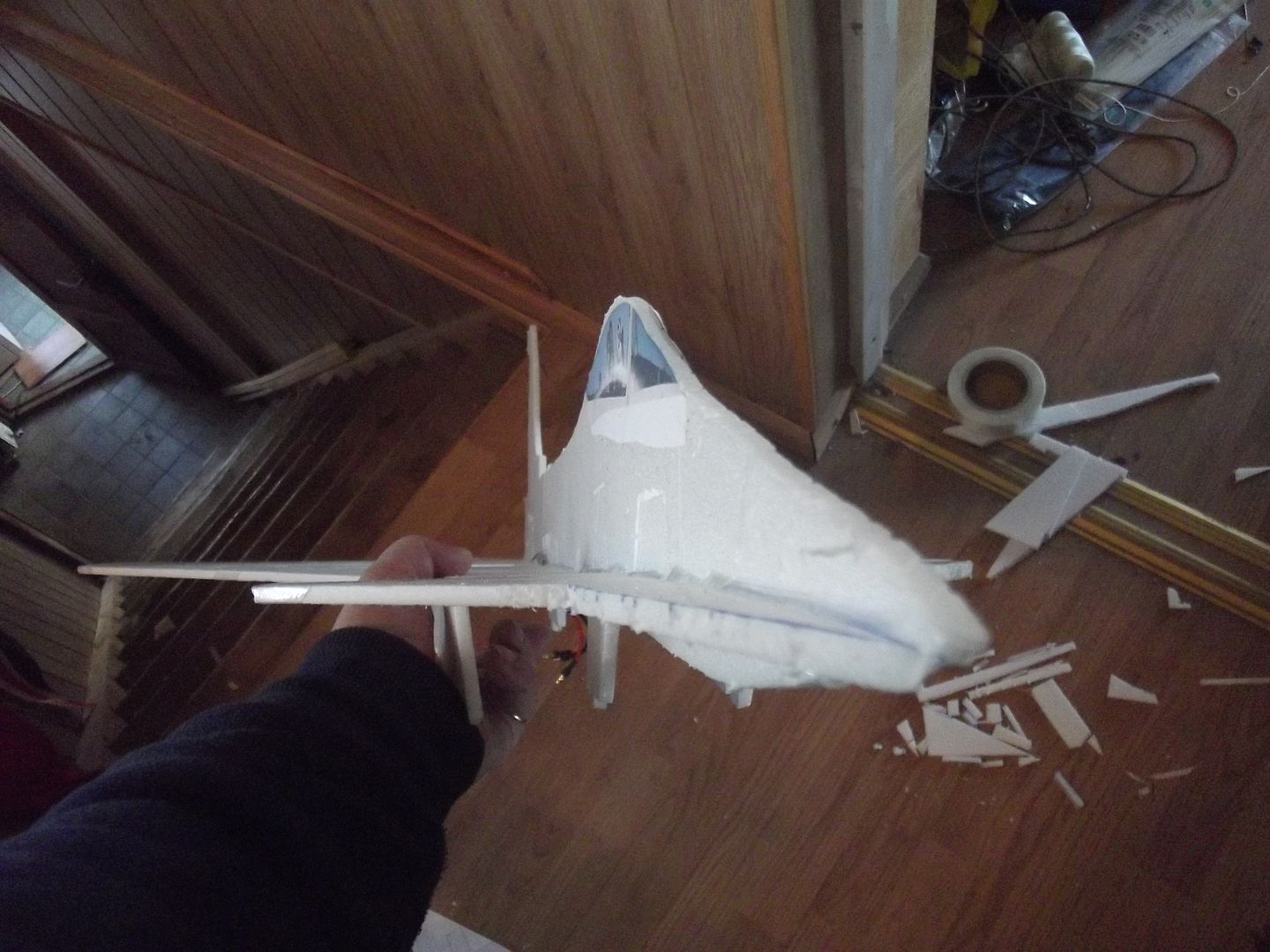 The motor - the typical Turnigy 2826-6 2200KV fitted using the Thingiverse 3D printed 28 motor X mount ... designed specifically for mounting the 2826 motor to crossed 6mm Depron.
The motor had to be set in quite a way to clear the prop in the slot.
All foam joints are UHU Por with Hot Glue run along the joints after to support and ensure verticals.
I have hinged with scrap plastic both ailerons and the rudder. When I run out of thin mylar - I salvage plastic thin sheet from blister packs ! Such hingeing allows surface to be closed up tight to fixed .. with just a bevel to allow it up / down.
I have marked the 12cm CoG point and will endeavour to install gear without addition of weights. I am considering twin 800 3S LiPo's so I can sit one either side of the front underside former in the intake. But most likely is a 1300 3S in there.
Weather here is terrible - so a good time to get this completed.
Nigel
01-05-2019, 12:51 PM
Super Contributor
Join Date: Oct 2010
Location: Ex UK Brit now in Latvia west coast - Ventspils
Posts: 12,523
---
Here she is 'tarted up' ready for the big heave into the air when weather improves.
AUW with Soloshot 3 Tag and 1750 Rhino 3S balancing her out at 4.75in from wing/fuselage point : 575gr
With the 6x4 and 2826/6 2200kv - I expect her to be a performer. I also have available 6x5 and 6x6 props if I want some more 'ooomph' !
Note I have mounted the motor in line with wing unlike some I see that have mounted it slightly above ...
Control rods are stiffened by sliding inside CF tubes which adds virtually no weight but gives a rigid rod over such length.
I have added extra Velcro in the battery area to allow me to carry twin small batterys if needed.
eCalc gives following :
Static thrust : 854gr giving a 1.49 : 1 Thrust to weight ratio
Level speed : 85kph
Max amp draw : 19A
Mixed Flight time on the 1750 : 10mins
That will do nicely !!
With the 6x6 it estimates I should have over 1100gr thrust and level speed just over 100kph and mixed flight time of about 9 mins.
Nigel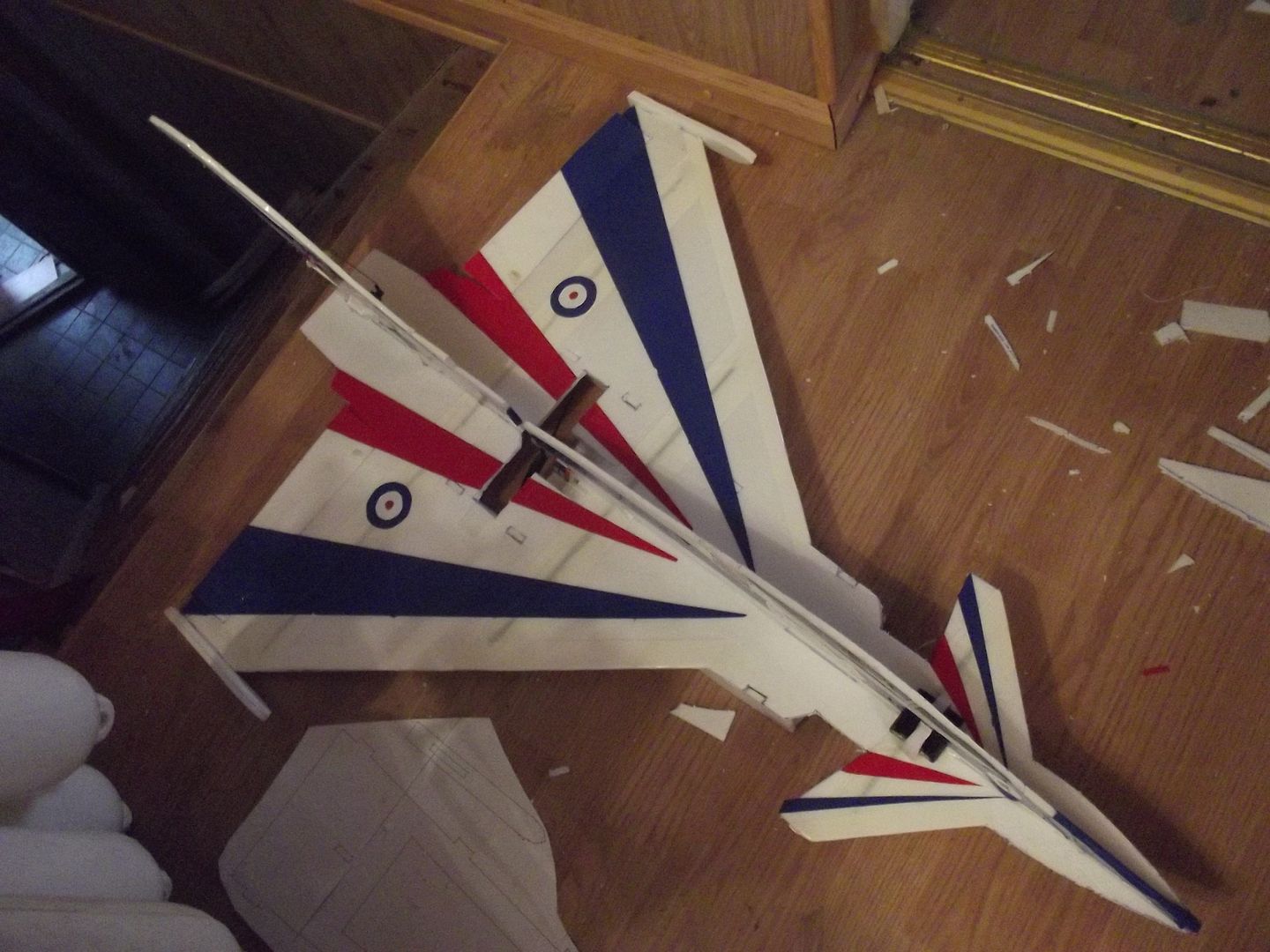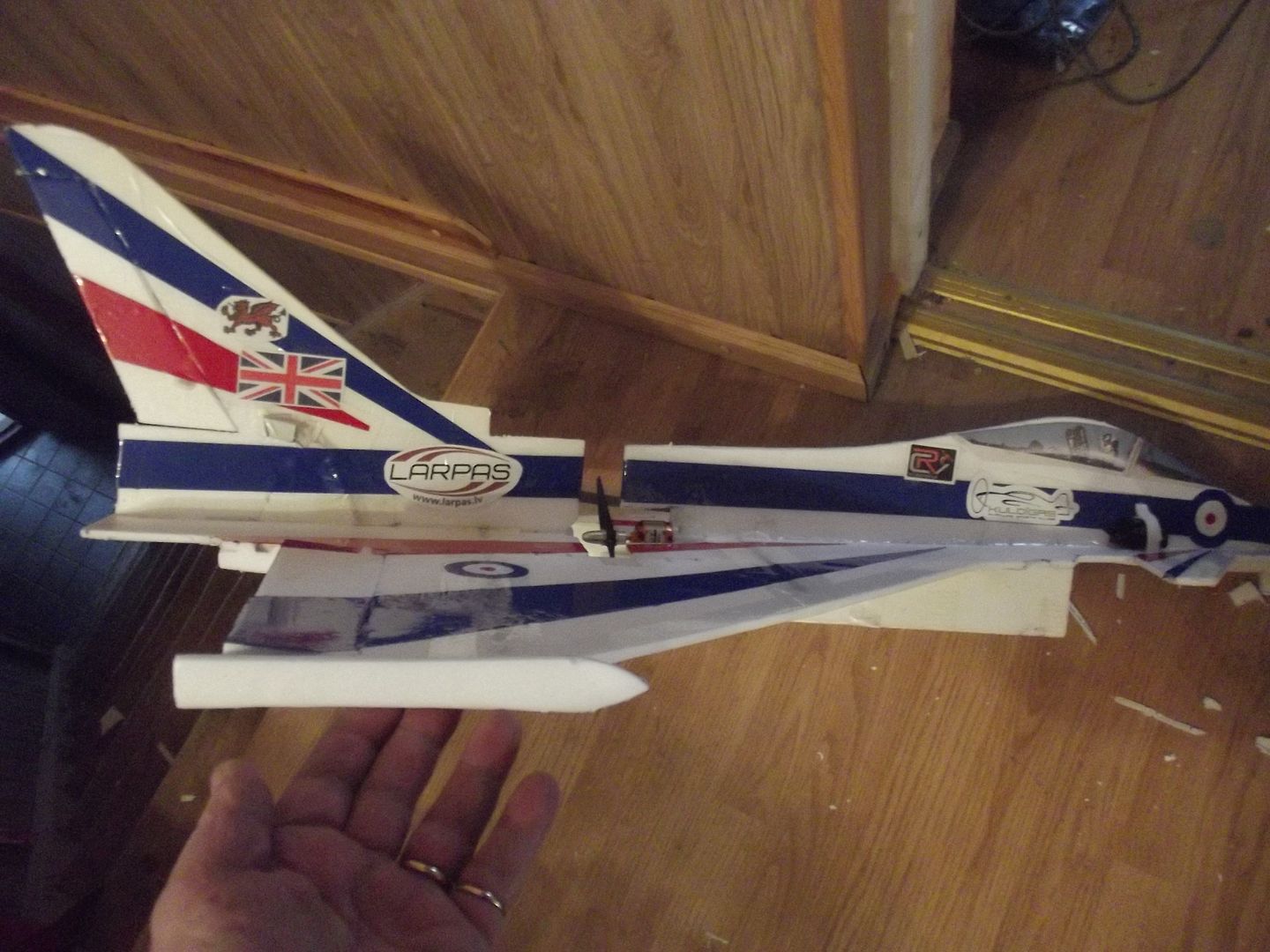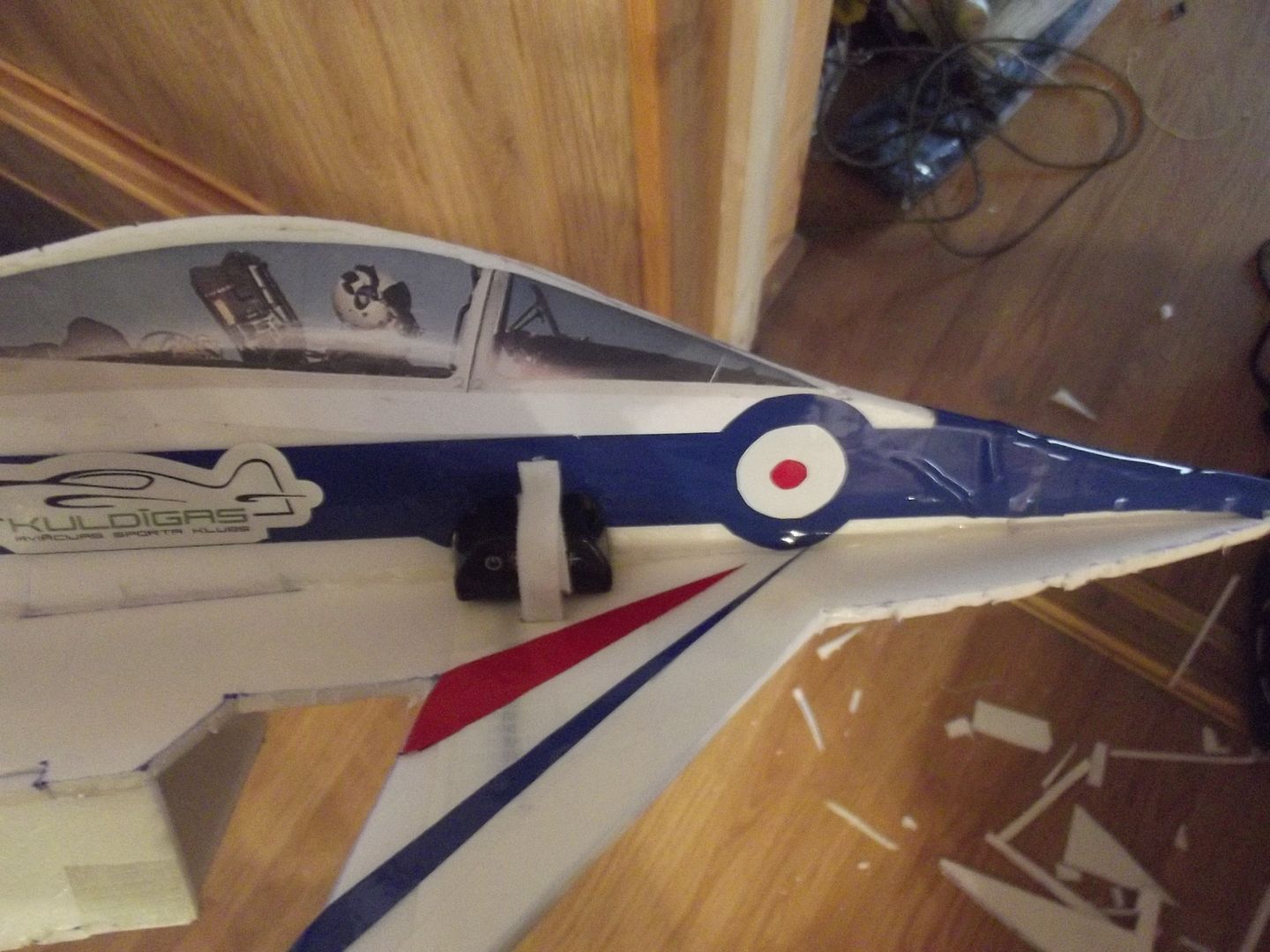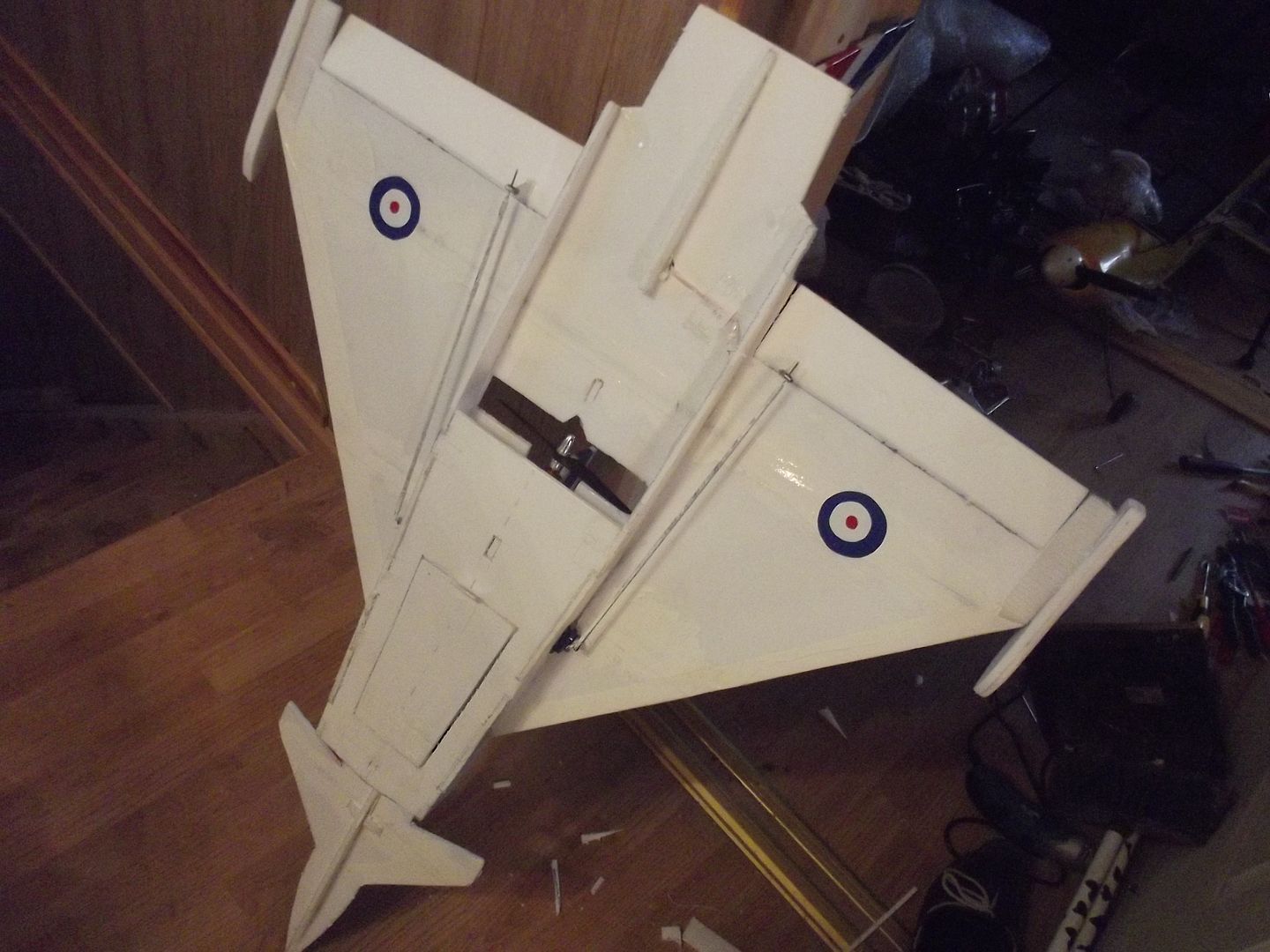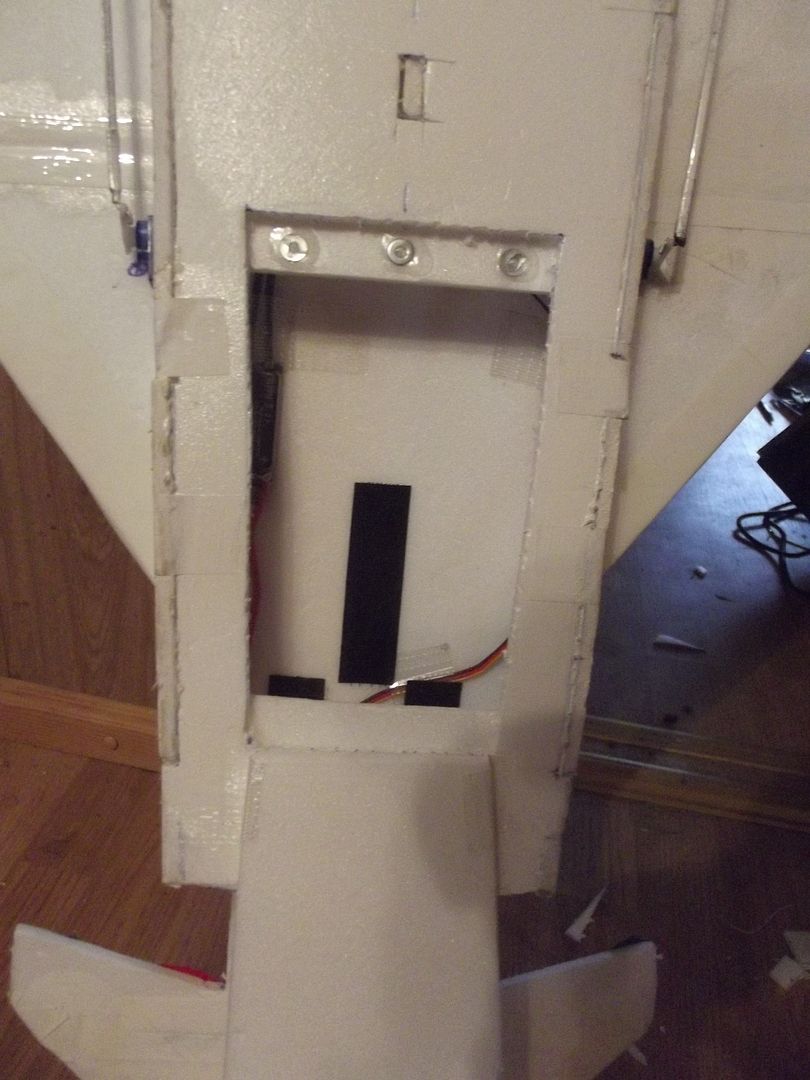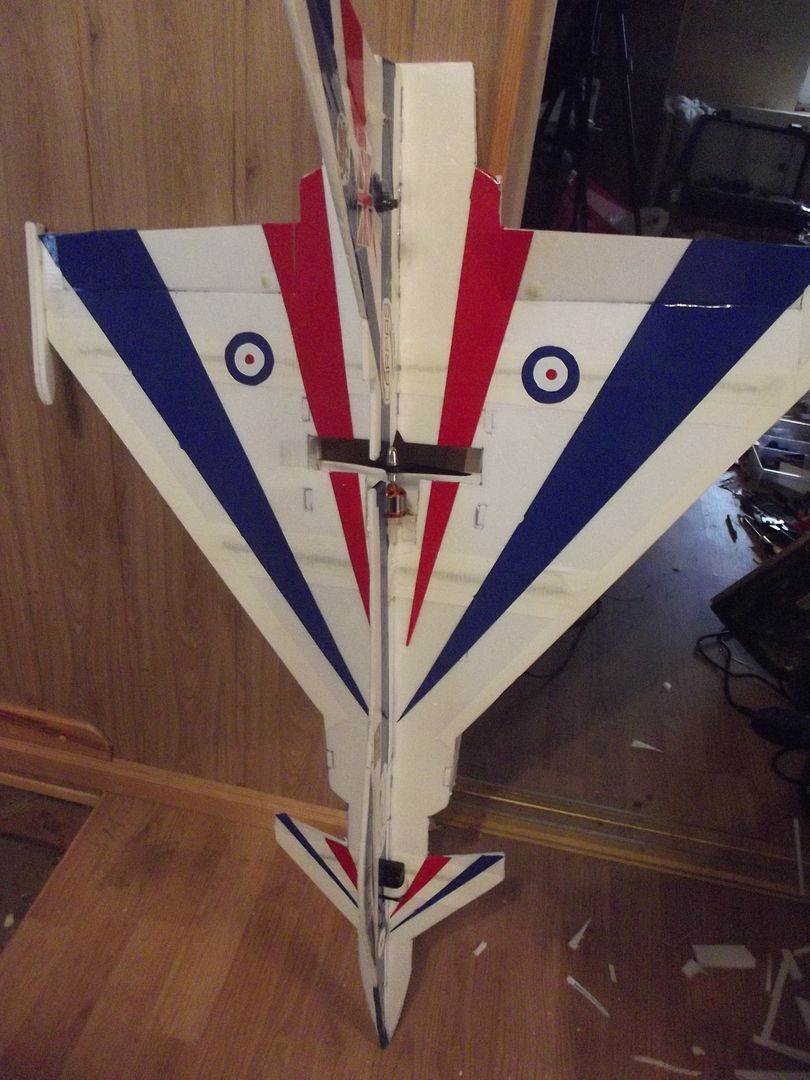 01-06-2019, 06:18 PM
Super Contributor
Join Date: Oct 2010
Location: Ex UK Brit now in Latvia west coast - Ventspils
Posts: 12,523
---
Two videos of same flight .... I have two Soloshot 3 cameras and both are ***** and I have a new remote microphone that is not playing the game ...
All I can say - is I wish I had built one earlier ... I've had the plans for ages and just let it go ...
The launch was at about 65% throttle ... and she purred away straight as a die ... no trim needed ...
The 2200 Blue Turnigy battery obviously is a little too heavy as the flight was so stable - it was like a trainer. But she went vertical ... hovered ... did all she needed. But I still think a little less weight up front and CoG back a bit ...
CoG was set at the recc'd 4.75" / 12cms ......
Brilliant.
Nigel
01-06-2019, 06:20 PM
Super Contributor
Join Date: Oct 2010
Location: Ex UK Brit now in Latvia west coast - Ventspils
Posts: 12,523
---
Don ... you already know I'm sure ... the Mig 29 G&G is a real fun machine ... especially if you add rudders ... I just have a single servo to one and then a rod across to operate the other...

I did also add ailerons coupled to the elevons ... but they are not needed.

Nigel
01-07-2019, 08:01 AM
Super Contributor
Join Date: Oct 2010
Location: Ex UK Brit now in Latvia west coast - Ventspils
Posts: 12,523
---


I was surprised to see it work.

YES it would be nice if we could insert the url as most other sites do - but to be honest - the old way worked just using the character ID .. so why not just go back to that ... all of us on WF know that way.

Nigel

Thread
Thread Starter
Forum
Replies
Last Post
Currently Active Users Viewing This Thread: 1
(0 members and 1 guests)
Posting Rules
You may not post new threads
You may not post replies
You may not post attachments
You may not edit your posts
---
HTML code is Off
---