Electric power parts
10-29-2018, 08:59 PM
Member
Join Date: Nov 2012
Posts: 307
Electric power parts
---
Howdy one and all, I am back after a long absence, due mainly to life and changing interests. I have taken up woodturning, and been doing some small craft work also. Now that the FAA has stuck their nose in it and I still have my models I wanted to make sure I am covered when I start back flying. To that end, I am looking for the correct study guide, I know it bites, but they are in charge and might as well get on board. Rather be covered than to be an example to others. I had started a electric stick beforehand, about thirty or forty inches in span, and one thing I had looked for was steerable nose gear. Is there a company that makes the correct size gear, all I am finding is what uses 1/8 dia. wire . Is someone have something smaller or would the bigger gear work. Thanks for the time.
---
Last edited by hkeelljr; 10-29-2018 at

09:06 PM

. Reason: Structure
10-30-2018, 12:55 PM
---
For some unknown reason the hobby manufacturers dropped the 1/8" nose gears. The jump now is from 3/32" right to 5/32". Depending on the plane the 3/32" may not be strong enough and the 5/32" may be way too heavy.
Carl Goldberg had a perfect 1/8" nose gear package but it has been out of production for quite some time now. I got lucky and found a package deal on eBay a while back and got five very old NIP. And No I won't part with any. I did find one listed on eBay right now though.
LINK
. Better grab it while you can! The other option is the smaller 3/32" Dubro 234
LINK
. I wouldn't use it on a plane heavier than about 20 ounces MAX though. If the plane is a porker then go with any one of a dozen (or more) available 5/32" gear.
Joe
10-30-2018, 02:29 PM
Super Contributor
Join Date: Oct 2010
Location: Ex UK Brit now in Latvia west coast - Ventspils
Posts: 12,596
---
have a look at the STINGER gear on Hobby King ... for about $6 - you get trike gear with quick release plates AND a servo with the front leg gear ...
I use these on many models as they work ... are cheap ... and look good.
https://hobbyking.com/en_us/stinger-...ith-servo.html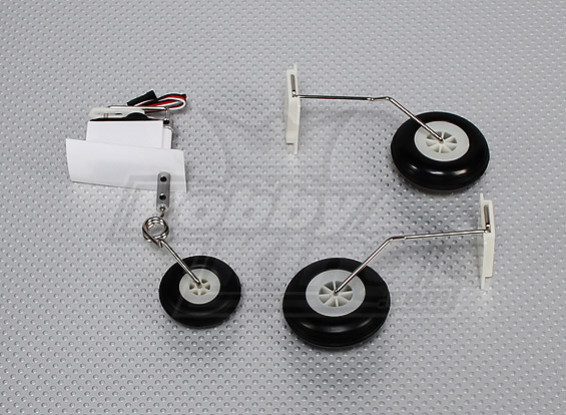 Nigel
10-31-2018, 12:06 AM
---
Those Stinger gear aren't gonna work too well on a Stick type plane. The nose gear is usually firewall mounted. The picture is of my
Mountain Models "Lucky Ace"
version of the old Ugly Stick.
Joe
---
Last edited by Turbojoe; 10-31-2018 at

01:16 AM

.
10-31-2018, 12:34 PM
Super Contributor
Join Date: Oct 2010
Location: Ex UK Brit now in Latvia west coast - Ventspils
Posts: 12,596
---
Agreed .... but like my Lanyu T45 - that had firewall mounted front gear ... which I removed and installed the Stinger gear up behind the firewall ...

You could of course remove the servo box and just use the arms with saddle clamps to the firewall ... and a servo back where you want. Its easily dismantled ... once the set screw joiner is loosened and slid of the steering leg ... the leg lifts out of the servo mount. You can set that arm at 90 deg and use the joiner again ...

At $6 a pop ... ??

Nigel

Nigel
10-31-2018, 05:13 PM
---
And HK shipping is minimum $3.33 for a total of $10.23 with a 14-
39
day wait. Want it in less than a month? Then shipping is $16.84 for a total of $24.27.
Why not just get the proper part for $11.00 shipped and not have to modify anything or wait until the row boat from China gets here? HK is not the panacea for
USA
modellers like it is for those of you in Europe.
Joe
---
Last edited by Turbojoe; 10-31-2018 at

06:23 PM

.
10-31-2018, 06:48 PM
Super Contributor
Join Date: Oct 2010
Location: Ex UK Brit now in Latvia west coast - Ventspils
Posts: 12,596
---
Hi TJ ... what happened to your US Warehouses ?

Please note - I was not pushing the Stinger onto anyone - just suggesting it and when your post said that it was unsuitable - posted a way to make it so.

If a suitable item can be found quicker - fine - I am first in line to say go for it.

Nigel
10-31-2018, 07:59 PM
Super Contributor
Join Date: Oct 2010
Location: Ex UK Brit now in Latvia west coast - Ventspils
Posts: 12,596
Thread
Thread Starter
Forum
Replies
Last Post
General Electric Discussions
General Electric Discussions
Currently Active Users Viewing This Thread: 1
(0 members and 1 guests)
Posting Rules
You may not post new threads
You may not post replies
You may not post attachments
You may not edit your posts
---
HTML code is Off
---