OK Who Crashed today ? Besides me :)
02-08-2019, 09:01 PM
---
Yesterday I was doing a shake down of a recently build superfly (
www.superflyrc.com
).
I did the initial trim on the 1st battery. On the second I started stress testing on the moderate side. On the 3rd it was time to test seams and blow off the wings. I went vertical to about 100 feet and straight down at full throttle, must have been pushing 70mph max then pulled out really hard. Landed to inspect the seams and no sign of stress. It was so fun I went up again only a bit higher to 150 and screaming straight down at max throttle. Godda love a gravity boost. But I was too focused on the amazing speed that when it came time to pull up, I was delayed a second more than I should have.
Suuuuhmack-tard! A hard nose forward but mostly belly landing. The sound alone was funny enough I had to laugh because it's like the sound of someone falling face first into the mud. The way I set up certain aspects of the build, the canopy flew off as it was intended to do. It's held in place with rare earth magnets and it will always eject first and furthest away from the worst of the impact zone. The electronics held in the event of lipo ejection. The lipo on shifted forward an inch. The lipo is strapped down with a velcro strap hot glued to the EPP. ESC is well secured with a zip tie heavily hot glued to the plane. The only thing that broke away was the motor and mount stick. That was hardly unexpected though. There's not much you can do to design a shock absorbing break away on the motor. But since it's EPP, it's super easy to repair in the field. Plugged in the hot glue gun and I was flying again in 15 minutes. You can't even tell. I am very please with my impact mods as well as the plane to take serious whoop'ns. (this is not my first superfly)
02-08-2019, 09:05 PM
---
Originally Posted by
Nitro Blast
Its been a LOOOONG time since I've midair'd with someone.. but it happened yesterday. I got FLOWN THROUGH by a pattern ship. Completely totalled the pattern, and my Night Visionaire (4 years old) will get stripped, retired and replaced. Well, you know how they say that all airplanes have an expiration date? Mine said "Best if used before 2018"
That still had to look cool when they impacted.
02-09-2019, 09:38 AM
Super Contributor
Join Date: Oct 2010
Location: Ex UK Brit now in Latvia west coast - Ventspils
Posts: 12,522
---
Hi Jack ...
In UK years ago ... I used to fly a lot of shows ... and my party piece was a WOT4 ... iconic Brit model by Chris Foss ...
The WOT4 had a Supre Tigre blue 60 with tuned pipe. It would pull out of hand vertically ... once flying - that prop was estimated to rev up to about 19K or more.
As you did with your S/fly .... my main act - was to launch ... climb vertically rolling all the way up till it was out of sight. I was so attuned to the motor sound - I knew what she was doing ... I would then put her into a full WOT vertical dive and a pull out literally skimming the deck. That poor motor would be way past just screaming ... it was ripping its guts out ! The WOT4 could pull G's like no other model I have ever seen since.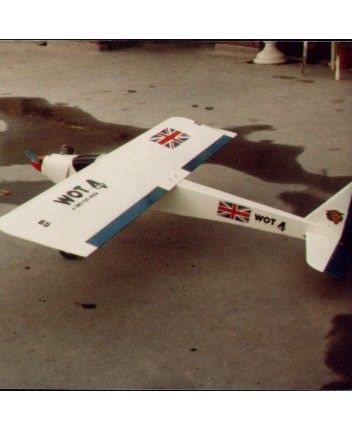 But at a Round Table Fete - the motor decided that enough was enough .... and she literally melted internally ... with no power to pull her out at the bottom - she ploughed a furrow god for any farmer !! But amazingly the model itself was not so bad ... but the motor was beyond repair ...
Here I am with tool in hand having a look !!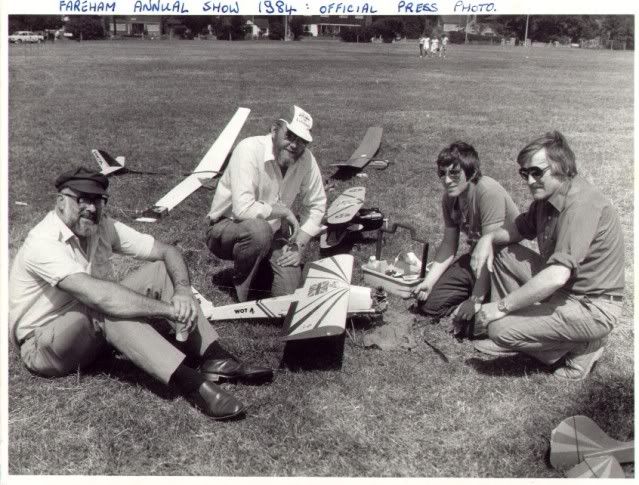 In those days - that was a lot of money just destroyed itself !!
For anyone interested ... that's my P6 behind as well ...
02-09-2019, 09:49 AM
Super Contributor
Join Date: Oct 2010
Location: Ex UK Brit now in Latvia west coast - Ventspils
Posts: 12,522
---
Fairthorne Manor in UK ... another show we used to do ...

I had my Club 20 RM Racer pylon job in the air ... now these things are fast and you basically fly level and knife edge ... they are not really for general throw around. There's me - giving a demo of pylon style to the spectators ...
Another guy decides to launch his Aerobatics job and to this day I really do not understand why he did it ... but he started flying the same circuit as my RM Racer ... Note that when flyiing something like a Pylon Job - you only have eyes for this bullet and all else is blurred ... I flick and turn ... BHAM ! Sliced the guys model in half literally ... his went into a death spiral ... mine into a rolling glide slope landing about 100m down line.

S*** happens as they say and I was just annoyed that it happened. But other guy started ranting and raving that I owed him for his model .... Now hang on a mo ... I was doing a scheduled demo and was in the air before his un-programmed flight ...
Luckily others managed to persuade him that 's***' happens and that it was best to just pick up the pieces and have a beer.
Thread
Thread Starter
Forum
Replies
Last Post
Currently Active Users Viewing This Thread: 1
(0 members and 1 guests)
Posting Rules
You may not post new threads
You may not post replies
You may not post attachments
You may not edit your posts
---
HTML code is Off
---